Rebecca Mallinson received an award from the Gatorade Sports Science Institute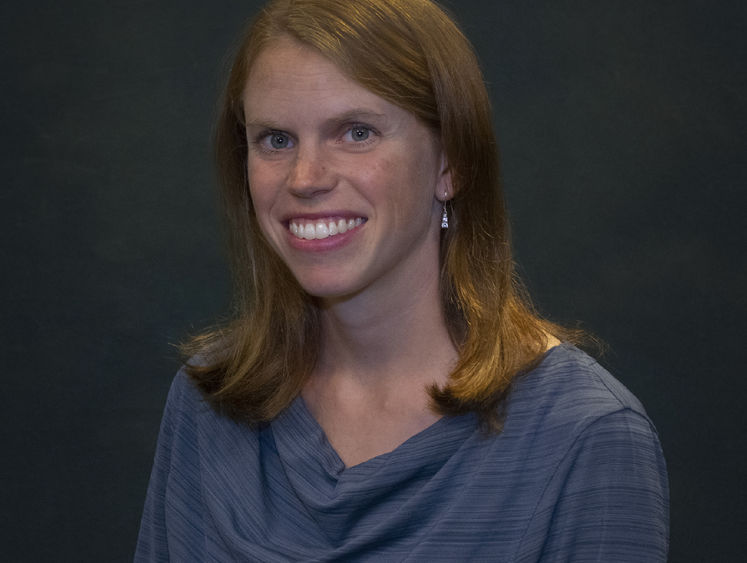 MIDDLETOWN, Pa. — Rebecca Mallinson, assistant teaching professor of kinesiology at Penn State Harrisburg, received the Women in Sport Science Researcher Award from the Gatorade Sports Science Institute for her research into a health condition that affects female athletes, called the female athlete triad.
The three elements of the condition are: an energy deficit caused by inadequate food intake for the amount of exercise performed; menstrual cycle disturbances; and poor bone health, which can result in stress fractures. Mallinson's own experience as a competitive athlete in high school led to her interest in the subject, she said.
"It's common for female athletes to experience menstrual cycle disturbances, such as irregular or absent periods for several months or years, then also get stress fractures in their bones and not fully understand the mechanisms behind it," she said.
Mallinson presented about her work at the American College of Sports Medicine conference in May. She and biology student Abagail Marquardt, who graduated in spring 2023, conducted a small research study to see if there is an association between female athletes' food choice attitudes — why they choose the food that they eat — and disordered eating behaviors, as well as menstrual cycle disturbances.
For Marquardt, the project was the basis of her honors thesis. She found herself interested in the female athlete triad after taking a class with Mallinson in her second year. Marquardt, also an athlete during her time at Penn State Harrisburg, had never heard of the condition.
"I knew a lot of my friends and teammates were experiencing this. I didn't know there was a name, and I didn't know we could take care of this if we just talked about it," she said.
The pair recruited physically active female college students for the study, including both recreational and competitive athletes, and asked them to answer questions about their food choice attitudes, disordered eating behaviors, exercise, health history and menstrual cycle history. They also measured their body composition.
"We identified that certain food choice attitudes, particularly the influence of others as well as weight control, were linked to disordered eating behaviors," Mallinson said.  Specifically, this means that choosing to eat foods primarily for reasons of peer influence and weight control was associated with higher scores for certain disordered eating behaviors.  
Half of the women in the study had a history of menstrual cycle disturbances, but almost all of them had recovered regular menstrual cycles at the time of the study. However, these women still demonstrated significantly higher scores for disordered eating behaviors compared with women who did not report a history of menstrual cycle disturbances and therefore had always had regular menstrual cycles, she said.
According to the researchers, these findings indicate that even if there are signs that a woman's health is improving — that her energy status is better and she is having more regular menstrual cycles — she may still psychologically have tendencies toward disordered eating and should continue to receive nutritional or psychological support.
"The results provide perhaps some ways to improve the efficacy of the nutritional intervention or treatment that these athletes receive," Mallinson said.
Marquardt presented her work in the spring and was awarded an Undergraduate Research Award: Excellence in Information Literacy from Penn State University Libraries. She said working on the project was challenging but rewarding.
"We don't talk about (female health) a lot and I think that's something that's important," Marquardt said.
For Mallinson, the project adds to years of work on the subject. She completed a doctorate in kinesiology and post-doctoral work at Penn State University Park, where she worked with researchers on a larger study called REFUEL, which recruited young exercising women having irregular or absent menstrual cycles as a result of an energy deficit. In that study, the researchers followed the athletes for a year as they increased their food intake and tracked their energy status, menstrual cycle status and bone health.
Mallinson hopes to keep recruiting participants for the study at Penn State Harrisburg. She said receiving the Gatorade Sports Science Institute award provides encouragement to keep pursuing the work.
"I was very honored, but it also highlighted for me the importance of this research and interest people have in the health of female athletes," she said, adding that "this information is not necessarily very well understood or talked about despite the relatively high prevalence of this condition."