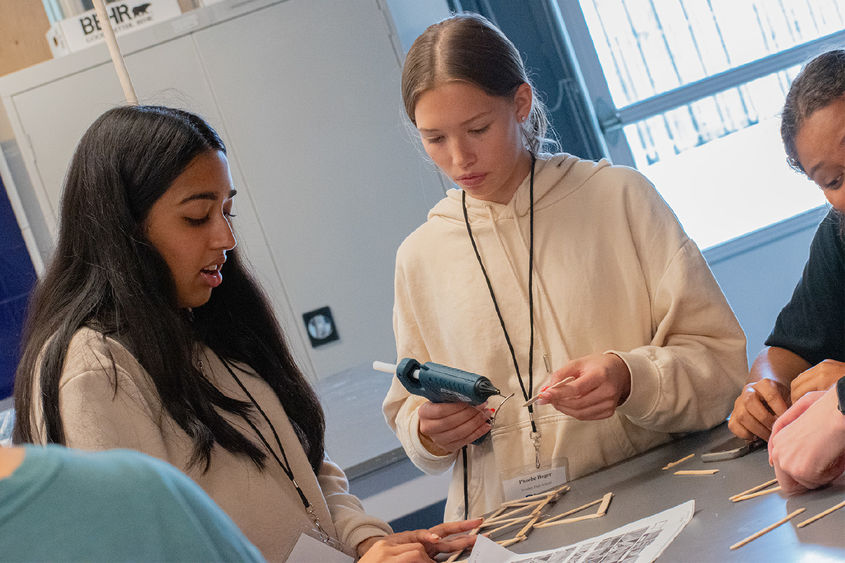 MIDDLETOWN, Pa. — High school student Phoebe Boger has had her sights set on the medical field since she was young. But the Hershey High School incoming junior wanted to be certain, and so, she said, she signed up for the STEM Summer Enrichment Program at Penn State Harrisburg.
"I was just going to venture out and see if I was interested in anything else before I actually decided to focus my classes on this and start looking for colleges," she said.
During the two-week experience, Boger and other students rotated through a series of workshop sessions covering many STEM (science, technology, engineering and math) areas such as biology, chemistry, engineering and computer science. A field trip to the medical simulation lab at Penn State Health Milton S. Hershey Medical Center offered a chance to learn about CPR, medical intubation and other skills. In the end, the experience in the program helped solidify Boger's interest in medicine.
"It's a great opportunity, and if (high school students) are even considering it, they should definitely apply," she said. "It's definitely helped me figure out what I want to pursue."
In its fifth year, the STEM Summer Enrichment Program (STEM-SEP) at Penn State Harrisburg is designed to improve student preparedness for college while promoting STEM education through active learning experiences and activities. This summer, 28 students from 14 high schools in the central Pennsylvania region participated.
"STEM disciplines are crucial to advancing technology and have contributed greatly to the economy," said Rafic Bachnak, professor of electrical engineering and one of the program directors. "One of the program's focus areas is ensuring a strong pipeline of STEM talent by paying special attention to the recruitment, mentoring and success of the underrepresented populations in STEM, especially women and other minorities."
During the program, faculty members offer hands-on workshops to give students a taste of eight STEM disciplines: math, physics, chemistry, civil engineering, mechanical engineering, electrical engineering, biology and computer science. The group also took field trips to steel company Cleveland-Cliffs, the program's sponsor, and to the medical simulation labs at the Hershey Medical Center.
"The whole purpose of the program is just to try to advance STEM education and reach as broad an audience as we can," said Brittany Anderson, associate teaching professor of chemistry and one of the program directors.
The participants' experience varies: Some might not know much about STEM, and others might have a good idea of a field they want to pursue. The program can help confirm those interests or expose them to a new field they find interests them even more.
"In any way, if we can help them figure out what they like or don't like, that's great," Anderson said.
Aachal Gupta, a high school student from Connecticut, participated in the program while visiting the area for the summer. She's always thought about the medical field but was on the fence.
She ended up loving the field trip to the medical simulation lab and learning about various aspects of working as a doctor.
"I think it's helped me decide, I really do want to go into the medical field," she said.
Gupta added that she found the faculty members who taught the workshops to be passionate about sharing their subject areas with students.
"It felt like they really cared about us learning," she said.
Sahiti Kulkarni, an incoming junior at Cumberland Valley High School, said she has thought a lot about computer science as a potential career field. During the program, she was surprised to have such a hands-on experience in a hospital setting, she said, and she enjoyed the mechanical and electrical engineering sessions, despite not knowing much about those fields before.
"We had so many opportunities. I didn't think I'd have so much fun," she said.
The STEM-SEP program began in 2016 and returned to campus this summer after a hiatus during the COVID-19 pandemic. Since the program's inception, 182 students have participated.