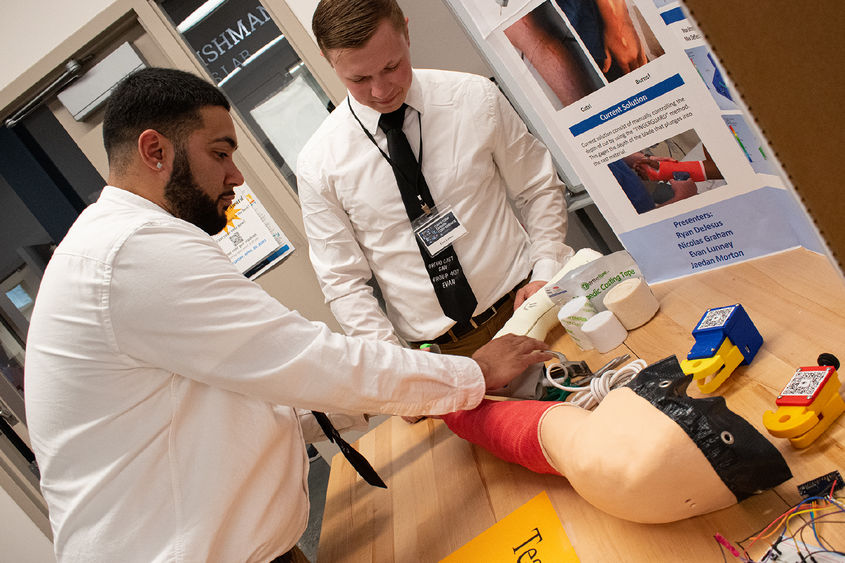 MIDDLETOWN, Pa. — Outstanding student projects were recognized during the Penn State Harrisburg School of Science, Engineering, and Technology Capstone Design Conference held in April. The conference was the culmination of students' undergraduate studies and provided the opportunity to combine classroom learning with real-life applications and collaborate with industry sponsors.
Judges selected winners from several program categories: civil engineering and structural design/construction engineering technology; computer science; electrical engineering and electrical engineering technology; mechanical engineering and mechanical engineering technology; as well as awarding the James A. Andrews Award for Excellence in Capstone Design.
Awards were given to outstanding group projects based on the criteria of overall appearance and quality of display; overall professional appearance of presenters; effectiveness of display, support materials and experimental set-ups; project summary by the team or individual; interaction with visitors; and innovation. Each program had its own judges.
View photos from the 2023 Capstone Design Conference.
The James A. Andrews Memorial Award for Excellence in Capstone Design recognizes and encourages students who best demonstrate interest, motivation and ability in identifying and solving an engineering problem that addresses a real-world concern. This sponsored award of $1,000 is intended to honor students who couple creative approaches with practical ability to successfully resolve a situation.
The award was established by the family of James "Jim" Andrews, who was an alumnus of Penn State and worked as a senior field support engineer for Rockwell Automation in York, Pennsylvania, in admiration of Andrews' flexible, can-do spirit. The award is presented annually. The winner of this award was chosen from among the first-place winners in each category.
The winners include:
Civil Engineering/Structural Design and Construction Engineering Technology
Project: Sustainability Enhancement for PSU COE West 2 Building
Team Members: Chayse Campbell, Nathanael McCollum, Hunter Merritt, Deanna Ray, Adam Thomas
Advisers: Shashi Marikunte, Sofia Vidalis and Saravanan Gurupackiam
Supported: Payette Associates, Inc. and The Whiting-Turner Contracting Company
The College of Engineering Research & Teaching Space (West 2) building project is focused on providing improved workflow and energy efficiency practices in harmony with existing infrastructure at Penn State's University Park campus. The design will integrate additional building entrances and multiuse spaces in coordination with the adjacent parking garage. Energy efficiency will be accomplished using stormwater collection and grey water management techniques to reduce demands on campus utilities while providing solutions to non-permeable runoff. The proposal will incorporate LEED engineering certifications and further structural redesign.
Computer Science
Project: Tanks 3D
Team Members: David Atkins, Nicolas Furfari, Patrick McCleerey
Adviser: Hyuntae Na
Tanks 3D is a multiplayer game where players take control of their tanks and compete against each other in a free-for-all deathmatch setting. The game features several tank variants; multiple maps, including a city and a desert arena; and basic AI enemies. Players earn points by taking out the AI enemies and each other. The player with the most points at the end wins. The game is available online only via an internet connection.
Electrical Engineering/Electrical Engineering Technology
Project: An SSVEP-based brain computer interface system to assist locked-in patients in decision making
Team Members: Dustin Cuscino, Raheeq Darweesh
Adviser: Nashwa Elaraby
A decision-making system was developed using Electroencephalography (EEG) principles to communicate with locked-in patients. Steady State Visually Evoked Potential (SSVEP)-based brain computer interface process is introduced in this project. Brain signals are acquired through SSVEP using a biosensing board, EEG electrodes, and flickering LEDs. The locked-in patient will stare at a flickering LED of a specific frequency; afterward, the brain signals acquired from the test will be matched with the frequency of the LED to confirm the command that the patient desires.
Mechanical Engineering/Mechanical Engineering Technology and the James A. Andrews Memorial Award for Excellence in Capstone Design
Project: Distribution Manifold
Team Members: Gobind Aulakh, Micah Gallagher, Tanner Martin, Scott Vaught
Adviser: Hessam Taherian and Anilchandra Attaluri
Sponsor: Sartorius AG
The team's mission is to design a mechanism(s) for Sartorius AG to remove safety caps from a distribution manifold and install new Luer-Barbed fittings in place of the safety caps as part of their production process. Investigating the Product Design Specifications for the customer was key in determining that employee fatigue needs to be reduced while increasing production capacity. Brainstorming, concept generation, concept screening/scoring along with "out of the box" ideas provided a clear path for prototyping and testing. Hand calculations and computational analyses led the team to a concrete design. The final goal is to build two tabletop mechanisms; one will mechanically operate the unit to remove the caps, and a second motor/belt driven assembly will install the new caps at the customer's desired torque specifications. Each unit will be presented as a professionally designed, off-the-shelf product ready to use by Sartorius.