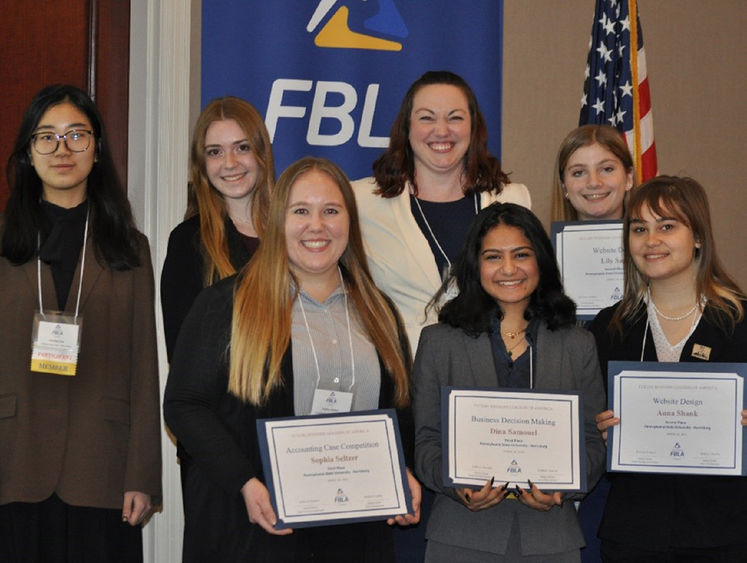 MIDDLETOWN, Pa. — In its first full year as a recognized student organization, Penn State Harrisburg's chapter of the Future Business Leaders of America Collegiate competed at the State Leadership Conference, where several students advanced to the national competition.
Future Business Leaders of America (FBLA), which has middle school, high school and collegiate divisions, helps its more than 230,000 members prepare for careers in business. Around 150 students from 12 colleges and universities across Pennsylvania competed at the State Leadership Conference, held in Harrisburg, Pennsylvania in March.
Seven students from Penn State Harrisburg attended. Four students placed in the top three of their competitive events and will now attend the National Leadership Conference in Atlanta, Georgia, in June:
Lily Sapp and Anna Shank took second place in Website Design.
Sophia Seltzer placed third in the Accounting Case Competition.
Dina Samouel placed third in Business Decision Making.
Other competitors were Carissa Fallon, Junting Gao and Dhruvi Patel.
Seltzer, president of the Harrisburg chapter, said the competition included tests the students could complete before the conference, as well as performance-based competitions in front of judges. For example, she completed accounting work for a hypothetical company before competition day, and then had to present and discuss her work before a panel of three professionals.  
In addition to the competitive events, the weekend included workshops, guest speakers, free headshots and resume reviews, said Jody Salsman, adviser of the Harrisburg chapter and lecturer in accounting for the School of Business Administration.
"FBLA Collegiate does a great job of organizing the event similar to what a professional conference would be like so that our business students have that experience when they attend a conference for their future jobs, and it is not as daunting for them," she said.
Salsman said that she and the students had some first-time nerves, but the students enjoyed the conference and expressed interest in participating again.
"I'm very proud of how well our students performed and participated in all of the activities. I think this was a great opportunity to learn and be even more prepared and have more participation next year," she said.
Seltzer, a second-year student, said the Penn State Harrisburg chapter of FBLA grew out of the former accounting club. The transition took place in spring 2022, making this the first year the chapter was able to participate in the conference.
Broadening the focus of the group has allowed more business students to join, she said, leading to more involvement.
"Most of our focus is on networking with companies," Seltzer said, adding that she's found internships because the organization opened her up to new opportunities.
Seltzer is a 2+2 student, so she plans to join the FBLA chapter at University Park next year. But she expects the Harrisburg chapter will compete in the state event again next year.
"I'd love to see more students involved. It's a great opportunity," she said. "It looks awesome on a resume. It was great to represent Penn State Harrisburg, even greater that we won awards. It kind of gets our name on the board."
Penn State Harrisburg's FBLA chapter is recruiting additional members from inside and outside of the School of Business Administration. More information is available through Engage, or by contacting Seltzer ([email protected]) or Salsman ([email protected]).