Jobs on the ITS Service Desk at Penn State Harrisburg provide valuable experience for students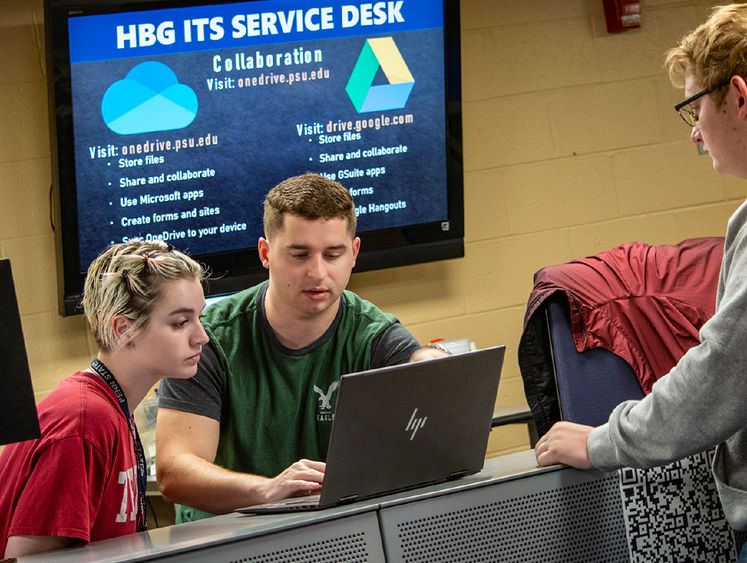 MIDDLETOWN, Pa. — Students working the ITS Service Desk at Penn State Harrisburg help campus community members with a wide array of technology issues — from downloading software to deploying, building, and testing classroom and lab computers, and even occasionally trying to rescue someone's device from an accidental spill. As they troubleshoot, they're gaining valuable career experience that is giving them an advantage when it comes time to look for jobs.
"The experience and the connections I gained at the desk are, in my opinion, priceless," said Jarek German, who graduated from Penn State Harrisburg in May 2022. "I learned a lot. I got to interact with great people. A lot of the work I did at the desk helped me fill out my resume, and the experience I gained here helped me get my amazing new job."
The service desk typically employs 18 to 20 students per academic year. They staff the desk on the lower floor of the Olmsted Building and help students, faculty and staff who come in with technology problems, in addition to managing technology issues around campus.
Toni Chainey, IT support specialist for the college, said recruiters and others are impressed with the level of hands-on experience students receive through the service desk at Penn State Harrisburg. The jobs also have helped some students who transfer to University Park obtain positions at the EIT Service Desk.
"The level of maturity they have and the things we're showing them here, it's getting their foot in the door," she said.
Chainey works to ensure that through the service desk, students are training for skills that companies demand. She tries to empower the student workers and give them the authority to come up with solutions to problems.
The students are asked to take training through LinkedIn Learning, which in some cases allows them to earn completion certifications they can list on their resumes. ITS staff members show them different tools and additional skills, such as how to rebuild a Mac or Windows device.
German began working on the desk in summer of 2021, earned his degree in security and risk analysis, and continued working for the service desk after graduation while he looked for employment. In October, he began a new job as an IT generalist for the Commonwealth of Pennsylvania, a role that will have him assisting state agencies in a multi-county district.
"I credit my role at the service desk with landing me the job," he said in an email.
On the service desk, German honed existing skills and learned some new ones — such as how to troubleshoot and fix a problem for someone over phone or via online chat.
German said about these instances, "You're relying on someone else who usually doesn't have the expertise or knowledge to explain the problem and then directing them based on that information and hoping they follow your instructions properly. Essentially you're solving a puzzle blindfolded while using someone else's hands and eyes."
Student IT service desk team member David Ulishney said the service desk has been a good place to supplement his studies in security risk analysis with hands-on experience. When he started on the service desk, he felt like there were simpler technology tasks he should know but didn't — such as reformatting a Windows device. The job has given him the chance to learn them.
"I definitely think the hands-on experience has been great. Going around to classrooms and either checking up on them or installing network cables," he said. "I like that part a lot."
Summer months offer the students a different experience, Ulishney said, since fewer classes are in session and the service desk workers might be tasked to replace all the computers in a lab and manage all the cables.
Ulishney hopes to one day be the manager of security policy for a company. He enjoys working on security policies and how people interact with them, to ensure they work. But he thinks the path will first take him to an IT role similar to the work he's doing on the service desk.
Second-year student Jagger Gilleland worked on the desk about a year before he was promoted to student manager, a role that involves more delegating, keeping student workers on task, and ensuring jobs are completed.
Gilleland described an array of requests the student workers might handle. They might be asked to set up someone's two-factor authentication for their Penn State account, help download software or assist a faculty member when the classroom technology isn't working.
Gilleland is a computer science major but said working on the service desk is a good place to gain experience for students studying a variety of subjects.
"Just knowing the basic troubleshooting of computers is important for any tech major or any major in general," he said.
German, the recent graduate, echoed that sentiment.
"I think most of the skills are helpful in everyday life. Technology is everywhere and being able to help solve problems you or others encounter is always nice," he said. "The interpersonal skills developed from working with students, faculty, and staff at the desk are applicable anywhere."