The Nov. 30 production is a part of the college's Kulkarni Cultural Series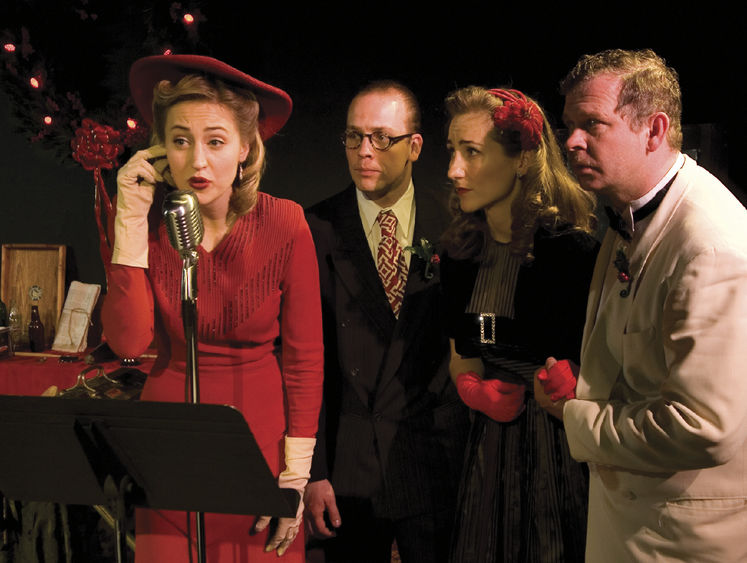 MIDDLETOWN, Pa. — Penn State Harrisburg's Kulkarni Cultural Series will celebrate the holidays with a stage adaptation of a classic holiday film, "It's a Wonderful Life: Live from WVL Radio Theatre," at 7:30 p.m. on Wednesday, Nov. 30, in the Kulkarni Theatre in the Student Enrichment Center on campus.
This 1940s "live broadcast" of Frank Capra's beloved film takes us back to the Golden Age of radio. The adaptation is set in the fictional studio of WVL Radio Theatre on a cold, snowy winter night. Due to a blizzard, the professional voice actors are unable to get through, but the show must go on — so a small but intrepid band of employees manage to create the dozens of movie characters and scenes using just their voices and a sound effects table. With surprisingly simple technical requirements and adaptable staging needs, this production is an uplifting story of struggle and triumph, and of the power of a community to weather financial storms.
This production is the creation of the Immediate Theatre Project, which engages in telling stories that illuminate the experience of living here and now, reflecting the world around us and the depths within us. Through professional productions, public readings and other forms of engagement, they bring new life to American classics, expose audiences to the best of contemporary drama, and develop new work with an eye to the future. In 2009, Immediate Theatre Project completed this adaptation of Frank Capra's screenplay, focusing on the timeless story of struggle in times of crisis and of the power of a community to uplift each other.
All attendees are welcome to enjoy a free, post-show holiday cookie reception. Tickets for "It's a Wonderful Life: Live from WVL Radio Theatre" are on sale now at harrisburg.psu.edu/boxoffice.