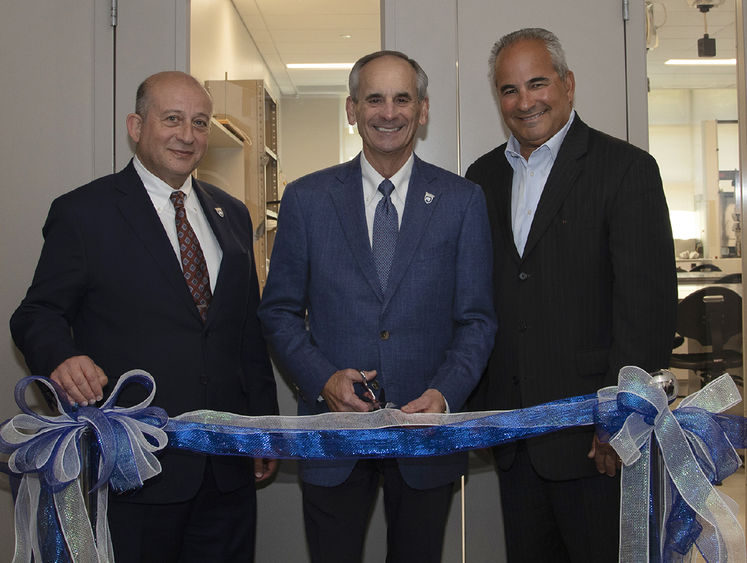 MIDDLETOWN, Pa. — Penn State Harrisburg received a $220,000 gift from AECOM Tishman to name the structures lab in the Educational Activities Building on campus. A ribbon-cutting ceremony took place September 23.
AECOM Tishman is an American multinational engineering firm that has managed construction of iconic buildings throughout the world – from residential buildings to large developments, hotels to hospitals, renovations of historic buildings to skyscrapers.
"The AECOM Tishman Structures Laboratory establishes a visible and lasting partnership with a global industry leader and brings greater visibility to our campus. The naming illustrates the critical importance of support from industry partners and our network of alumni," said Penn State Harrisburg Chancellor John M. Mason Jr. "This support enables us to ensure academic opportunity and excellence for our students and to advance our research agenda. The investment in the college that led to this naming will directly benefit the School of Science, Engineering and Technology, its faculty and students."
AECOM Tishman, and Jay Badame, Penn State Harrisburg alumnus and president of the Construction Management division for AECOM, have been longtime supporters of the college's School of Science, Engineering, and Technology. At the ceremony, Badame said, "It is an honor to be with you today, at my alma mater where I learned all the skills that have led to where I am in my career and at this firm. This is truly a full circle moment for me: to come back to this great university, and to be here to cut a ribbon on this lab which our firm AECOM Tishman has contributed to this campus — and one which I know will provide to other students the same skills and expertise to make a name for themselves in the wider world and to go on to do great things."
The 1,300-suqare-foot AECOM Tishman Structures Laboratory is designed and built to fully support teaching and graduate and undergraduate research. The lab supports multiple courses, including various civil engineering courses with a lab component. The primary researcher using the lab is Grady Mathews, assistant professor of civil engineering. His research includes testing of concrete samples cured in one of the two environmental chambers in the lab. Mathews' research uses the freeze/thaw chamber in the room to accelerate the aging of concrete to determine the impact of aging and exposure to the environment on various properties of concrete.
With the record-breaking success of "A Greater Penn State for 21st Century Excellence," which raised $2.2 billion from 2016 to 2022, philanthropy is helping to sustain the University's mission of education, research and service to communities across the commonwealth and around the globe. Scholarships enable Penn State to open doors and welcome students from every background, support for transformative experiences allows students and faculty to fulfill their vast potential for leadership, and gifts toward discovery and excellence help serve and impact the world. To learn more about the impact of giving and the continuing need for support, please visit raise.psu.edu.