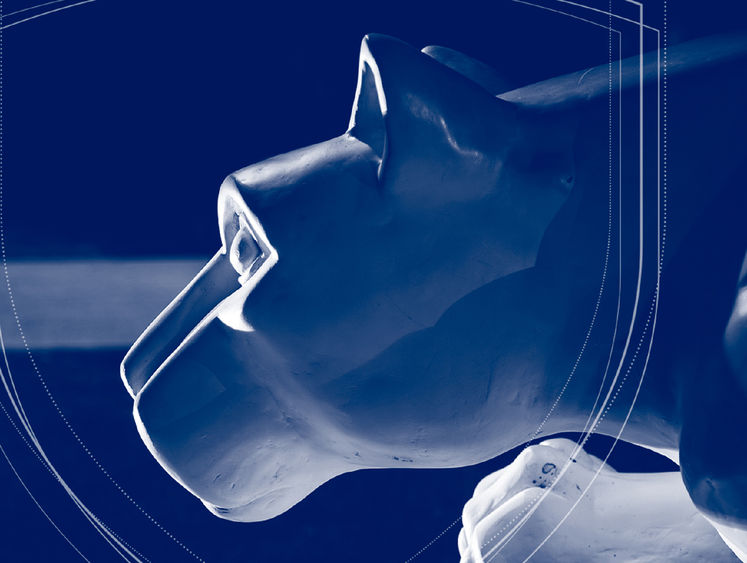 MIDDLETOWN, Pa. – Two Penn State Harrisburg professors are working with students to help regional manufacturers develop innovative solutions to real-life issues in the industry.
Issam Abu-Mahfouz, associate professor of mechanical engineering, and Grady Mathews, assistant professor of civil engineering, in the college's School of Science, Engineering, and Technology, are among the recipients of Manufacturing PA grants, state funding that helps pair faculty and students with manufacturers to develop new technologies and advance innovation.
With a $70,000 grant, Abu-Mahfouz has teamed up with Trans-Air Manufacturing, in Dallastown, Pennsylvania, which makes climate control systems for the school, commercial and electric-hybrid vehicle markets, on a project to reduce noise caused by those systems.
HVAC systems cause noise in vehicles, both from the air blower inside and the compressor outside of the vehicle cabin. In electric and hybrid vehicles, which have a quieter power train, the noise of climate control systems is more pronounced.
With the help of two undergraduate students and one graduate student, Abu-Mahfouz is conducting experimental work to measure the current sound levels and find the cause of HVAC noise, as well as a computer simulation study to work on design changes to minimize that noise. Trans-Air will provide engineering and design support as well as equipment for the students to run and test. Work will take place in Penn State Harrisburg labs as well as at Trans-Air facilities, where students will have the chance to engage with Trans-Air engineers.
Abu-Mahfouz said the project will have the real-world impact of providing more comfort for passengers in the vehicles, but there's an additional economic aspect. Addressing the noise pollution could contribute to the success and marketing of the product.
"Having the faculty and academia involved with the industry in trying to produce better products is of great importance to the community and the state economy," Abu-Mahfouz said.
Mathews' $44,000 grant is helping him build on previous Manufacturing PA-funded research.
Aero Aggregates, in Eddystone, Pennsylvania, uses recycled container glass to make ultra-lightweight foamed glass aggregates. In 2020, Mathews received the funding to examine the aggregates' use in concrete, and this second grant helps fund a continuation of the project, which focuses on looking at using the ultra-light aggregate in concrete block. Because mixed container glass is particularly difficult to recycle, this work could help address glass recycling issues in Pennsylvania as well as develop a new marketplace in concrete block products.
Mathews and students will be testing the blocks – looking at their strength, durability, sound absorption and fire resistance, for example.
Mathews said he likes practical projects such as helping a company solve a problem. Working directly with industry helps him keep up with what's currently going on in the field.
Aero Aggregates' technical director has visited the campus, and Mathews takes students to the company's facility, too, for more perspective on the work.
For many students, research projects such as these can lead to related jobs in the field.
Mathews said that in many of the industries he works with, there's been a labor shortage, even pre-pandemic. So, this work can also introduce students to a field where workers are needed.
"The stronger manufacturing is in the state, the stronger the economy is going to be," Mathews said.