Project will focus on the microstructure of the Euplectella Aspergillum marine sponge to design bone implants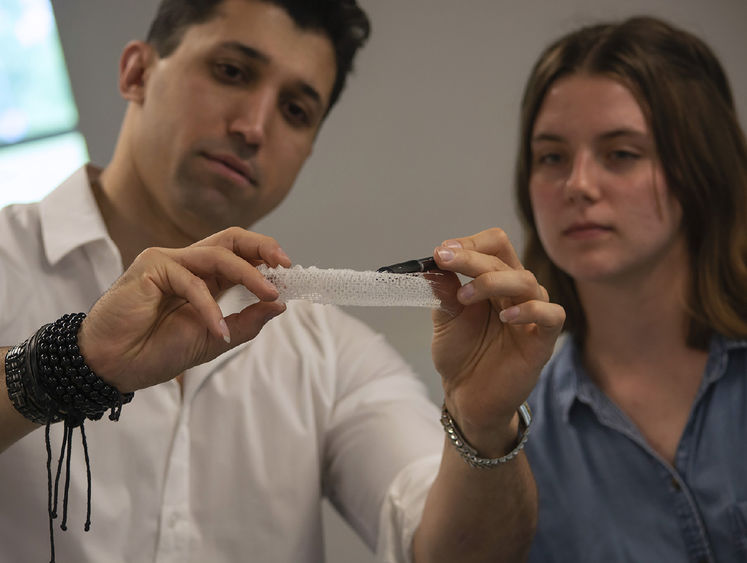 MIDDLETOWN, Pa. — Fariborz Tavangarian, assistant professor of mechanical engineering in the School of Science, Engineering and Technology at Penn State Harrisburg, has been awarded a $616,000 National Science Foundation Faculty Early Career Development (CAREER) award for his project "Achieving Resilience in Brittle Materials Through Bio-inspired Nested Cylindrical Structures."
The CAREER Program is an NSF-wide initiative that offers the NSF's most prestigious awards in support of early-career faculty "who have the potential to serve as academic role models in research and education and to lead advances in the mission of their department or organization. Activities pursued by early-career faculty build a firm foundation for a lifetime of leadership in integrating education and research."
Tavangarian expressed gratitude for this important recognition and noted the impact of the work it will support.
"This award provides the foundation to further advance the existing knowledge in the field of ceramic materials and subsequently, apply the knowledge for designing new bone scaffolds for biomedical applications," he said.
Ceramics and other brittle materials play a pivotal role in biomedical, automotive and aerospace applications and their failure under thermal and mechanical stresses is a concern, according to Tavangarian. His research aims to address this concern by focusing on investigating the microstructure, micromechanical properties, and crack development patterns and mechanisms found in certain marine sponges. Although their structural components — known as marine spicules — are made of a brittle ceramic (silica), they show unusual toughness and flexibility due to unique factors within the structure.  
"Dr. Tavangarian's research has benefited from the world-class research facilities of the Material Research Institute at Penn State, and resources provided by our college," said Penn State Harrisburg School of Science, Engineering and Technology Director Vahid Motevalli. "These resources and this award are very important for the growth of engineering at Penn State Harrisburg, and we are delighted that his CAREER award will further enrich our school and our students' experience."
Tavangarian's research findings will be used to design and fabricate similar structures from brittle materials and explore the potential of these bio-inspired structures for human bone tissue engineering and other applications.
Tavangarian's work will integrate research and curriculum development to educate next-generation engineers at Penn State Harrisburg, including undergraduate and graduate underrepresented minorities and female students. Also, through the project, Penn State Harrisburg will provide summer research programs for schoolteachers and summer programs and workshops for K-12 students to learn about additive manufacturing.
"Dr. Tavangarian's receipt of this prestigious NSF award is a testament to the important research and scholarly outreach activities undertaken by faculty at Penn State Harrisburg," said Chancellor John Mason. "He is joining several of his colleagues at the college whose work has received national and international recognition and support through NSF, Fulbright programs, and other similar organizations. We are proud of these collective achievements and their ultimate impact on the educational experiences that we can provide to students."