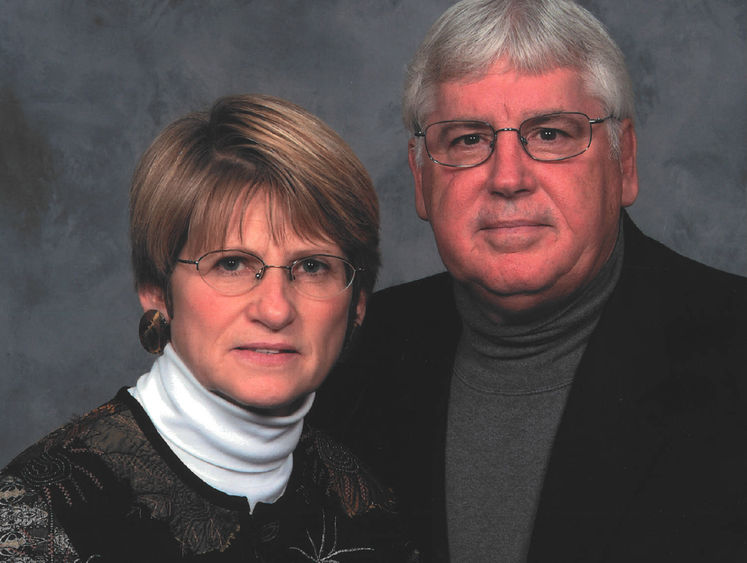 MIDDLETOWN, Pa. – Terry L. Davis, a 1973 Penn State graduate who attended the Harrisburg campus and former instructor at the college, says that as he has gotten older, he sees the "pay it forward" approach as a valuable way to mentor students.
With a $50,000 gift, Davis and his wife, Marsha, have created the Terry L. Davis Criminal Justice Scholarship, the first endowed undergraduate scholarship for students studying criminal justice in the School of Public Affairs at Penn State Harrisburg.
"I have wanted to do this for several years," Davis said. "As a student, I was never one of the best in my classes. I had to work harder than some people . . . However, I have a skill for understanding people and can relate to people I encounter. I was an average student who turned out to be a good probation officer, an officer in the military, and a business owner. Now it's time for me to try to help other students along their career paths."
"Thanks to the generosity of Terry and Marsha Davis, generations of undergraduate criminal justice students at Penn State Harrisburg will have a somewhat easier path to their degrees," said Marvin Overby, director of the School of Public Affairs. "In addition, these students – and others within the School of Public Affairs – have in Terry and Marsha Davis wonderful role models for careers spent in public service."
After graduating from Penn State Harrisburg with a bachelor's degree in social science, Davis went on to earn a master's in administration of justice from University Park. In November 2021, he celebrated his 50th year working in the criminal justice system.
Davis was also an officer in the Pennsylvania Army National Guard for 30 years and was promoted to colonel upon retirement.
His career in criminal justice began while he was completing an internship with Dauphin County Adult Probation and Parole as an undergraduate and was subsequently hired full time. He eventually was promoted to director of the adult probation program while also overseeing the work release program at Dauphin County Prison, overhauling, and significantly increasing the number of individuals in the program. He retired from public service in 2008, and today serves as president of Keystone Correctional Services, Inc., a privately-owned work release prison.
Davis also has been an instructor in criminal justice programs at Penn State Harrisburg and Harrisburg Area Community College, where he had a track record of hiring students to work in adult probation and parole and the work release program.
"I was very involved in teaching students about all the different avenues they can go into with a criminal justice degree," he said. "The students were eager to learn and to get ready to start their careers."
Having seen students' potential, Davis said he wants to continue helping students, but in a different capacity. "I just may be able to help someone who, like me, had no one to follow," he said. "Now I can be a mentor to these students.
"As I got older, it became very apparent to me that when you give, it really does come back tenfold. By creating this scholarship, I hope to assist some great criminal justice stars, who as they grow will someday give a gift to someone else -- the 'pay it forward' concept."
Davis' wife, Marsha, attended Lycoming College and the Western Massachusetts Law School. She was a criminal prosecutor and worked for the commonwealth of Pennsylvania in several agencies, including in the Office of the Attorney General and with the Department of Military Affairs. She simultaneously served in the National Guard and Army Reserves as a JAG Officer and was promoted to brigadier general upon her retirement at 28 years of service.
Open to full-time undergraduate students majoring or planning to major in criminal justice, the Terry L. Davis Criminal Justice Scholarship was first awarded in 2021 to Summer Dauberman, a senior from Harrisburg, Pennsylvania.
"Receiving this scholarship has impacted me greatly," Dauberman said. "It means a lot, knowing I have been chosen, and it has allowed me to continue my journey at Penn State Harrisburg."
This gift will advance "A Greater Penn State for 21st Century Excellence," a focused campaign that seeks to elevate Penn State's position as a leading public university in a world defined by rapid change and global connections. With the support of alumni and friends, "A Greater Penn State" seeks to fulfill the three key imperatives of a 21st-century public university: keeping the doors to higher education open to hardworking students regardless of financial well-being; creating transformative experiences that go beyond the classroom; and impacting the world by serving communities and fueling discovery, innovation and entrepreneurship. To learn more about "A Greater Penn State for 21st Century Excellence," visit greaterpennstate.psu.edu.