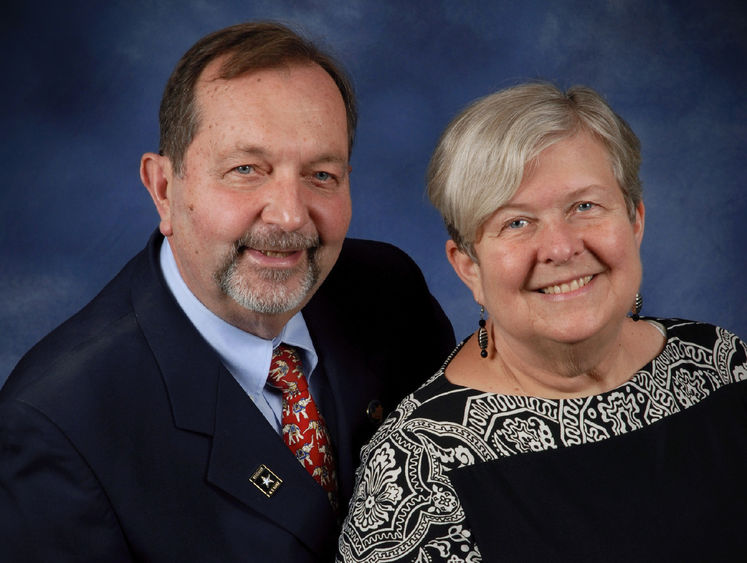 MIDDLETOWN, Pa. — Nelson Rimensnyder, retired director of research for the U.S. House Committee on the District of Columbia and current director of the New Columbia Archives, and his wife, Lisa Nickerson, have made a commitment of $312,500 to establish the Rimensnyder Graduate Scholarship for Excellence in Public Administration at Penn State Harrisburg. The couple, who reside in Washington, D.C., share a legacy of public sector experience, both as federal employees and as civic activists.
Housed in the Penn State Harrisburg School of Public Affairs, the scholarship will support full- or part-time graduate students who are enrolled or plan to enroll in either the Master of Public Administration (MPA) program or the Public Administration doctoral program. The scholarship was first awarded in spring 2021. The goal of the fund is to benefit and help sustain students with demonstrated academic excellence and a strong commitment to a career in public service.
"The future success and happiness of our society depends on the quality of leadership, expertise and devotion to the public welfare of our government employees at every level," Rimensnyder and Nickerson said in a statement. "We hope this scholarship may attract and help produce outstanding candidates who are interested in careers dedicated to providing such service."
"The generosity demonstrated by Nelson Rimensnyder and Lisa Nickerson in their gift to support graduate education in the School of Public Affairs is overwhelming, and my colleagues and I are extremely grateful," said Marvin Overby, director of the School of Public Affairs. "Generations of students in our MPA and doctoral programs will benefit from Rimensnyder Scholarships as they complete their educations and prepare for careers in public service and leadership."
Rimensnyder, who graduated from Penn State in 1969 with a bachelor's degree in liberal arts and in 1970 with a master of public administration degree, credited a fellowship with the University's former Institute of Public Administration as prompting him to support annual fundraising at Penn State, including the Mowitz Fund, named for the institute's director, Robert Mowitz.
"From the start (of the fellowship), it was clear to me that the institute and its staff, under the leadership of Robert Mowitz, was engaged in nurturing, motivating, inspiring and training individuals to operate at the highest standards of careers in government and public service," Rimensnyder said. "To this day, I am grateful for the outstanding academic preparation that contributed so greatly to my later success working for the legislative branch of the U. S. government in Washington, D.C." 
Rimensnyder said that he was pleased to learn that the goals and ideals of Mowitz are ongoing through Penn State Harrisburg's School of Public Affairs. "I believe it was a fundamentally wise decision to move that program to Harrisburg, to give students more opportunities to explore and study government operations at the state level and in a variety of local jurisdictions," he said.
Rimensnyder is an expert on the history of Washington, D.C., and its government. After graduating with his MPA, he moved to the city. There he met Nickerson, a fellow MPA graduate with her degree from George Washington University. He served for several years as an analyst at the Library of Congress Congressional Research Service, where he worked closely with the House Committee on the District of Columbia as it was developing home rule legislation for residents of the district that finally ended 100 years of direct rule by Congress. Following passage of this landmark law, he was hired as the committee's director of research. In addition to serving as the committee's representative on the National Capitol Planning Commission, Rimensnyder was deeply involved in studying the background and history of a broad variety of policy and legislative issues associated with governance of the District of Columbia. He retired in 1992.
Throughout his career, he has engaged in compiling and cataloging the only existing comprehensive archive on the history of the relationship between the District of Columbia and the federal government. When the House D.C. Committee was abolished, he created, with his wife, a documentary collection, The New Columbia Archives. The archives include documents and other materials related to D. C. residents' 200-year struggle for civil rights and voting representation in Congress, as well as the continuing public debate around the political and financial affairs of the District of Columbia.
Nickerson spent 10 years as an analyst in the federal government and speechwriter at the Library of Congress, writing remarks for members of Congress. She left the Congressional Research Service in 1978 to be a full-time parent and volunteer leader in PTA and Cub Scouts for the couple's three children. In 1994, she returned to full-time employment with the federal government as the office manager of the U.S. Capitol Police Bomb Squad. There, she was able to use her training in planning and budgeting, logistics, inventory, and various aspects of human resources and personnel management. She retired in 2010.
"Fifty years of living on Capitol Hill has made it clear to us that the quality of public service at the federal government level impacts the well-being of every citizen in this country," the couple said. "It is imperative to find, prepare and train a share of the best and brightest individuals to assume this work and dedicate themselves to maintaining the highest standards in their professional service. During our careers we have seen and worked with many examples of such outstanding public servants. It is our hope that the scholarship program will help ensure that the government can continue attracting the absolute best to its service."
This gift will advance "A Greater Penn State for 21st Century Excellence," a focused campaign that seeks to elevate Penn State's position as a leading public university in a world defined by rapid change and global connections. With the support of alumni and friends, "A Greater Penn State" seeks to fulfill the three key imperatives of a 21st-century public university: keeping the doors to higher education open to hardworking students regardless of financial well-being; creating transformative experiences that go beyond the classroom; and impacting the world by serving communities and fueling discovery, innovation and entrepreneurship. To learn more about "A Greater Penn State for 21st Century Excellence," visit greaterpennstate.psu.edu.