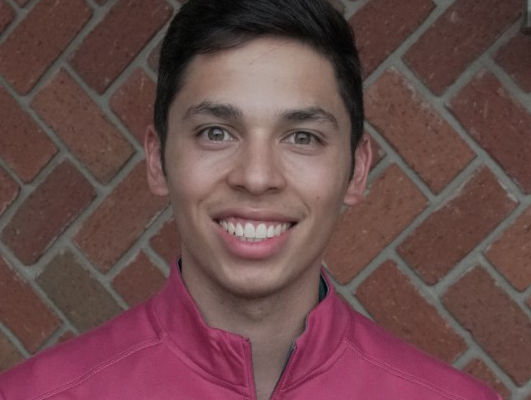 MIDDLETOWN, Pa. — Soccer player Oscar Cartagena, a graduate student majoring in communications at Penn State Harrisburg, recently completed a media internship with the American Junior Golf Association (AJGA), a job he was a bit apprehensive about at first.
Cartagena always envisioned himself working in sports media, but he thought that the sport he would be promoting would be soccer, his favorite. Without prior golf knowledge, he was unsure about applying for the AJGA internship. Now, he said he's glad he did. Among the key takeaways from the experience was the realization that the communications skills he has gained can translate for use in most any sport. In his words, "the internship opened his horizons."
Hesitation aside, Cartagena was drawn to the American Junior Golf Association because it would allow him to network with other people in the sports media industry, a benefit for the future. The organization also supported its interns with the proper equipment — such as cameras and computers — needed to get the job done well. 
Cartagena credits his prior internship in the Penn State Harrisburg sports information office as one of the reasons he was hired by the AJGA. He also used his own social media knowledge and personal accounts to bolster the visibility of the organization using its hashtag.
"The American Junior Golf Association is a nonprofit organization with the goal of providing the best opportunities for junior golfers to pursue college golf and/or gain scholarships," Cartagena said.
Throughout the internship, Cartagena covered the organization's tournaments on social media; he created videos, took pictures and wrote articles. His also interviewed the junior golfers about their experiences.
The internship also was physically strenuous at times. Cartagena was responsible for driving the golf team to its tournaments throughout the northeast region of the United States. To do this, he had to get a trailer license, which states that he completed all the necessary safety protocols to drive a concession trailer that holds up to 3,000 pounds. It also meant constantly being on the road.
"The most challenging part of the internship was the hours and being away from my family," Cartagena said. 
But Cartagena said the experience was worth it because he made great friends and gained valuable knowledge. While his dream is still to work in sports media related to soccer, he is no longer intimidated by any lack of sport-specific knowledge and feels he can cover any sport well thanks to the internship.
"I loved it! I would do it a hundred times over again," Cartagena said. "And to anyone who wants to go into the sports industry, I highly recommend it, even if you don't know golf."