'Bonded Bow' took first place at the winter 2021 Idea TestLab program sponsored by Harrisburg LaunchBox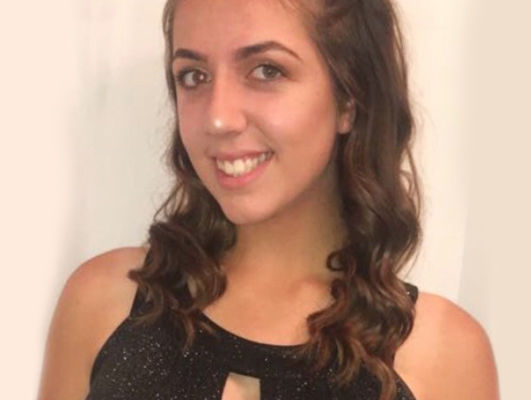 MIDDLETOWN, Pa. -- In response to her own high school experience as a student-athlete and musician, Penn State Harrisburg student Carley Furlow created the patent-pending "Bonded Bow" to help people with carpal tunnel, arthritis, and wrist and hand injuries continue to play their instruments.
A high school coach encouraged Furlow to be a well-rounded student-athlete -- show up to practice, get good grades, and join extracurricular activities in the arts. For Furlow, that meant becoming a member of the school orchestra. But the strain of her athletics and her musical activities often led to injuries. And, although it was recommended that she use rubber bands or athletic tape to connect her hand to the viola bow, neither of these methods worked, forcing Furlow to quit orchestra.
Since then, Furlow has put her creativity and ingenuity to work to help others. The "Bonded Bow" is used by sliding the ring and middle finger through the finger holes and snapping the grip around the handle of the instrument. Furlow launched "Bonded Bow" on her online store, Sharps and Flats, on Aug. 2 after winning first place at the winter 2021 Idea TestLab program sponsored by Harrisburg LaunchBox powered by Penn State.
"That was when I knew the idea was logical and working," Furlow said about her first-place win.
Furlow, a business administration student, said she was able to achieve this goal with the help of Harrisburg LaunchBox, a program that assists Pennsylvania entrepreneurs — not just Penn State students and alumni — with their product or business needs.
"Carley's a very insightful entrepreneur," said Annie Hughes, director of Harrisburg LaunchBox, noting Furlow's ability to identify solutions to customer problems.
"What I noticed about Carley is she works very hard, and she learns very quickly," Hughes said, "Being an entrepreneur takes that insightfulness, but it also takes grit and perseverance. Carley has all those qualities. She's also a great networker."
The Bonded Bow also won second place at Mont Alto LaunchBox powered by Penn State's LION tank pitch competition. In addition, elementary schools are putting the product into their music programs.
But the "Bonded Bow" is not the only idea that has gotten attention for Furlow. She is also an up-and-comer in the sustainable fashion industry.
"I made masks during the pandemic. I donated a couple thousand masks to frontline essential workers, and I ran out of fabric," Furlow said.
With her mask-making days over, Furlow turned her attention to more creative ways to make fashion. When someone gave her 50 magazines, she had the idea to make them into a cocktail dress. From there, she used things like video tapes and playing cards to make sustainable dresses.
Furlow is hoping to continue her sustainable fashion business in the future. She currently has one fashion event scheduled in November and at least four planned for 2022.
"I'm not surprised that Carley is successful in other areas of innovation," Hughes said. "I think this is just the beginning for her. We're going to see a lot of innovation, a lot of solutions to problems and needs that she sees out in the world."
Already expanding into an office space, Furlow plans on finishing her degree while continuing her entrepreneurial efforts.
"(I) definitely plan on being an entrepreneur -- more of the growing and selling part of being an entrepreneur -- getting a business to a point (where) it's sustainable," Furlow said, "And then for my Sharps and Flats business ... I have more products I'm currently developing to solve more limiting circumstances."
LaunchBox is an " ... innovation hub that offers accelerator programming for early-stage entrepreneurs, as well as education programs, free legal assistance, and other kind of essential services, including coaching, to entrepreneurs," Hughes said. "Anyone in Pennsylvania can turn to LaunchBox for entrepreneurial assistance, just like Furlow did."
Harrisburg LaunchBox is accepting application for the winter 2022 Idea TestLab now through Jan. 10, 2022. Any Pennsylvania-based entrepreneur may apply to this virtual accelerator through the program website.