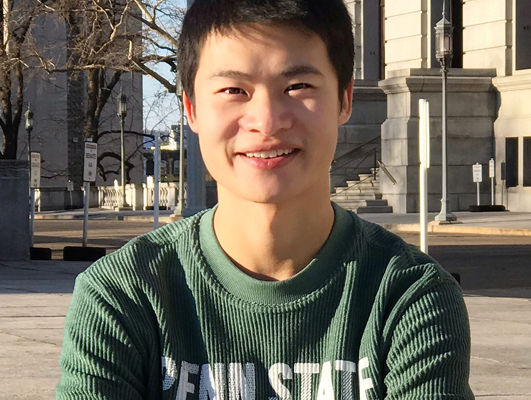 MIDDLETOWN, Pa. — Hart Bullock, a current doctoral student in communications at the University of Maine and recent master of arts in communications graduate at Penn State Harrisburg, won the 2021 Don Yoder Prize for the Best Graduate Student Paper in Folk Belief or Religious Folklife. 
Bullock won the prize for his paper, "The Haunting of Hex Hollow: A Study of Historical Discourse, Collective Memory, and Media Coverage of the York, Pennsylvania, Witch Trials, 1920-2020."  
The paper explores the intersections between folkloristics and mass media studies. Bullock looked at the 1928 Hex Murder in York, Pennsylvania, and examined the media representation of "powwowing," a traditional medical practice. He found that the historical media representation inaccurately depicts powwowing as "witchcraft," which promotes the pathologizing of this community-based belief and identity in social remembrance. 
The prize was announced at the American Folklore Society Meeting in Harrisburg, Pennsylvania, in October. Bullock also presented his paper at a virtual session during the conference.
Bullock credited current and former faculty members in the American studies and communications graduate programs in the college's School of Humanities with mentoring him.
"The teamwork is both challenging and rewarding when collaborating across disciplines and campuses, especially facing the ongoing pandemic with all the uncertainties and hardship to conduct fieldwork," he said. "Dr. Anthony Buccitelli introduced me to the world of studying folklife; Dr. Jeffrey Tolbert helped me approach foundational knowledge to start my own folkloristic project; Dr. Nakho Kim and Dr. Stephanie Morrow continually supported and inspired me to build the connections between these two fields; and Dr. Simon Bronner was an excellent mentor who patiently guided me through adding depth to my thinking and writing. I truly couldn't ask for more beyond these exceptional mentors and a group of supportive peers from American Studies graduate programs."  
"I was definitely blessed to be able to work with renowned faculty in folkloristics and mass media studies," Bullock added. "The interdisciplinarity of my mentorship and continued support from the School of Humanities are essential to finalizing this paper and eventually receiving this award."