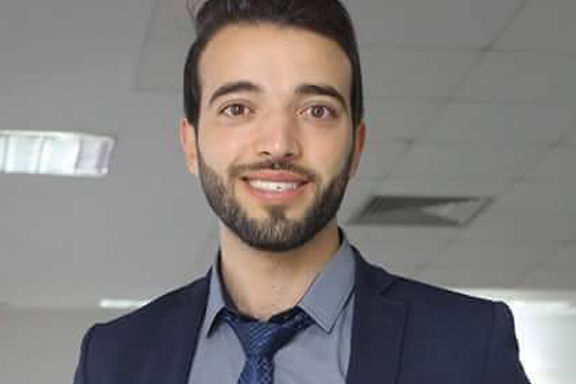 MIDDLETOWN, Pa -- Hamdi Dewdi, a graduate student in the master of engineering management program in Penn State Harrisburg's School of Science, Engineering, and Technology and Fulbright scholar, has proven himself a success in many ways – most recently in a leadership role managing employees at Ingram Micro, a supply chain management and technology company.
Sponsored by the U.S. Department of State, Dewdi came to the U.S. from his home country of Tunisia through the Fulbright Foreign Student Program, a highly competitive program that selects only a few students from different countries around the world to study in the U.S.
"Well, I guess this is my greatest achievement," Dewdi said, adding that it was a dream come true to get into the Fulbright program.
"[The Fulbright scholarships] are really competitive, so the fact that he received one tells a lot about him," said Rafic Bachnak, Dewdi's adviser and the professor in charge of the engineering management program. "In addition to getting the degree, he is interested in getting practical experience and that's what led him to apply for the internship at Ingram Micro."
Dewdi began working part-time in the spring of 2021 with the option to move into a full-time position after he graduates. Dewdi will manage a team of 35 employees at the company, a role he is familiar with. In his previous work as a petroleum engineer in Tunisia, Dewdi was responsible for managing a team of 20 to 25 employees.
"I'm excited also to be in a small leadership position," Dewdi said. "Managing engineering is not the same as managing just employees. It's also a good experience for me as a leader."
One challenge for Dewdi in this new role is the fact that many of the employees speak Spanish, which he currently does not know. He already speaks French, German, Arabic and English, and the company will provide a translator so Dewdi does not have to rush to learn a new language. Still, he wants to.
"I'm always curious to learn a new language," Dewdi said. "It helps to understand people and to develop some friendships."
Dewdi's accomplishments well precede his employment at Ingram Micro. In Tunisia, he studied petroleum engineering for six years and graduated in 2017. Then, he worked in the field for two and a half years before getting the opportunity to study in the U.S.
Deciding to attend Penn State Harrisburg, Dewdi chose to switch from petroleum engineering to engineering management as his major in the master's program.
"I decided that I need[ed] to take engineering management since it has both the business and engineering," Dewdi said, "So, I can gain management skills while consolidating my engineering knowledge."
It is in the engineering management program that Bachnak has been able to watch Dewdi use his skills and his ambition to thrive.
"I was really impressed from the first time I talked to him," Bachnak said, "He is motivated, energetic, and he wants to achieve a lot."