The Penn State Harrisburg production took home seven awards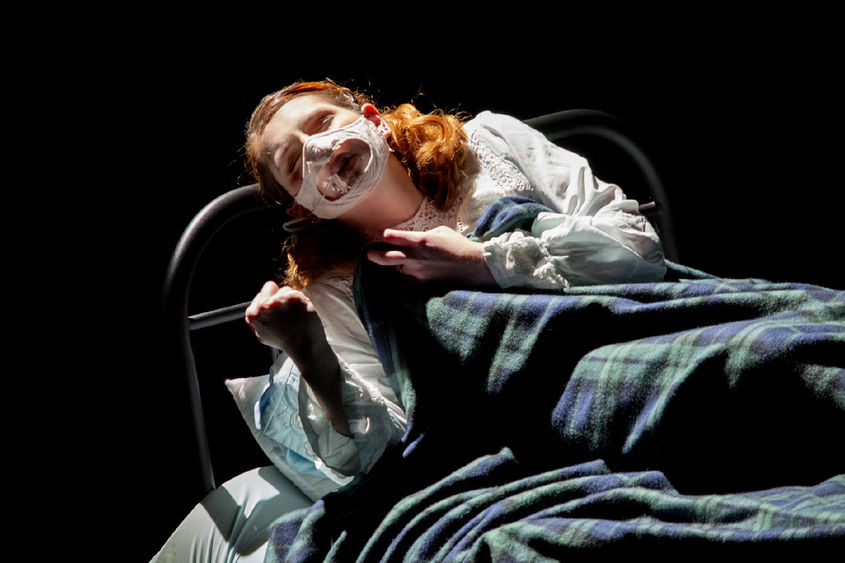 MIDDLETOWN, Pa. — The Penn State Harrisburg School of Humanities' fall 2020 play, "Machinal," won seven awards at the Kennedy Center American College Theatre Festival, a conference for theater education for students and faculty in higher education.
It was the first time a play from the college was invited to the regional competition.
"Machinal" took home the following awards:
Innovative Use of Technology
Special Achievement in Overall Production Design
Special Achievement in Overall Production
Special Achievement in Ensemble Collaboration - Performance and Production
Special Achievement in Sound Design - Zach Snyder
Special Achievement in Stage Management - Alexandra Nornhold
Special Achievement in Directing - Maria Enriquez
With the coronavirus pandemic presenting multiple challenges to performing arts communities, the cast and crew of "Machinal" adapted to these challenges and new conditions to safely bring theater opportunities to students and audiences by adhering to University safety protocols such as social distancing, mask wearing and temperature checks. Sets were built to keep performers socially distanced in their own quadrant and there was no live audience in the theater. "Machinal" used eight cameras to capture the live action onstage and to create a dynamic viewing experience for audiences watching from home.
Performances were livestreamed from the Mukund S. Kulkarni Theatre on campus to audiences across the college and local community via YouTube Live. An engaged collaboration between faculty, staff and students allowed the performance to go on amid the many challenges presented by the COVID-19 pandemic.
"I am so incredibly proud of what we accomplished with "Machinal," said Maria Enriquez, assistant teaching professor of theatre at Penn State Harrisburg. "The process of figuring out how to stage the production safely and creatively was an opportunity for us as artists to do what we do best: innovate. The student actors adapted to acting through face masks and social distancing, and the designers learned new mediums such as lighting for the camera or crafting a camera plot. We all stretched ourselves artistically during a very difficult time, and it's an immense honor for our efforts to be recognized at a national level."
Sophie Treadwell's "Machinal" is a play about a young woman who is "crushed by the societal expectations placed around her." The main character, Helen Jones, who struggles to conform to expectations of becoming a wife and a mother, is inspired by real-life figure Ruth Snyder. Snyder was a housewife from Queens, New York, who plotted and murdered her husband, Albert, in 1925 with the help of her lover, Henry Judd Gray, a married corset salesman. Her execution in the electric chair at New York's Sing Sing Prison in 1928 was recorded in a well-publicized photograph.
The play was directed by Enriquez, and the production design was led by Matt Mitra, technical director at the Mukund S. Kulkarni Theatre.
The Kennedy Center American College Theater Festival is a national theater program involving 18,000 students annually from colleges and universities across the country.