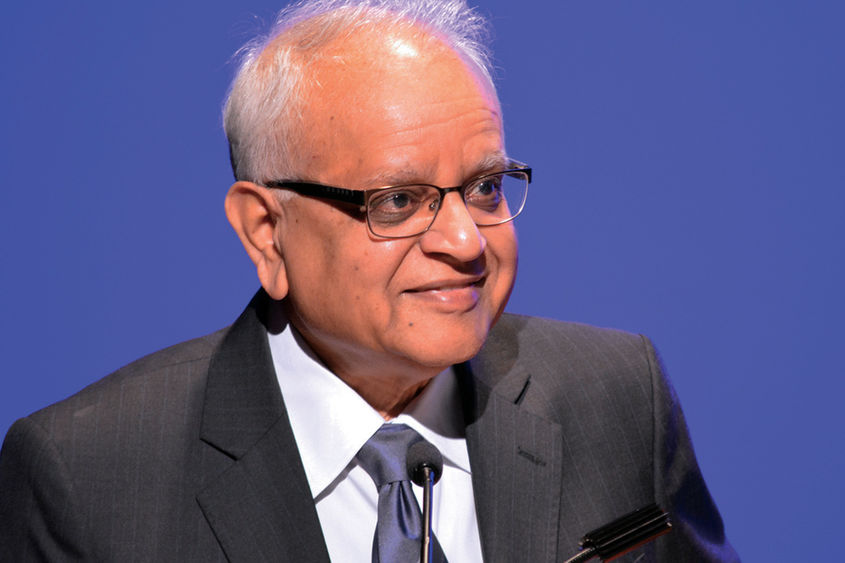 MIDDLETOWN, Pa. – Penn State Harrisburg has announced the passing of former Chancellor Mukund S. Kulkarni on June 2. A resident of Camp Hill, Pennsylvania, he was 75.
Kulkarni retired from the college in 2018, after more than 30 years of service to Penn State.
"Mukund was an exemplary colleague and a dear friend," said Madlyn Hanes, Penn State's senior vice president for Commonwealth Campuses and executive chancellor. "Under his leadership, Penn State Harrisburg grew and prospered, securing its standing as a vital asset in the region. Mukund's many contributions to the college, the University, and the broader community earned him high regard, and his legacy will be long lasting. He will be deeply missed."
"Mukund Kulkarni was a valued member of our Penn State community and of our leadership team. He was always quick to share credit for the successes that the Harrisburg campus realized, although Dr. Kulkarni possessed the ability and drive that made positive change possible," said Penn State President Eric J. Barron. "He was highly regarded in the Harrisburg community and among his Penn State colleagues. Our thoughts are with his family during this difficult time."
Kulkarni became the chancellor of Penn State Harrisburg in 2010. He joined the college in 1985 as a member of the business faculty, and advanced in faculty rank and leadership posts prior to becoming chancellor. He also had served as director of undergraduate studies, director of the School of Business Administration, and senior associate dean for academic affairs.
During Kulkarni's tenure, Penn State Harrisburg experienced substantial growth in its student population, including a record number of international students. He built upon the college's reputation for attracting high-caliber students and highly credentialed faculty members. In support of the growth in enrollment, Kulkarni oversaw the successful introduction of new degree programs, the development of new and enhanced academic and student life facilities, the expansion of teaching and learning support to faculty, and the enhancement of instructional technology.
In addition to his administrative appointment, Kulkarni held the rank of professor of finance. An accomplished teacher and scholar, he was widely published in academic journals and had presented papers at several scholarly conferences. His research interests were in the areas of capital budgeting, banking operations, and information content of stock prices. Kulkarni earned bachelor's and master's degrees in his native India, an MBA from Marshall University, and a doctorate from the University of Kentucky.
Kulkarni's dedication to students and the community, as well as his interest in supporting the arts, was recognized in 2018 when the college received more than $3 million in gifts donated in his honor. The gifts supported student scholarships, the naming of the Mukund S. Kulkarni Theatre in the college's Student Enrichment Center, and the Mukund S. Kulkarni Cultural Series Program Fund.
He was one of the founders of the organization Asian Indian Americans of Central Pennsylvania and had also served as its president; he was currently serving as an advisory council member. He also had served as president and chairperson of the Hindu American Religious Institute.
"Dr. Kulkarni made a lasting impact on the college and in the central Pennsylvania community," said Penn State Harrisburg Chancellor John M. Mason Jr. "He was known not only for his achievements as a successful academician and administrator, but also for his kind heart and gentle spirit. Penn State Harrisburg benefited immeasurably under his guidance."
Upon his retirement from Penn State, Kulkarni reflected on the legacy he was leaving behind: "There are certain [successes] that are easy to see. … But the one thing I hope I have created and I hope will continue even after I leave is that I changed the tone of dialogue. Bringing civility, politeness and respect when we address each other, when we talk to each other, when we write to each other. I think that is important and I hope that remains as my legacy."
Kulkarni also called it an honor and privilege to serve the University. He was quick to spread credit for the successes at Penn State Harrisburg. "It is not me alone who did it. ... Everyone came together, and together, though it is a small kitchen, we were able to find the perfect recipe."
Kulkarni is survived by his wife, Prabha, daughters, Gauri (Vikram) and Manjiree (Hardik), and four grandchildren. The family has requested that, in lieu of flowers, support may be provided to the brain tumor research of Dr. David Kamson at Johns Hopkins University.