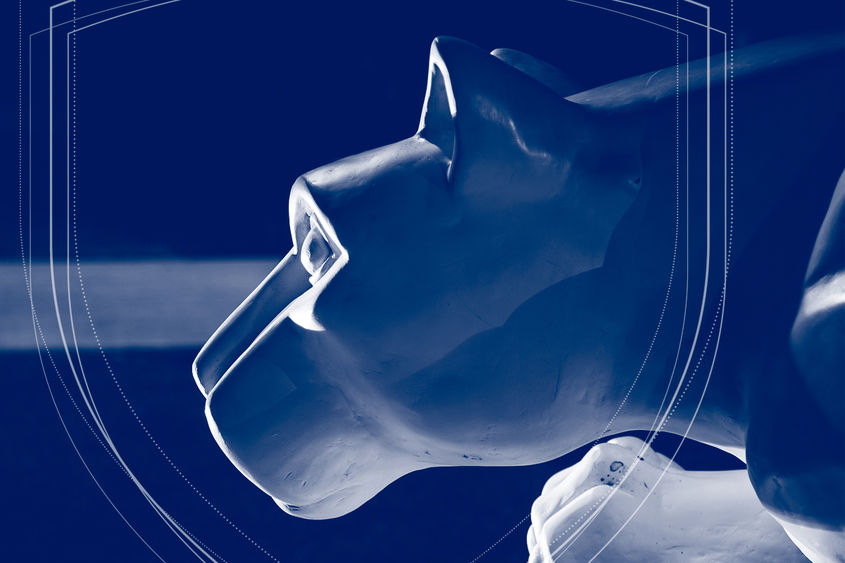 MIDDLETOWN, Pa. – Outstanding student projects were recognized during the recent Penn State Harrisburg School of Science, Engineering, and Technology Capstone Design Conference. The virtual conference was the culmination of students' undergraduate studies and provided the opportunity to combine classroom learning with real-life applications and collaborate with industry sponsors.
Judges selected winners from several program categories: civil engineering and structural design/construction engineering technology; computer science; electrical engineering and electrical engineering technology; mechanical engineering and mechanical engineering technology; as well as awarding the James A. Andrews Award for Excellence in Capstone Design.
Awards were given to outstanding group projects based on the criteria of overall appearance and quality of display; overall professional appearance of presenters; effectiveness of display, support materials and experimental set-ups; project summary by the team or individual; interaction with visitors; and innovation. Each program had its own judges.
The James A. Andrews Memorial Award for Excellence in Capstone Design recognizes and encourages students who best demonstrate interest, motivation and ability in identifying and solving an engineering problem that addresses a real-world concern. This sponsored award of $1,000 is intended to honor students who couple creative approaches with practical ability to successfully resolve a situation.
The award was established by the family of James "Jim" Andrews, who was an alumnus of Penn State and worked as a senior field support engineer for Rockwell Automation in York, Pennsylvania, in admiration of Andrew's flexible, can-do spirit. The award is presented annually. The winner of this award was chosen from among the first-place winners in each category.
The winners included:
Civil Engineering/Structural Design and Construction Engineering Technology
Project: Comfort Inn Design-Build Restaurant
Team Members: Kyle Anderson, Muricio Barrera, Atticus Bierbaum, Lang Chen, Brent Gauntlett, Joshua Howell, Daryn I. Kingsborough, John Porter and Bradley Sweger
Faculty Advisers: Joseph Cecere and Grady Mathews IV
The student team produced a structural layout, exterior shell, and construction preliminary schedule for the addition of a restaurant to the Comfort Inn Hotel in Middletown, Pennsylvania, during the fall. In the spring, the team designed the building's structural components, a detailed construction schedule, and assessed the cost, energy efficiency, and sustainability of their designs.
Computer Science
Project: Furever Friends
Team Members: Jean Pierre Astudillo Guerra, Sarah Kettell, Disha Patel and Surabhi Sahay
Faculty Adviser: Jeremy Blum
Students developed Furever Friends, a mobile-friendly web application that integrates machine learning techniques to help match people with their perfect pets. Using Furever Friends, users can browse local listings for pets that are available, take the matching quiz to find the ones that best fit their personality and life­style, and utilize the lost and found to help reunite friends that have been separated. Users also can set up a customizable pet profile and show off their pet's most adorable features with the pet photo booth and cuteness enhancing filters.
Electrical Engineering/Electrical Engineering Technology
Project: Electromagnetic Railgun
Team Members: Steven Barlok, Jacob Langer and Cole Ryder
Faculty Adviser: Mohammad Tofighi
The project goal is to design a railgun that uses the Lorentz force to launch a projectile. This project uses a boost converter to build up a high voltage in a large capacitor bank. This charge is released to one rail using a gate driver and power MOSFET system. The projectile is propelled by it making contact between the two rails. A microcontroller is used to control all of the different subsystems and provide user input and output.
Mechanical Engineering/Mechanical Engineering Technology and James A. Andrews Award for Excellence in Capstone Design
Project: Structural Steel Lifting Device
Supported by: Kinsley Manufacturing Co.
Team Members: Matthew Lynerd, Jacob Myers, Ashley Ruch and Robert Sirk
Faculty Adviser: Hessam Taherian
This project's mission is to design an efficient lifting device that allows for a reduction of time required for moving structural steel beams and columns. The lifting device will be designed to save the customer time by lifting a greater quantity of members than the existing solutions and will utilize the customer's gantry crane. The final goal for the customer is to load and unload a flatbed trailer up to 40,000 pounds in one pick.