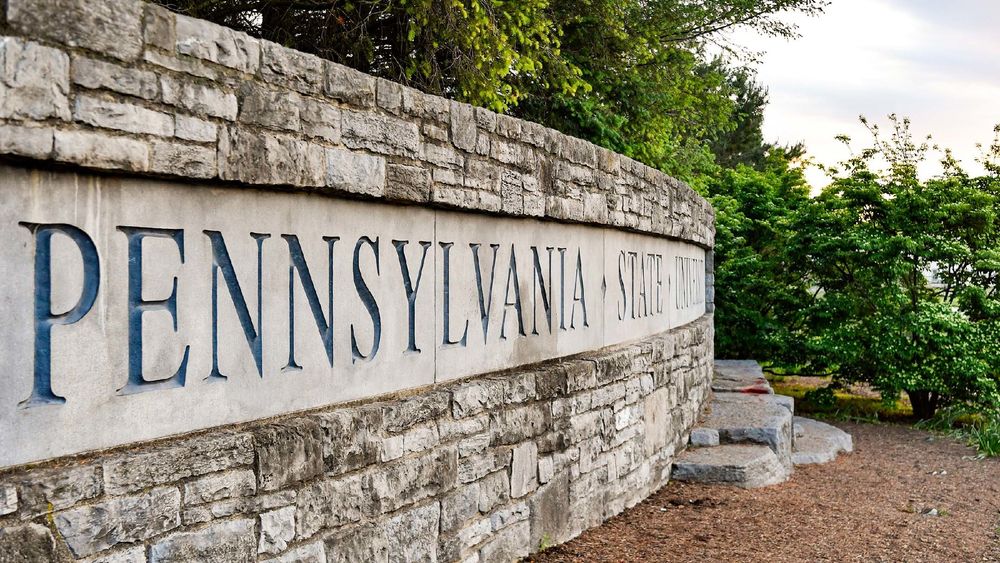 In Guam, a Penn State World Campus student is training newly hired nurses who are treating COVID-19 patients.
In Seattle, a recent graduate is using her master's in public administration (MPA) to help with the finances of her county's metro system amid the pandemic.
And in Texas, a recent nutritional sciences graduate helped develop protocols for front-line medical workers when they are feeding COVID patients in the Intensive Care Unit.
Whether applying their course work to their jobs or using real-life situations in an assignment, many Penn State World Campus students and graduates have used the pandemic as a learning opportunity.
"My MPA has been invaluable," said Jennifer Roper Gulsrud, the public administration graduate in Seattle. "I definitely feel that I was well-prepared for this because of my degree and brought those skills to my position."
Front-line medical workers
Katie Francis, a nurse in the intensive care unit of a Guam hospital, is studying the nursing education option of the Master of Science in Nursing. Her hospital has opened a unit to care for COVID patients.
She said Guam's remote location — an island in the Pacific Ocean that is an eight-hour flight from Hawaii — makes recruiting staff difficult, and her hospital has had to rely on traveling nurses to help with patient care. Francis uses what she has learned to help onboard those nurses.
"COVID-19 has changed so much about how nurses do their job, but it has also highlighted the compassion and care that we provide," Francis said. "I'm proud to be a nurse and of the work that our profession does every day around the world."
In Houston, Adriana Salmon, a dietitian and graduate of the Master of Professional Studies in Nutritional Sciences program, helped develop new parameters for feeding intubated COVID patients and a guide for dietitians working in the ICU.
She and several co-workers in her health system created an algorithm to determine the frequency and amount of nutrition nurses should administer through tube feedings to patients. The goal was to reduce the number of times a nurse would be expected to be around a patient and to preserve personal protective equipment.
Salmon said her studies gave her confidence to try new ideas.
"The knowledge I've gained through this program has been great," Salmon said.
Public administration
Roper Gulsrud, a budget and finance officer for the King County Metro system in Washington State, said her degree, the Master of Public Administration, helped her determine how to reallocate resources to mitigate the financial effect of the pandemic on her department. She used theories and examples from her course work to calculate the new variables that COVID created and how they would impact the metro system's revenues and budget.
Roper Gulsrud said the metro system will feel the impact of the pandemic for years to come, and she feels well-equipped to handle the challenges.
Another public administration graduate, Tyler Rost, is the assistant administrator for a New Jersey municipality. In his job, he oversees the day-to-day operations of the town in departments like water and sewer, construction, and finance.
"The program not only taught me useful theories but prepared me to apply these theories to real-life situations," said Rost. "It also taught me how to be an effective communicator and leader, and it gave me the skills to accommodate residents' needs while adhering to the new pandemic safety guidelines."
Public health preparedness
Lucy Labriola-Cuffe, a May 2020 graduate, worked at the epicenter of one of the first outbreaks of the pandemic in the U.S., in Westchester County, New York. Last March, she started working in supply logistics for the county's department of emergency services. Her job was to get desperately needed personal protective equipment (PPE) to the 400 agencies and organizations in the county that needed them.
Labriola-Cuffe, who completed the public health preparedness option of the master's degree in homeland security, was on the ground in New Rochelle as the county liaison with New York State's incident management team and saw the crisis up close. She met with representatives from Governor Andrew Cuomo's office and the New York State Department of Health.
"I've learned a lot of disaster planning, thinking ahead," Labriola-Cuffe said. "We try to plan for what's going to happen next. I have taken the disaster planning, coordination, and communication learned in my courses to a whole new level throughout this pandemic."
Two other public health preparedness students were able to pursue independent-study projects about the pandemic outside their required courses.
Heather Schubert developed high school–level curriculum about the public health preparedness field. The curriculum covers topics such as the role of public health preparedness in disasters and emergencies, the use of personal protective equipment, the testing in responding to these events, and the mitigation of the spread of disease through contact tracing.
"The curriculum focuses on what people can do in response to the pandemic and how to get accurate information to the public," said Schubert. "I've seen a lot of misinformation, so it's important to direct people to good information and teach them how to then interpret that."
Another graduate, Jennie Kriznik, created a comprehensive review of medical literature that examined the epidemiology of COVID in children. Kriznik, a child life specialist at Penn State Children's Hospital, said the pandemic changed her responsibilities and her interactions with patients and their families.
"It was really hard to get a good picture of what was going on in the United States, especially whenever it pertained to children," said Kriznik, who graduated in August 2020. "When you're working in the middle of a pandemic, information is rapidly changing so it can be hard to get that information out there before it's no longer accurate or relevant."
Multimedia design
Samantha Albrecht, a student in the bachelor's degree in digital multimedia design program, took an artistic approach. She created designs for a product she thought up, a subscription box she called "Quarantine Gardens."
The idea was that the subscription box would contain supplies like seeds, pots, soil, gloves, and a guide on how people could grow plants from home during the pandemic. She also created a website and a Facebook page for the subscription box concept.
"I wanted to find a way to engage both adults and children in something safe, educational, and healthy," Albrecht said. "From herbs to vegetables, it would allow individuals who are spending a lot of time at home because of COVID an opportunity to get their hands dirty, to grow something they can use in the kitchen."
Special education
The pandemic has brought about a different kind of opportunity for the Master of Education in Special Education program, as COVID has upended the way special education teachers and other educational professionals do their jobs.
Students in the program who are special education teachers are getting support from their faculty to help them manage the challenges of teaching during the pandemic. The faculty have created lists of resources for teaching online, set up one-on-one meetings with students, and held Zoom open houses for students to talk with professors and each other about their experiences on the job.
Mahwish Mustafa, who is completing the master's degree with an emphasis in applied behavior analysis, works at a Bridgewater, New Jersey, clinic for children with autism. She said she has been grateful for the support.
"All of my professors have been so thoughtful and considerate and aware of everything that's going on," she said. "It's nice knowing that we're not in this alone."
Visit the Penn State World Campus website for more information about the degrees and programs offered online.
Contact
Mike Dawson
408 The 329 Building, University Park, PA 16802