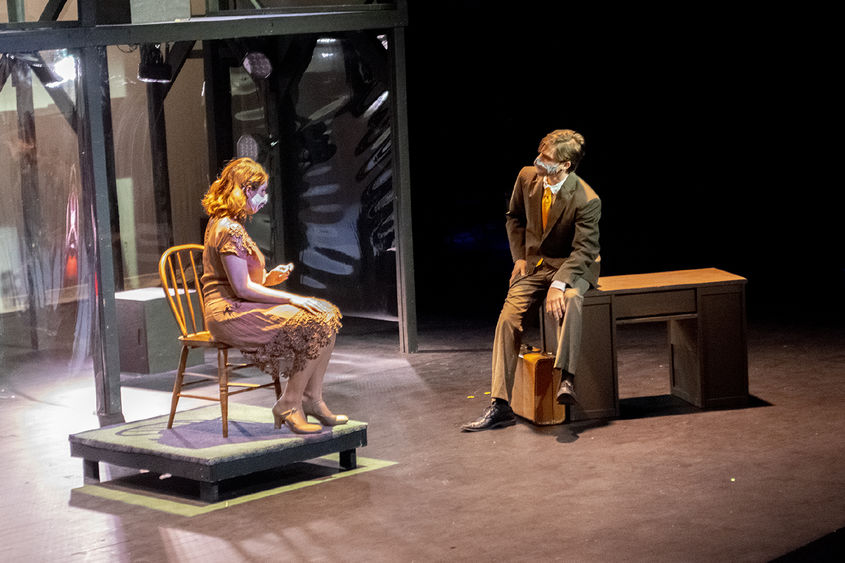 MIDDLETOWN, Pa. — With the coronavirus pandemic shuttering many theaters across the globe, Penn State Harrisburg's School of Humanities kept the theatrical arts alive with the recent production of its fall play, "Machinal." Performances were livestreamed from the Mukund S. Kulkarni Theatre on campus to audiences across the college and local community via YouTube Live. An engaged collaboration between faculty, staff and students allowed the performance to go on amid the many challenges presented by the COVID-19 pandemic.
Maria Enriquez, director of the play and assistant teaching professor of theater at the college, said that she faced difficulty over the summer in selecting a play for the fall production, as the pandemic made it more difficult to secure production rights to certain titles. She decided on "Machinal" in early August, having previously directed a production of the play.
"I was very familiar with this play," she said. "As a director, you have to know the play forwards and backwards, do all of the necessary research, and understand the cultural context." Enriquez already had this work under her belt, so this decision made the process easier to navigate during a pandemic.
Enriquez also acknowledged how the play's themes intersect with the social disconnect inflicted by COVID-19. She explained how the play, which originally premiered in 1928, explores "themes of societal expectations, the ways in which people feel they have to conform to specific social roles, or be labeled an outcast."
The main character, Helen Jones, who struggles to conform to expectations of becoming a wife and a mother, is inspired by real-life figure Ruth Snyder. Snyder was a housewife from Queens, New York, who plotted and murdered her husband, Albert, in 1925 with the help of her lover, Henry Judd Gray, a married corset salesman. Her execution in the electric chair at New York's Sing Sing Prison in 1928 was recorded in a well-publicized photograph.
"With COVID restrictions, I thought it was really interesting to show how these social roles create distance between each person, and how they disconnect from one another," Enriquez said.
Performing in the time of COVID-19
Enriquez worked with Matt Mitra, technical director at the Kulkarni Theatre, to blueprint how to produce a "live" play under virus restrictions.
"It was a collaborative process," Mitra said. "She and I worked well together, and we brought in different people from the community. We brought in students to help with the process as well and it turned out really nice."
Enriquez and Mitra decided to have the actors perform on-stage but separated and distanced by vinyl cubes. They replaced having a live audience with eight cameras to stream online. The students involved followed careful safety protocols, including regular hand-washing before rehearsals, temperature checks, and social distancing. Mitra stressed the importance of following the protocols with the students, who readily complied.
Mitra said the students love their work in the theater and consider it home.
"They worked extra hard to make sure the play could happen," he said. 
Mitra added that the support from the University was instrumental in executing the production.
"Entertainment has shut down in a lot of the world right now, and we are very lucky we were able to do something like this rather than a standard production over Zoom, so that support was helpful," he said. 
Mitra emphasized the importance of such efforts during the pandemic.
"There's a sense of normalcy there," he said. "It gives students community and a collaboration that is unlike anything else. Now, more than ever, is it important to have that sense of community. … We want the arts to still be present in this time."
Enriquez echoed those sentiments, saying that the theatrical arts can help the community to feel more connected amid the current challenges.
"What I've been hearing from students this semester is how they are feeling detached, distanced and depressed; people are looking for ways to connect," she said. "Theater is profoundly important because it's all about storytelling. It connects us to each other and reminds us of our humanity. I think that's something desperately needed right now."
This production of "Machinal" was invited to participate in the Kennedy Center American College Theatre Festival for Region 2 in January. It was the first time a play from the college was invited to the regional competition.