Award-winning doctoral student Xiaoyue Zhao explores how smart materials can harness triboelectricity to power small electronics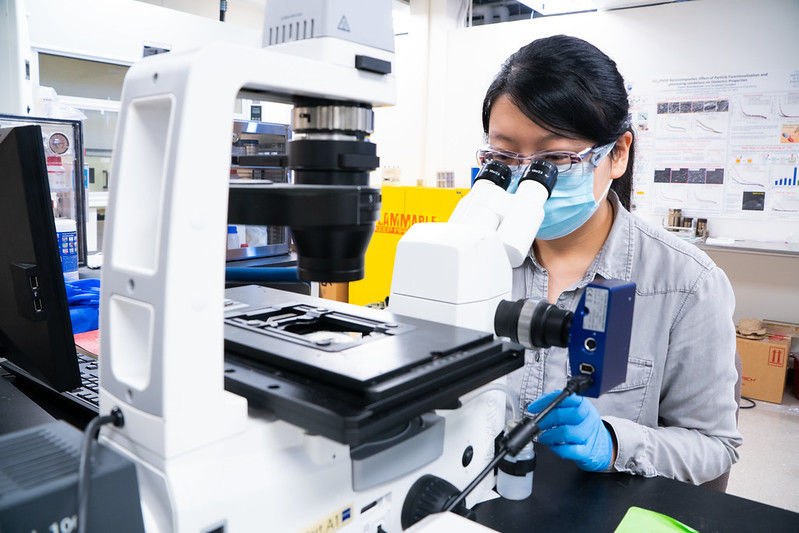 UNIVERSITY PARK, Pa. — Xiaoyue Zhao, a doctoral student in the Penn State Department of Mechanical Engineering (ME), envisions a future where small and portable electronics can be powered simply by the act of walking.
"By using the triboelectric effect, we could potentially put materials in our shoes or clothes that are able to generate electricity for electronics," she said.
Most of the static electricity people encounter arise from triboelectric effects. Simply put, the triboelectric effect refers to the separation of charges when two well-matched materials come into contact with each other.
"Though we have known about this effect for a long time, we don't fully understand the mechanism behind it," Zhao said. "This energy was a bit of a mystery in our daily lives."
Usually in engineering, triboelectricity is seen as a harmful side effect that needs to be negated within the design of a system.
"But instead, our lab views this as energy that is being wasted," she said. "What if we can harness this existing energy that we already create to solve problems we have in society?"
Emboldened by this collaboration, Zhao sought to uncover more knowledge about the underlying science powering triboelectricity.
Her paper on the subject was co-written with Jai Dhanani, a master's student in mechanical engineering, Ola Rashwan, assistant professor of mechanical engineering at Penn State Harrisburg and Zoubeida Ounaies, professor of mechanical engineering at Penn State University Park, the director of LiMC2 and Zhao's adviser.
The team studied a composite material, combining multiwall carbon nanotubes (CNT) embedded in polydimethylsiloxane (PDMS). CNT and PDMS were chosen because CNT is known for its excellent electrical and mechanical properties and PDMS is inexpensive, easy to fabricate and biocompatible.
In this case, the composite material is capable of creating triboelectricity when it comes into contact with a reference material. By adjusting the amount of CNT in the PDMS matrix and studying the resulting effects, the team was able to better understand the fundamental science that results in a triboelectric output and develop more optimal materials to capture it.
For her efforts, Zhao won third place in the best student paper competition at the 2020 Conference on Smart Materials, Adaptive Structures and Intelligent Systems, held by the American Society of Mechanical Engineers in September.
However, it is the societal impacts that drew Zhao to the research and keeps her passionate about the subject.
"I'm very interested in physics and mechanical engineering was a way I could apply that knowledge to help people and society," she said.
Through her work in ME, she believes that she is on that path.
"Using triboelectricity would be environmentally friendly and sustainable," she said. "We can find ways to harvest so much more energy that doesn't come from fossil fuels and could potentially impact our daily lives."
Even before arriving at Penn State, she was adding to this expertise. She previously worked as a reliability engineer at Amazon, ensuring the quality of electronic devices such as Alexa speakers and Kindle readers. In both industry and academia, Zhao explained that she hoped to encounter more women in the field.
"Most all of my professors, classmates and colleagues were men," she said. "When I came to Penn State, it was the first time I saw so many women as mechanical engineers."
Now, Zhao said the support of these professors, most especially Ounaies, inspires her to keep charging ahead.
"Seeing so many women, especially in leadership, makes me feel like I'm not alone," she said.