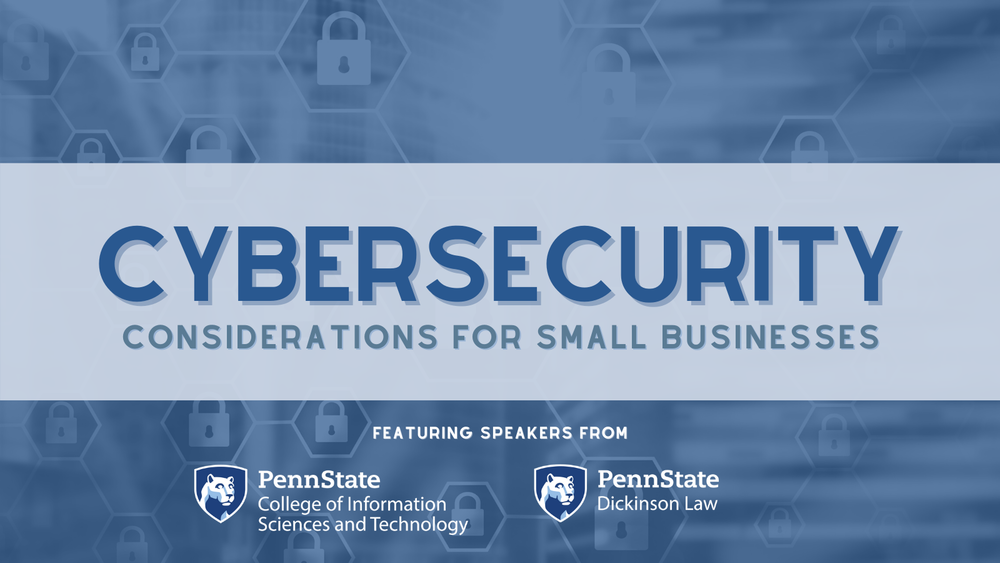 UNIVERSITY PARK, Pa. — In recognition of National Cybersecurity Awareness Month, the Penn State Small Business Development Center (SBDC) is partnering with the Harrisburg LaunchBox to host a free, virtual event, "Cybersecurity: Safeguarding Your Small Business," from 6:30 to 7:30 p.m. on Thursday, Oct. 15.
The event will feature guest speakers Samantha Prince, associate professor of lawyering skills, and Ashli Jones, third-year law student, of Penn State Dickinson Law; along with David Hozza, lecturer at the Penn State College of Information Science Sciences and Technology (IST).
While many small-business owners are unaware of the cyber-threats facing their operation, Prince notes, "In the age of COVID-19, cybersecurity is especially important as many businesses are turning to online sales and their employees are working remotely. This paradigm shift makes small businesses easy targets for data breaches."
To help these business owners understand the laws designed to protect consumer and employee data, Prince will provide an overview of the cybersecurity legal landscape, specifically addressing the use of websites, privacy policy transparency, and data breach notification laws.
An additional consideration for small-business owners is the increased risk of cyber-attacks brought on by the pandemic. Since the onset of COVID-19, small-business owners have experienced record high levels of cyber-attacks, with the FBI reporting a 400% increase of daily complaints.
"COVID-19 has forced many small businesses into virtual survival mode, which requires putting more of their businesses information and services online," says Hozza. "Cyber hackers are taking advantage of these changes to launch phishing, ransomware and social engineering attacks at a record pace."
During the webinar, Hozza will share strategies small business owners can employ to protect their confidentiality, integrity and data availability.
Register here. To learn about additional SBDC programs and events, visit the SBDC event calendar.
SBDCs are hosted by leading universities, colleges, state economic development agencies and private partners, and funded in part by the U.S. Congress through a partnership with the U.S. Small Business Administration. There are nearly 1,000 local centers available to provide no-cost business consulting and low-cost training to new and existing businesses. The Penn State SBDC services Centre, Clinton, Lycoming and Mifflin counties in central Pennsylvania.
Funding support and resources are provided through a cooperative agreement with the U.S. Small Business Administration; by the Commonwealth of Pennsylvania through the Department of Community & Economic Development; and in part through support from Penn State and with assistance from Lock Haven University. All services are extended to the public on a nondiscriminatory basis. SBDC services are not available to individuals or entities that have been debarred or suspended by the federal government.