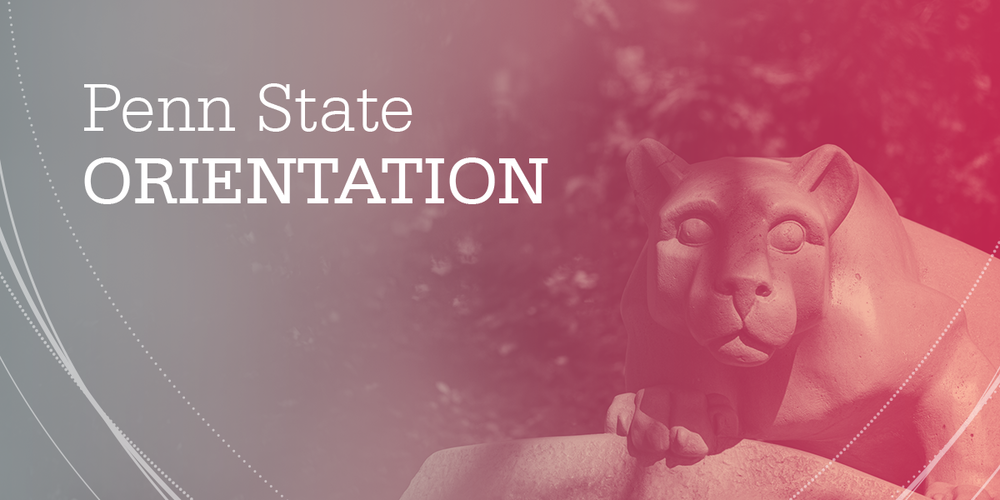 UNIVERSITY PARK, Pa. — Each summer, incoming first-year students across the commonwealth are introduced to life at Penn State through orientations on their respective campuses. This summer, given the restrictions of COVID-19, incoming Penn Staters are experiencing orientation virtually, and the Penn State students who serve as orientation leaders are more important than ever. 
This summer's 55 orientation leaders include rising sophomores and juniors from nine campuses across Pennsylvania. These individuals infuse orientation with a critical peer perspective, explained Katie Motycki, senior associate director for new student orientation.
"Incoming students hear messages differently when they're coming from a fellow student," said Motycki. "Orientation leaders provide a relatable, firsthand perspective on topics ranging from the general transition to college, to alcohol and drug use and abuse, to sexual assault prevention, to diversity, equity and inclusion, to campus dining options."
As in years past, many of this summer's orientation leaders signed on to the role because they had an especially meaningful orientation experience themselves. This was the case for Adam Romero Jr., sophomore at Penn State Abington majoring in business management, who recalled, "I specifically remember sitting in the Sutherland Auditorium listening to energetic orientation leaders running down the aisle yelling the 'WE ARE' chant. I was so nervous to be there, but after a warm, enthusiastic welcome, I felt right at home. I thought to myself, I want to do that one day."
In an era of social distancing, Romero and his fellow orientation leaders are working hard to recreate this kind of welcoming, engaging experience in the digital environment. The virtual orientation kicks off with a welcome message, after which new students break out into small groups for 90-minute Zoom sessions led by orientation leaders. During these sessions, students gain an introduction to college life — learning, for instance, key differences between high school and college, and common media myths about college — and have an opportunity to connect with fellow incoming students.
Orientation leaders make a concerted effort during these sessions to create an open, inviting atmosphere, explained orientation leader Kay Adetiba, a sophomore majoring in communications and French at the University Park campus. She said, "In training, we're taught how to disarm the group, and we really focus on making students feel comfortable expressing their opinions, beliefs, comments, questions and concerns. We talk to them like the young adults they are and address topics that may have been considered taboo in high school."
Orientation leader Rene Richardson, a sophomore majoring in management in the Smeal College of Business, puts students at ease using virtual ice breakers. He explained, "I ask the group, 'What is an unpopular opinion that you hold?', and this question sparks a lot of funny comments, disagreements and connections, which is a good experience since students will engage in this kind of dialogue during college."
After incoming students meet their assigned orientation leaders in small group sessions, orientation leaders continue to serve as a resource for new students throughout the rest of orientation and summer, answering students' questions about any aspect of Penn State life.
This summer, social media has provided a means for new students to connect with their orientation leaders from a distance. Alyssa Ortiz, a sophomore and kinesiology major in the College of Health and Human Development, relayed an especially meaningful interaction: "I had one student reach out to me on Instagram right after our small group session because he and I attended the same high school and, like me, he had completed courses at a local college during his senior year. I was able to answer many of his questions about transfer credits, and that was extremely rewarding."
Beyond answering new students' questions, an important function of orientation has always been to provide students with opportunities to engage informally with fellow incoming students and, hopefully, to forge lasting friendships. This summer's orientation leaders are fulfilling this mission virtually by planning and hosting EarlyMorning and AfterDark events through Zoom in which students can participate in trivia games, speed meetings (similar to speed dating), pet shows and other activities with other members of the Class of 2024.
As they work to engage incoming students virtually, orientation leaders are supporting each other's efforts using a range of strategies. Orientation leader Dominic Corma, an electrical engineering major and junior at Penn State Harrisburg, explained that orientation leaders meet in Zoom calls to touch base before and after shifts and maintain an ongoing dialogue through GroupMe, Microsoft's mobile group messaging app. Rene Richardson added that one orientation leader created a live document that orientation leaders can use to "share tips and tricks to facilitate discussions and keep student engagement thriving."
This summer's orientation leaders are proud of the experience they are creating for incoming Penn Staters despite the challenges of social distancing. Said Alyssa Ortiz, "I truly hope that new students will be pleasantly surprised by how engaging this virtual orientation can be. We have worked hard to provide fun spaces for new students, so I hope new students take advantage of these opportunities to meet other incoming Penn Staters."
Other orientation leaders view their role as holding special importance given current events. Said Kay Adetiba, "It is so important that we listen to one another, express empathy and try our best to be a safe space as well as a source of relief for incoming students and for each other in this time. The Orientation team has done a phenomenal job at doing just that."
The first virtual orientation began on June 2, and orientations will continue through Aug. 14, ultimately providing all 16,000 incoming members of the Class of 2024 with an introduction to life at Penn State.
Student Orientation and Transition Programs is part of Penn State Student Affairs and Undergraduate Education. Penn State Student Affairs provides students with a web of support and opportunity outside the classroom. For more information on Student Affairs, visit studentaffairs.psu.edu. 
Undergraduate Education is the academic administrative unit that provides leadership and coordination for University-wide programs and initiatives in support of undergraduate teaching and learning at Penn State. Learn more about Undergraduate Education at undergrad.psu.edu.