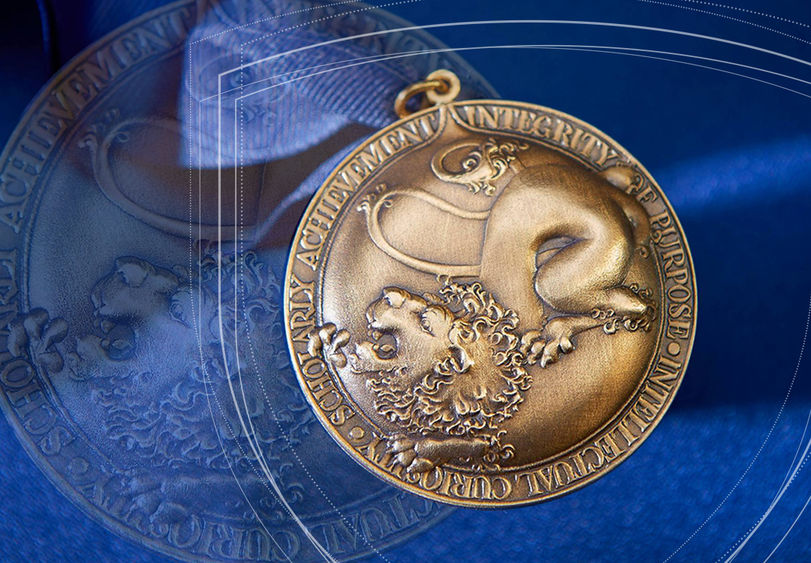 MIDDLETOWN, Pa. – As soon-to-be graduates prepared in early May for what became a historic commencement ceremony, one celebrated virtually by thousands of Penn Staters, honors graduates at Penn State Harrisburg were recognized at another virtual event -- the Medals and Stoles Ceremony. The ceremony highlights the accomplishments of Penn State Harrisburg students graduating from the Capital College Honors Program and Schreyer Honors College. Students will receive their Schreyer College Honors medals and Capital College Honors stoles at a later date.
"This is our eighth annual Medals and Stoles Ceremony, but it is the first one that we have ever done via Zoom," said David Witwer, director of the Honors Programs at Penn State Harrisburg. "While some things have changed, we in the Honors Programs wanted to hold a ceremony to mark the achievements of our wonderful honors students.
"Honors graduates, we commend you for your superb work in completing your degree with honors. You have gone deeper into your own field and you have collaborated with others outside your field to learn about and engage the community and world. This is not an ending but rather it is a new beginning. Entering this new chapter, you bring unique talents, insights, and experiences you have gained here. We wish you success in the future in your work and in your continued service to society."
Honors programs at Penn State Harrisburg include two options for students – participation in the Schreyer Honors College and the Capital College Honors Program. Both programs have similar missions and culminate with the completion and presentation of an honors thesis.
The Schreyer Honors College is a University-level honors program and includes scholars from several Penn State campuses. Signifying the Schreyer graduates is the Schreyer medal. Schreyer graduates are also recognized by an honors denotation on their diplomas.
The Capital College Honors Program was founded at Penn State Harrisburg to cultivate and recognize dedicated students who engage with their studies on a deeper level. Signifying the Capital College Honors graduates is the Honors stole, which signifies excellence, integrity, and lifelong learning. Capital College Honors graduates also receive an official certificate to document their accomplishment.
The college's honors graduates represent a variety of disciplines, this year including communications, criminal justice, English, information systems technology, finance, engineering, biology, and psychology. All have engaged in research in their field, collaborating with faculty at Penn State Harrisburg. A number of honor students have added international travel to their educational experience through study tours to locations in Europe and Latin America. All have engaged with the community through service learning activities.
Capital College Honors graduates included:
Mitchell Blank (Lancaster, Pennsylvania), mechanical engineering – Thesis titled "Dual-Arm Symmetric Manipulator to Maintain Stability in Unmanned Aerial Vehicles," tackled the problem of how one might attach a functioning robotic arm to an unmanned aerial manipulator. Following graduation, Blank would like to pursue a career in the engineering field, with a focus on automation and mechatronics.
Zachary Koroneos (Toronto, Canada), mechanical engineering – Thesis titled "Properties of Modified Recycled Polyethylene Terephthalate (PET) Filament for Fused Filament Fabrication 3D Printing Applications," involved an effort to develop a filament for 3D printers by reusing the plastic in a particularly common form of recycled plastic, PET, the kind typically used for bottled water. After graduation, Koroneos plans to spend next year working at the Penn State Health Milton S. Hershey Medical Center's Center for Orthopaedic Rehabilitation and Translational Science before applying to a biomedical engineering graduate program.
Kaylah Lee (Newark, New Jersey), information science and technology/security risk and analysis – Thesis titled "Students' Perceptions of Problematic Smartphone Use on Experiential and Reflective Cognitive Processes," which focused on the issue of digital distraction in the classroom. After graduation Lee plans to pursue a career in the field of cyber security, and has been offered a position with the National Security Agency.
Connor Mills (Hummelstown, Pennsylvania), electrical engineering – Thesis titled "The Effects of Spatial Coherence on Imaging to the Arago Spot," which dealt with the effect of how a beam of light is diffused when it shines on a circular object. Mills will spend one more year at Penn State Harrisburg to complete a master's degree in electrical engineering.
Mohamad Saufi Othman (Malaysia), civil engineering – Thesis titled "The Effects of Adding Bacteria, Bacillus Sphaericus, into Reclaimed Sand Concrete on its Compressive and Tensile Strength," looked at the feasibility of using bacteria to add to the strength of concrete made from reclaimed sources. Othman plans to attend graduate school in the U.S., or possibly Great Britain or Australia.
Colton Schlauderaff (Harrisburg, Pennsylvania), electrical engineering – Thesis titled "Modeling an Efficient Single-Phase Solar Inverter with Control for Grid-Connected Islanded Modes," which focused on a key problem with increasing the efficiency of solar power processes. Schlauderaff plans to pursue a career in the renewable energy sector, primarily involving solar power.
Kristina Stokes (Palmyra, Pennsylvania), English – Thesis titled "Miss Blanca's Wax Hand Museum: A Feminist Fairly Tale Retelling," involving a retelling of a classic fairy tale, updating it in ways that give it relevance for today's youth. Stokes will enter the American studies master's program at Penn State Harrisburg in the fall.
Camden Weaver (Lancaster, Pennsylvania), civil engineering – Thesis titled "The Feasibility of Incorporating a Miniature Wind Turbine System in the Medians of Pennsylvania Highways," involving contacting officials from the Pennsylvania Department of Transportation to get their assessment of the feasibility of wind turbines in such locations. One of the options Weaver is considering after graduation is to pursue a career at PennDOT.
Daniel Yanich (Steelton, Pennsylvania), political science/criminal justice – Thesis titled "Protecting the Protectors: Police Perceptions of Their Own Risk and Safety," which looked at the issue of violence against police from a distinctive perspective, assessing their own sense of their relative safety in this dangerous occupation.
Schreyer College Honors graduates included:
Sheiva Ansary (Hummelstown, Pennsylvania), accounting – Thesis titled "A Comparison of Investing Strategies During and After the Market Crash of 2008," comparing how well various investment diversification strategies fare in the midst of unforeseen economic disaster. Ansary plans to continue her education by earning a doctoral degree, and become a professor of accounting.
Nicole Hill (Bowie, Maryland), electrical engineering – Thesis titled "Electromyography – Controlled Robotic Arm," which involved an effort to facilitate control of an exoskeleton to aid mobility for stroke victims, who may have lost use of a limb. After graduation, Hill will start her engineering career at Lockheed Martin, working in Sunnyvale, California.
Fatima Khan (Hummelstown, Pennsylvania), biology (genetics and developmental biology)/English(creative writing) – Thesis titled "Identification of Differentially Expressed Long Non-Coding RNAs in a Model of Neuron Differentiation," which aimed to better understand the role of long non-coding RNA in neural cell differentiation. Khan's future plans involve attending graduate school to study genetic counseling.
Jamirca Nuesi (West Milford, New Jersey), criminal justice/sociology – Thesis titled "Listening to Reality: How 90s Hip-Hop Lyrics Engage with Social Issues," which looked at the social implications of hip hop music. After graduation, Nuesi plans to attend law school.
Martina Soliman (Mechanicsburg, Pennsylvania), civil engineering – Thesis titled "The Utilization of Reclaimed Waste-to-Energy Aggregates as Lightweight in Concrete Masonry Units and Precast Concrete," which involved finding a use for ash from solid waste incinerator plants. Soliman will begin her professional career as a bridge engineer.