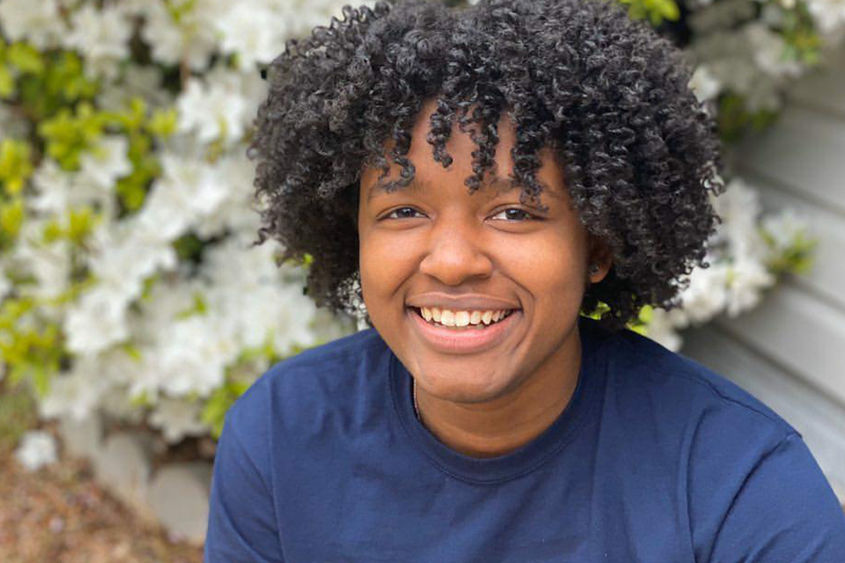 Nicole Hill will receive her bachelor of science in electrical engineering as a member of Penn State Harrisburg's Class of 2020. She said, "As a kid, we're all asked 'what do you want to be when you grow up?' and I never had a consistent answer. To put it short, I had no clue. At Charles Herbert Flowers High School, I was in a science and technology program, so I was exposed to different aspects of engineering."
She decided she wanted to be an engineer after building her first robot in 11th grade, winning second place in a competition. "I genuinely enjoyed it and I enjoyed building things, or making things better, way before high school," Hill added. "I think it took me so long to say 'I'm going to be an engineer' because I didn't know anyone who looked like me, doing this. It seemed unheard of."
This further fueled her determination and commitment to study engineering, to see more African American women in that field.
"I remember my freshman year at Penn State Harrisburg, learning that less than one percent of the engineering field is made up of African American women," she said. "From this point on, I was motivated and committed more than ever to see that number rise, and to go back to my high school and show the students in the Science and Technology program that engineering looks exactly like me."
She said that Penn State Harrisburg helped her along her journey. "I always admired the electrical engineering department because of its diverse community and the small class sizes. Here, you are not just a number in the classroom. Professors know more than just your name; they know about your aspirations and goals in life. They are committed to helping you grow not only on the collegiate level but on the professional level."
She said that her passion to promote science, technology, engineering and math not only in her hometown of Bowie, Maryland, a predominately African American community, but at Penn State Harrisburg continued to grow. She became president of the Penn State Harrisburg Chapter of the National Society of Black Engineers (NSBE) in fall 2019, increasing membership by 37 percent, and led the chapter to the Club of the Year Award and Event of the Year Award for bringing the first African American man in space and Penn State alumnus, Dr. Guion S. Bluford, to campus. The campus chapter also was recognized on NSBE's regional level as the Comeback Chapter of the Year.
She also became a graduate of the Chancellor's Leadership Access Student Program (CLASP), served as the secretary of the Student Athletic Advisory Committee (SAAC), was a member of the Diversity and Educational Equity Committee (DEEC), was a student volunteer for the Multicultural Admissions Office, and volunteered with the We Care Food Pantry on campus and the Ronald McDonald House in Hershey, Pennsylvania. She also was a member of the Multicultural Academic Excellence Program (MAEP), an engineering ambassador for PPL, and completed three internships. On top of that, she was a student athlete playing on the women's basketball team for four years.
"As I complete my collegiate career, I am most happy that in addition to graduating with a bachelor's of science in electrical engineering, I will also be graduating from the Schreyer Honors College," she said. "I am the only African American woman in my electrical engineering graduating class. Now I can go back to my high school and share with the students who may be struggling to identify a black female engineer, and say to them 'Engineering looks exactly like you and me.' Now, I can contribute to pushing the number of African American women in engineering to higher than one percent."
Hill will begin her career as an electronics engineer at Lockheed Martin in California.