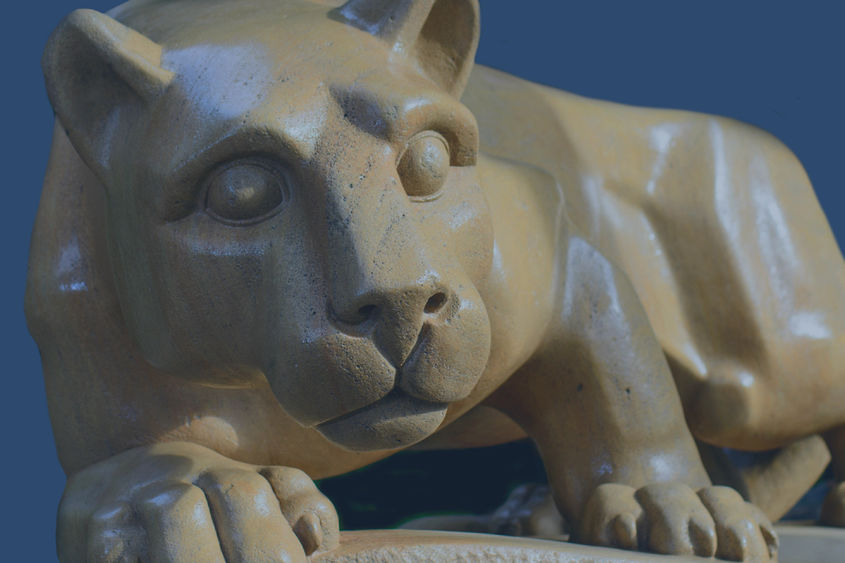 MIDDLETOWN, Pa. — Penn State Harrisburg this spring honored three retiring faculty and staff members.
Felicia Brown-Haywood most recently served as the director of the Office of Student Affairs and Engagement. Her impact as an administrator, educator, mentor, public speaker, mental health advocate, and more was greatly felt at Penn State Harrisburg.
Steve Backels, director of counseling and student support at Penn State Harrisburg, said, "Dr. Felicia wears many hats. Whatever her role, she sees it as her life purpose to inspire others to maximize their potential. She has lived her strong belief in the value and power of education."
Brown-Haywood served Penn State Harrisburg in many capacities, including as affiliate faculty member, director of Equity and Intercultural Affairs (Penn State Harrisburg and Penn State Schuylkill), and staff counselor. For years she co-chaired the Diversity and Educational Equity Committee and was co-founder of the nationally recognized Multicultural Academic Excellence Program. In her role as director of Student Affairs and Engagement, she was pivotal in Penn State Harrisburg's successful transition from an upper-division and graduate campus to a four-year college offering associate, bachelor's, master's and doctoral degrees.
After retiring from Penn State Harrisburg, she was introduced as the new vice president and chief diversity officer at Millersville University.
Glen A. Mazis is distinguished professor of philosophy and humanities in the Penn State Harrisburg School of Humanities.
He came to Penn State Harrisburg in 1991 as an assistant professor of philosophy and humanities, gained tenure as an associate professor in 1995, and was promoted to the rank of professor in 2003. In 2018, he was honored with the title of distinguished professor.
"Dr. Mazis has been a remarkable teacher and mentor to many students throughout his career, having directed dozens of master's theses as professor-in-charge of the master's in humanities program," said Jeffrey Beck, director of the School of Humanities.
Throughout his career, Mazis has published five treatises on philosophy, and one book of poetry. His books, along with dozens of published essays and book chapters, frequent conference presentations, lectures, and professional service, have distinguished him as a scholar of "embodied philosophy." He also has been widely recognized as a "poetic philosopher," with more than 70 published poems and one book of published poetry to his credit, as well as a second book in press.
Service has been a high priority for Mazis as well. He has served as Penn State Harrisburg Faculty Senate president, chaired the search for a new chancellor in 2018 and led the steering committee writing the program curriculum for the Penn State Harrisburg honors program, for which he served as the first director.
Jo Tyler served as associate professor of training and development in the School of Behavioral Sciences and Education.
"During her years at Penn State Harrisburg, Dr. Tyler was an outstanding teacher, earning stellar reviews from her students for her fine instruction, her service on dissertation committees, and her friendly, helpful approach to advising," said Mark Kiselica, director of the School of Behavioral Sciences and Education.
Tyler played a key role in helping to revise the training and development curriculum and developed new courses for the curriculum. Her scholarly achievements include publishing her work in peer-reviewed journal articles and book chapters in the domains of organizational change and management, human resources, adult education, transformative education, and storytelling. She has served on the editorial boards of journals pertaining to organizational sciences and storytelling, and she has provided valuable service to the University on initiatives regarding diversity and lesbian, gay, bisexual, and transgender equity; and to the community through her volunteer work for the arts, on behalf of immigrants, and to promote literacy.
Before joining Penn State Harrisburg as a full-time faculty member in fall 2005, she acquired extensive experience in business and industry that would inform her work as a teacher-scholar, including positions as a manager or senior executive at Hewlett Packard, the Otis Elevator Corporation, Pratt and Whitney, and Armstrong World Industries. She also founded a consulting firm, Humanizing Business, which has provided workshops on systems change, innovation, and curriculum design to for-profit and non-profit organizations.
Learn more about the honorees here, and view a gallery of the honorees here.