A caring nurse, family traditions and Penn State Harrisburg's 'second degree' program opens door to nursing career for student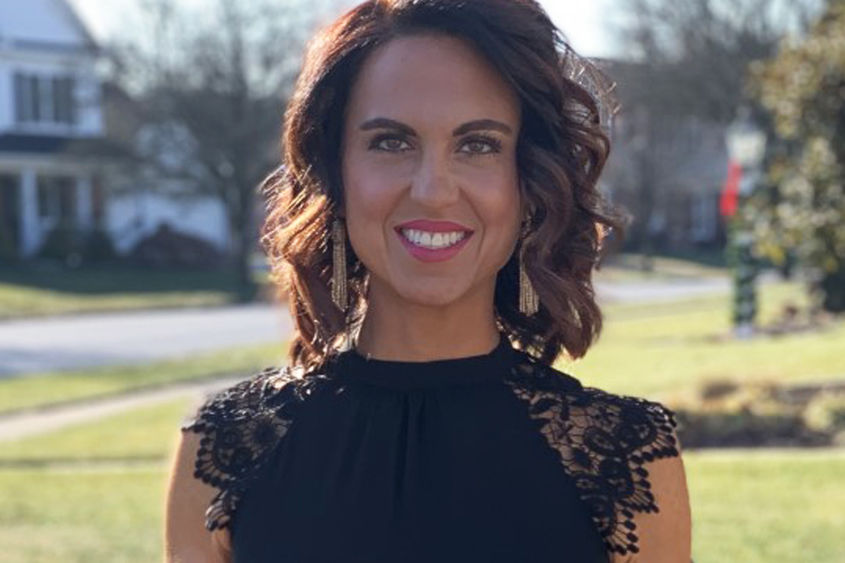 MIDDLETOWN, Pa. – It seemed inevitable that Monaya Miller would go into the medical field. Just about everybody else in her family did.
But it didn't seem obvious to Miller. After high school, all she knew was that she wanted to be a mom. She had no plans for college. In 2007, she was working as a medical office associate for the outpatient medical groups at Penn State Health Milton S. Hershey Medical Center. "I didn't think the medical side of the hospital was my thing," she said.
When her first daughter was born in April 2009, however, Miller was moved by the care she received from her labor and delivery nurse, Lisa Hreniuk, at the Medical Center. "She was so kind, supportive, empowering and everything you would hope for when you are vulnerable and scared," Miller said. "I told her how much I appreciated her, and how someday I would love to do what she does, to be a labor and delivery nurse. She told me to go for it. Looking at my daughter, I wanted to give her all I could, so I began this 10-year journey."
Miller started taking tentative steps toward that goal. She began studies at Harrisburg Area Community College, where she received an associate's degree in general studies, then transferred to Elizabethtown College for a bachelor's degree in human services, where she graduated magna cum laude. But she had three daughters by then and was juggling her office job. For her, a nursing degree seemed far away.
After graduating from Elizabethtown College, Miller immediately began preparing to enter Penn State Harrisburg's "second degree" nursing program, which admits students who have successfully completed a bachelor's degree in another discipline and are interested in a career change to nursing.
"Once I received my offer and accepted, the fear set in," Miller said. "I am 35, a mother of three, still a current employee at the Medical Center, my daughters are in activities, my husband is self-employed. Life is different being an adult learner."
A Penn State family affair
On Dec. 20, 2019, Miller received her bachelor of science in nursing degree and registered nurse pin at Penn State Harrisburg while her family looked on. In February, she will start full time at the Medical Center as a nurse in the labor and delivery department.
It took a village to get her there – her family, her professors, her classmates, her employer.
Miller's mother, Debbie McCoach, retired from her job as a nurse in the Cardiac Rehabilitation unit at Penn State Health Milton S. Hershey Medical Center to care for Miller's children while she was in school. Miller's husband, Ryan, a contractor and one of the few family members not in the medical field, learned more about housekeeping. And Miller said, her children Lyla, 10, Kynlee, 8 and Adelyn, 5, rose to the occasion to help at home.
Miller's employer adjusted her work schedule to fit her studies.
Her classmates chipped in to babysit at times. When Miller had a cancer scare, her professors and classmates offered their support.
The accelerated 16-month program was exhausting, according to Miller. She would wake up at 4 a.m. to pack lunches for her girls and get them ready for school. When she finished her classes for the day, she would run home to drive one daughter to swim team practice and another to gymnastics classes. After she fed everyone and got them to bed, she studied. When she had a day off from classes, she would go back to work at the medical offices.
"At first it seemed unattainable. I had to lower my expectations for the household," she said.
Her kids had to forego big birthday parties and family vacations, but they didn't seem to mind.
"I think they're inspired. They say they're proud of me," she said.
Her parents are also proud.
"She's worked so hard," McCoach said. "As soon as she started (the program) I could tell that she loved it."
McCoach said she never pushed her children into medical fields, but she's happy they are following the family tradition. A tradition that has involved Penn State all along the way.
McCoach and her husband, Robert McCoach, met as traveling nurses in Fort Lauderdale, Florida, and he recently retired as a perfusionist, running the heart and lung bypass machine at the Medical Center. Her other daughter, Kelly Supan, is a physician's assistant at Pinnacle Health, and her son-in-law, Roman Supan, is a nurse anesthesiologist there. Both also received degrees from Penn State.
Miller said she could not have traveled elsewhere to get her degree because of family obligations, and that she is immensely grateful for Penn State Harrisburg.
A couple of weeks before her graduation, she brought her oldest daughter to visit Hreniuk, her original source of inspiration at the hospital.
"I want my daughters to know you can be whatever you want to become at any time," she said. "I don't like to be the center of attention, but if my story can encourage other moms to go back to school, it's worth it. .. I think I was meant to be a nurse."
Hreniuk, who has worked at Hershey Medical Center for 40 years, said she is not surprised when she gets thanks because a nurse is "somebody who is so intimate with your care."
She is thrilled that Miller will join the department.
"She is exactly the kind of nurse we need," she said.