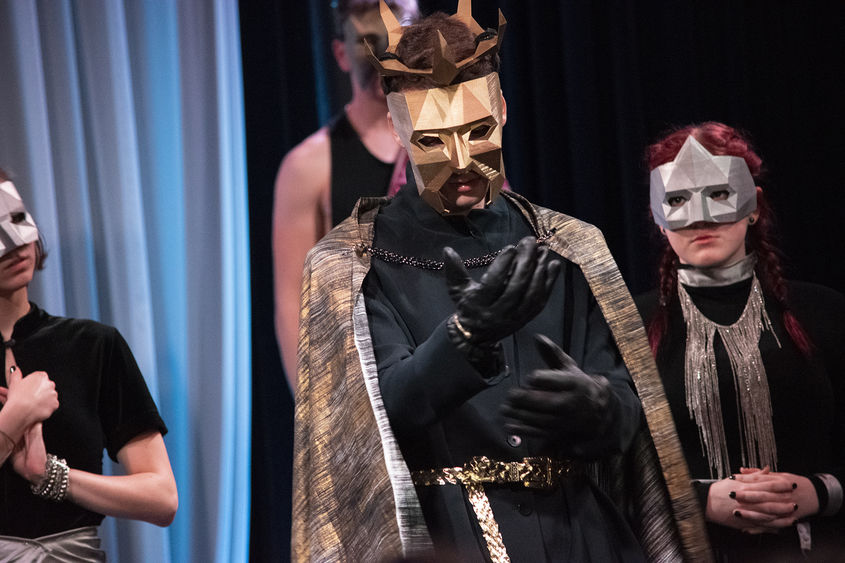 A recent production of the Greek tragedy "Oedipus Rex," performed by the Penn State Harrisburg Capital Players Theatre Club, incorporated technologically forward staging and design elements different than anything seen before from Penn State Harrisburg students. The production team took on a creative direction that incorporated everything from 3D printing to reflective design elements and dramatic LED lighting.    
Oedipus Rex has been performed since 429 BC, and one of the challenges identified by the crew was making a text that seems "other worldly at times" take on a fresh, modern atmosphere while remaining true to its ancient Greek traditions. The play's director, Jesse Goranson, a graduate student in the community psychology and social change master's program, believed that the best way to make the show different from other productions was by utilizing a futuristic, sci-fi aesthetic. He achieved this other-worldly feel by using silky, reflective fabrics, angled lights, and a large mirror wall.
One of the most unique aspects of the production was the use of 3D printing to create masks. The process involved finding mask samples online and loading them into Blender, a 3D computer graphics software, for modification. After that they were exported onto an SD card and uploaded to the 3D printer.
Goranson said that using technology in the production made many things easier on the crew. "The 3D printer really freed up a lot of my time, compared to making the masks by hand. It allowed for me to get sharp angles and details on the masks, while I was able to focus on other design elements. Designing the masks in Blender took a long time, but it was more fun than strenuous," said Goranson. The masks were printed, molded to each actor's face, and spray-painted. Having to do this by hand would have been more time-consuming and would have required the recruitment of a mask designer. Instead, the machine did the work.
Lighting designer and mechanical engineering student Val Frigerio also contributed to modernizing "Oedipus Rex." Using an LED light system that she could control from her laptop enabled her to dictate the color and brightness of each individual light. The alternative would have been using analogue lights that require one to add gels in front of each bulb to change their color.
"Technology has changed the way that contemporary theatre is done in a lot of ways," Goranson said. "With our production of "Oedipus Rex," we took advantage of technology every step of the way. Even just 5 years ago, we probably wouldn't have been able to put this show on the way we did; 3D printing tech was too expensive, and the lights we used would have been completely out of the question… It was very convenient, and I think you're going to see a lot more theater companies implementing 3D printing technology into their workshops."
"Seeing the masks go from a file on my computer, to an actual prop on stage being used as a focal point of the show, was such a remarkable experience," Goranson said. "It really made me feel like anything was possible. Bringing STEM into the realm of theatre brings out so many possibilities that previously relied on the willful suspension of disbelief. STEM in theatre allowed us to create an environment that was convincing, intriguing, and captivating to the audience."
Catherine Rios, associate professor of humanities and communications, added that the production showcased how creativity, science and technology can work together in new, innovative ways. "Bringing social sciences, humanities and STEM students together to address these kinds of challenges reflects the growing necessity of interdisciplinary problem-solving strategies. Increasingly, teams rely on the skill sets brought through diverse perspectives to explore solutions that aren't available with the individual skill sets," she said. "Approached this way, teams can access all kinds of solutions that use current and emerging technologies to enhance the interpretation and impact of classic work for a contemporary audience."