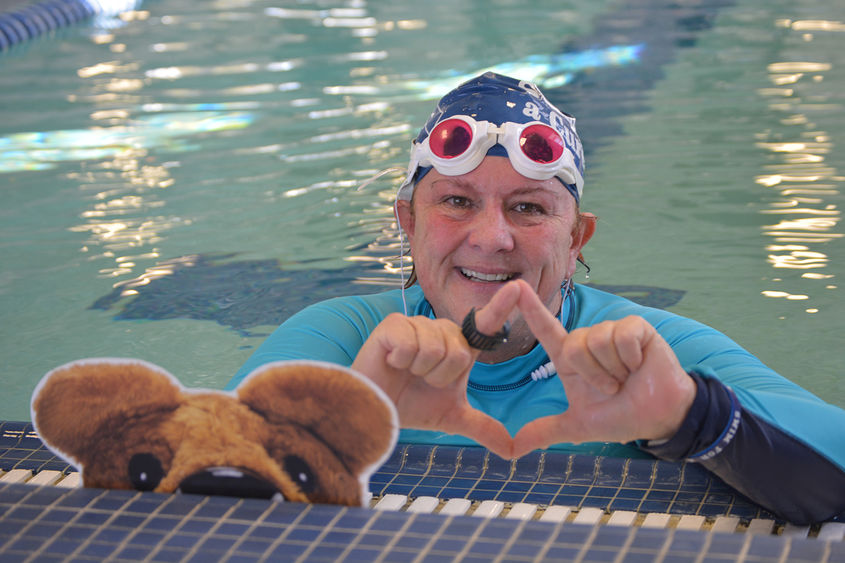 Holly McKenna, swim instructor at Penn State Harrisburg, recently took on one of the most daunting physical challenges in the world, a swim across the English Channel. Crediting her inspiration for the swim to numerous students over the years, McKenna embarked on a 3,500-mile journey to Dover, England, to support two charities close to her heart: Swim for a Cure, for children with cancer; and Surfers Healing, an organization that takes children with autism surfing around the world.
McKenna has been supporting the fight against childhood cancer for years. She created the "Swim for a Cure" swim-a-thon event seven years ago, and has raised thousands of dollars through marathon, 24-hour swims for Penn State Harrisburg Benefiting THON, an annual student-organized initiative that supports Four Diamonds. Four Diamonds aims to conquer childhood cancer by covering 100 percent of cancer-related medical expenses not covered by insurance, supporting families through superior care, and funding innovative research.
McKenna, who has taught swimming for nearly 40 years, began training for the swim three years ago. After many early morning swims in frigid water, a six-hour qualification from Ocean Walker Swim Clinic in Malta, and countless timed swims and speed workouts, McKenna was ready to dive into the freezing waters of the English Channel.
She arrived on June 7 to Dover in order to acclimate and perform practice swims under the guidance of Ocean Seven swimmer and coach Adam Walker. McKenna recalls one practice night swim, saying, "[It] was quite magical in the dark, looking back at all the lights in the harbor and promenade. The swimming was actually quite easy. It was mother nature that was making things a bit tricky."
After a week of windy weather which never completely calmed, McKenna began her swim at 5 a.m. on June 12. Today, remembering the leap off the boat into icy waves, McKenna recalls the millions of thoughts flashing through her mind. "With every stroke I thought of all of the preparation that led me to that moment – all the new friends I have made along the way, why I was doing it, children with cancer, children with autism – in the hopes of raising just a little extra money to help them all."
Braving jellyfish stings, 7-foot waves, and stomach cramps, McKenna endured hours of swimming. Three hours and ten minutes in, she was joined by Walker, but 20 minutes later stomach cramps became overwhelming and she was forced to stop.
"In the end, the one thing I did not take into consideration in all of my training was seasickness. I had trained for the cold, the darkness and the sheer vastness of the open water, but had never considered the effects of the rough swells. I swam for 3.5 hours in freezing water, just shy of six miles. I am very proud of my swim. In extreme sports we don't always get perfect days, perfect weather or perfect conditions, and the bigger the adventure, the bigger the risks," she said.
McKenna hasn't given up on completing the full swim, however. "My adventure is not done and I plan to return and try again, because I believe in dreaming big and fighting for the causes that are so close to my heart. Never be afraid to throw your hat in the ring. It is all a learning experience."