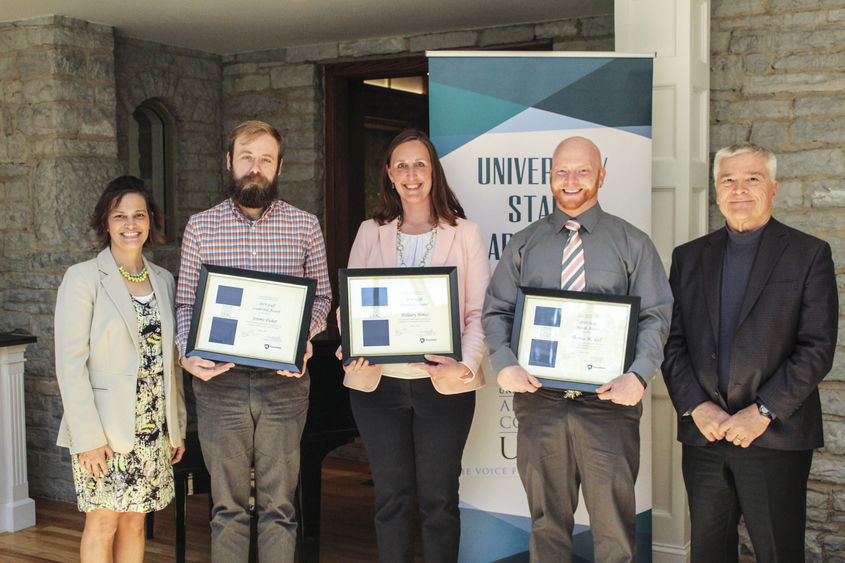 Penn State University President Eric Barron welcomed members of the University Staff Advisory Council (USAC) and the recipients of the 2019 USAC Awards to his home at the Schreyer House on May 21 for a celebration of the recipients' outstanding accomplishments and contributions to the University.
Speaking during the awards ceremony, President Barron acknowledged that staff are the front door to Penn State and thanked them for all they do every day to keep the University running smoothly.
"The awards committee members had the pleasure of reading through many award nominations this year, which were an example of the outstanding and diverse staff we have at Penn State," said USAC Awards Committee chair Marissa Shamrock. "It was a pleasure for the committee to read through the nominations and a difficult decision to choose just three winners. Jeremy Fisher, Hilleary Himes and Thomas Kell are very worthy recipients of the staff recognition awards"
Jeremy Fisher, an administrative support coordinator in the College of Arts and Architecture, is the recipient of this year's Staff Leadership Award. This award recognizes a staff person who demonstrates excellence in leadership and serves as a positive role model for others.
His nominator wrote that "Jeremy is one of a kind and we are most fortunate to have him taking care of our office management, personnel operations, and myriad other details and duties" and he "promotes excellence in teamwork. He works with everyone to solve problems. He demonstrates the highest levels of integrity and has earned the respect of students, staff, faculty and their counterparts across the college."
Hilleary Himes, director of advising in the College of Earth and Mineral Sciences, is the recipient of the Staff Excellence Award. This award recognizes a staff person who demonstrates integrity, respect, and excellence in all aspects of their position. In addition to her work as director of advising, she is also part of an academic warning and suspension committee convened through the Academic Council on Undergraduate Education, where she has helped find strategies to improve implementation of the academic progress policy, including enhanced communication to students ahead of important deadlines. Because of these contributions, she was recently asked to serve on a university committee to examine the Penn State Faculty Senate's recovery and success policies.
"Hilleary is an excellent staff member in every way," her nominator wrote. "She is a fountain of knowledge and experience, serving as a trusted resource throughout the college and the university. She supports and values the success of others, facilitating that success whenever possible. Hilleary has impeccable integrity and I completely trust her to do the right thing, always."
Thomas Kell, a laboratory supervisor at Penn State Harrisburg, is the recipient of the Staff Morale Award, which recognizes a staff member who demonstrates enthusiasm and optimism in order to create a positive, inclusive, and supportive work environment for all.
According to his nominator, "Thomas also goes above and beyond his everyday duties to help our students succeed and have fun. He often takes time out of his busy schedule to help students with understanding of lab material and to make up labs missed due to illness/sporting events. Students are so stressed that any relief from their anxiety is a huge boost to their morale and Thomas does this by aiding them in the laboratory processes as well as by putting a smile on their faces due to his cheery personality."
About the University Staff Advisory Council:
USAC serves the president and his administration in an advisory capacity through the vice president of human resources about issues that have an impact on staff across the University. USAC provides a forum for the exchange of ideas among the members of the University staff and serve as an advocate for staff welfare and development.
For more information, visit https://hr.psu.edu/university-staff-advisory-council.