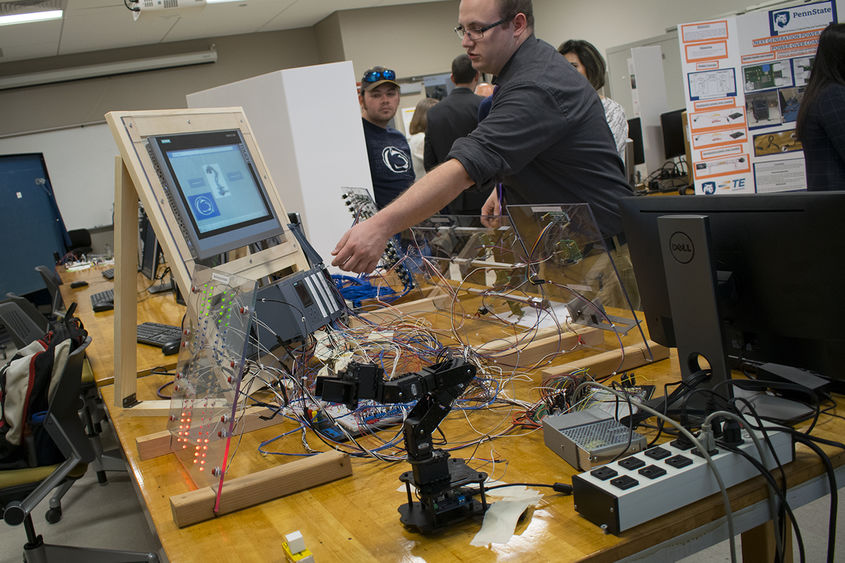 MIDDLETOWN, Pa. — Penn State Harrisburg's School of Science, Engineering and Technology held its annual Capstone Design Conference on May 3.
Senior students in the School of Science, Engineering and Technology are required to complete a capstone project, which combines classroom learning with real-life applications, and is the culmination of their educational experience. In addition, students often collaborate with industry sponsors on projects of interest to those businesses. More than 50 projects in various disciplines were on display at this year's conference.
Marjorie Meyers, senior principal product development engineer for TE Connectivity, and Jeffrey P. Merritt, president of Reynolds Construction and chief operating officer of Reynolds Enterprises, were the featured speakers at the event.
The conference is supported by an endowment created by TE Connectivity.
Students awarded for Capstone Design projects
Outstanding student projects were recognized during the conference.
Judges selected winners from several program categories: civil engineering and structural design/construction engineering technology; computer science; electrical engineering and electrical engineering technology; and mechanical engineering and mechanical engineering technology.
Awards were given to outstanding group projects based on the criteria of overall appearance and quality of display; overall professional appearance of presenters; effectiveness of display, support materials and experimental set-ups; project summary by the team or individual; interaction with visitors; and innovation. Each program had its own judges.
The James A. Andrews Memorial Award for Excellence in Capstone Design also was awarded. The $1,000 award recognizes and encourages students who best demonstrate interest, motivation and ability in identifying and solving an engineering problem that addresses a real-world concern. It is intended to honor students who couple creative approaches with practical ability to successfully resolve a situation.
The award was established by the family of James "Jim" Andrews, who was an alumnus of Penn State and worked as a senior field support engineer for Rockwell Automation in York, Pennsylvania, in admiration of Andrew's flexible, can-do spirit. The winner of this award was chosen from among the first-place winners in each category.
This year's winners included:
Civil Engineering, Structural Design and Construction Engineering Technology
Project: Hershey Design-Build Retail Store
Sponsors: Tono Architects Inc., C.S. Davidson Inc., and Professional Design & Construction Inc.
Group members: Kayla Grabiec, Monica Grosh, Brandon Hall, Ethan Hoover, Nicholas Krakowski, Patrick Meadows, Chase Vilga, and Nathan Weaver
Faculty advisers: Joseph Cecere and Grady Mathews IV
Three retail buildings are being designed for Chocolate Avenue in Hershey, Pennsylvania. In the fall, students produced a structural layout, exterior shell, and preliminary construction schedule for the new building. In the spring, they designed the building's structural components; a more detailed construction schedule; and assessed the cost, energy efficiency, and sustainability of their designs.
The James A. Andrews Memorial Award for Excellence in Capstone Design and Computer Science
Project: HTML Forge
Group members: Hsuan Han Lai, Waqas Latif, and Khalid Qubbaj
Adviser: Hyuntae Na
HTML Forge is a web-based application that converts a Graphical User Interface (GUI) mockup into HTML5 code by leveraging the power of machine learning. The process of converting a GUI into code is time-consuming and prevents developers from allocating their time to more time-demanding issues. HTML Forge is designed to speed up workflow, and allows developers and students alike to speed up their web-development tasks by simplifying the process into a simple upload and convert button.
Electrical Engineering and Electrical Engineering Technology
Project: Multigig Wafer Load Vision Inspection System
Sponsor: TE Connectivity
Group members: Brandon Smith, Ian Jones, and Dylan Drueding
Faculty advisers: Seth Wolpert, Javad Khazaei, Hyuntae Na, and Ma'Moun Abu-Ayyad
Students designed the Multigig Wafer Load Vision Inspection System to effectively and efficiently inspect assembled printed circuit board connectors. The goal is to increase the volume of custom-built connectors being inspected, while identifying incorrectly placed wafers assembled in the connector housing.
Mechanical Engineering and Mechanical Engineering Technology
Project: Exo-Bionics
Sponsor: Penn State Milton S. Hershey Medical Center
Group members: Jordan Coulter, Scott Hammond, Corbin Hoenicke, Michael Hoptak, Adam Malave, Kameron Stevick, Steven Wilke, Nolan Hoenicke, and Ira Matthews
Advisers: Anilchandra Attaluri, Javad Khazaei, Seth Wolpert, Gregory Lewis, Edward Fox, and Everett Hills
Current above-knee amputees face a significant tradeoff between cost and functionality of prosthetic solutions. Amputees struggle to find an affordable, modular and multifunctional prosthetic while progressing through various activity levels during the rehabilitation process. Students developed an electro-mechanical design that seamlessly attaches to a passive prosthetic for an improved gait cycle during rehabilitation. The students' goal is to create a low cost, functionally safe solution to improve the patient's quality of life.