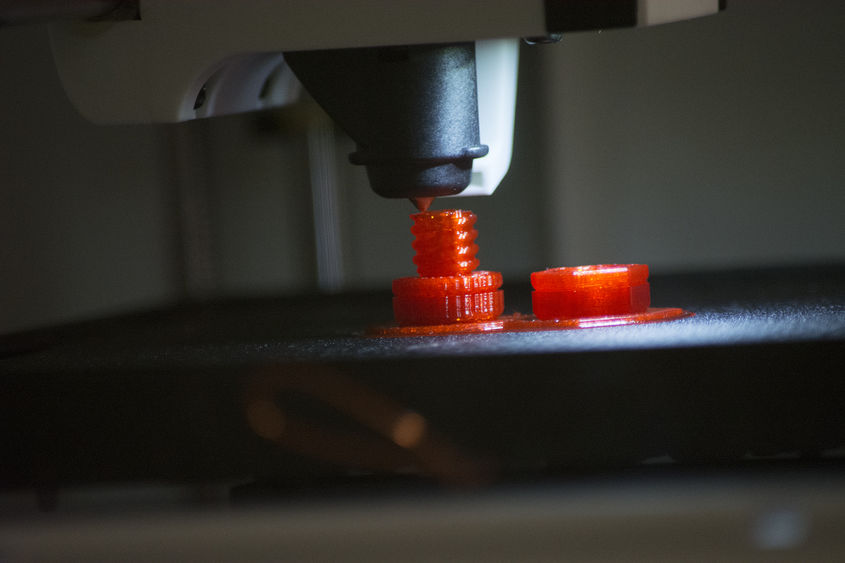 Ross Young loves math, but many of his eighth grade students at Harrisburg Middle School don't share his passion. He tries to impart his enthusiasm.
"Yet," he assures them. "You just don't love math yet."
Young hopes the 3D printer he is taking back to his classroom from a workshop at Penn State Harrisburg will help his students reach that place. He plans to use the printer to let them design their own cellphone cases as an initial project.
"For eighth graders, their main driving force is their cell phones," he said. "This will bring math immediately to their world."
Young was among 60 math and technology and engineering teachers from 30 south central Pennsylvania middle schools who participated in the one-day workshop offered by the Capital Area Institute for Mathematics and Science (CAIMS) at Penn State Harrisburg. Titled "Teaching Mathematical Modeling through 3D Printing," the daylong event was taught by Penn State Harrisburg faculty members Tyler Love, assistant professor of STEM education and director of CAIMS, and Reuben Asempapa, assistant professor of mathematics education.
Each school had to send a team consisting of a math teacher and a technology, engineering or STEM educator. They earned state approved continuing education credits for participating and all teams brought 3D printers back to their classrooms.
Asempapa taught mathematical modeling while Love demonstrated the 3D design software and explained the use of the printers.
"The availability of 3D printing helps educators to leverage technology and apply math modeling in teaching math concepts in most classrooms. When teachers engage students in modeling, the students are able to appreciate and value the importance of mathematics in their lives, recognize the relevance of learning mathematics, and it makes mathematics more meaningful. Through math modeling, teachers are able to answer students' questions such as "why do we have to learn math" and "when are we ever going to use it,"Asempapa said. "It shows how we can make use of math to investigate real world applications."
Love explained that students might design the hull of a boat, for instance, and test different shapes by measuring the volume of water displacement. They could design a nose cone for a rocket using a cylinder for the body, triangles for the fins...using geometry, measurement, volume, surface area.
"It puts math in a more practical, relatable context that integrates various concepts from the world around them," he said.
"It's getting kids to see ways to test shapes," Asemapapa said. "We used to teach math mostly through formulas, but with 3D software they'll be able to print out an actual artifact."
Technology and engineering teacher Jana Bonds and math teacher Brent Barge came as a team from the Southwestern School District in York County. Bonds hopes the course leads to more collaboration between the two disciplines.
"We don't do enough collaboration between content areas in order to show real world applications," she said.
Some students might not like math, but they like building things, she said. The 3D printers can help them see how skills fit together and prepare them for careers.
Barge said schools have been emphasizing mathematical modeling. He did a project with his students to design a container that would be a certain volume, have visual appeal on the shelf and make the most efficient use of materials - bringing together math, economics and creativity. With a 3D printer, the students could hold the result of their designs in their hands.
Bonds said many industries are turning to 3D printing, even building entire houses with the technology.
"We have to prepare our students for that," she said. "I'm excited this was available to us. It's so applicable to what we're teaching."