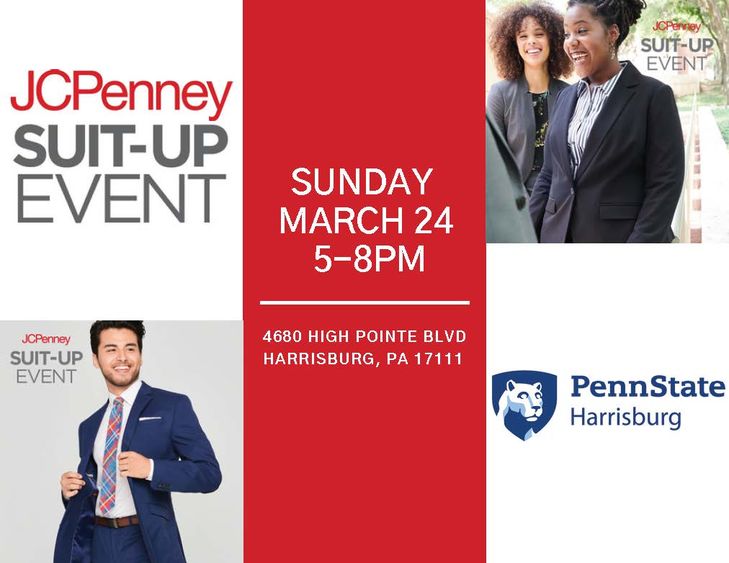 HARRISBURG, Pa. — Penn State Harrisburg's John Crain Kunkel Career Center is teaming up with JCPenney at High Pointe Commons to host a SUIT UP event for Penn State Harrisburg students from 5 to 8 p.m. on Sunday, March 24, at 4680 High Pointe Blvd, in Harrisburg.
Current students and those who have graduated in the past year (May 2018 to present), will receive 40 percent off the cost of professional attire, including blazers, dress pants, dress shoes, dresses and more, including sale and clearance items.
"This event provides the opportunity for students and recent graduates to outfit themselves for career fairs, interviews, professional internships, their first job and to find attire for graduation at a discount," said Katy Rush, associate director of the John Crain Kunkel Career Center. "It will make it easier for students to afford new professional attire and put their best foot forward and to establish a professional brand image."
Students must show their school ID to be admitted and to receive the discount. Free bus transportation from campus is available for students and made possible by the Student Activity Fund. Visit https://bit.ly/2ECkavK to reserve a seat.
The event will also feature free Sephora mini makeovers and samples, free suit and bra measurements, refreshments, discounted LinkedIn head shots, and a JCPenney gift card raffle. Attendees can download the JCPenney mobile app prior to the event.