Open 8 a.m. to 5 p.m. Monday through Friday at Penn State Harrisburg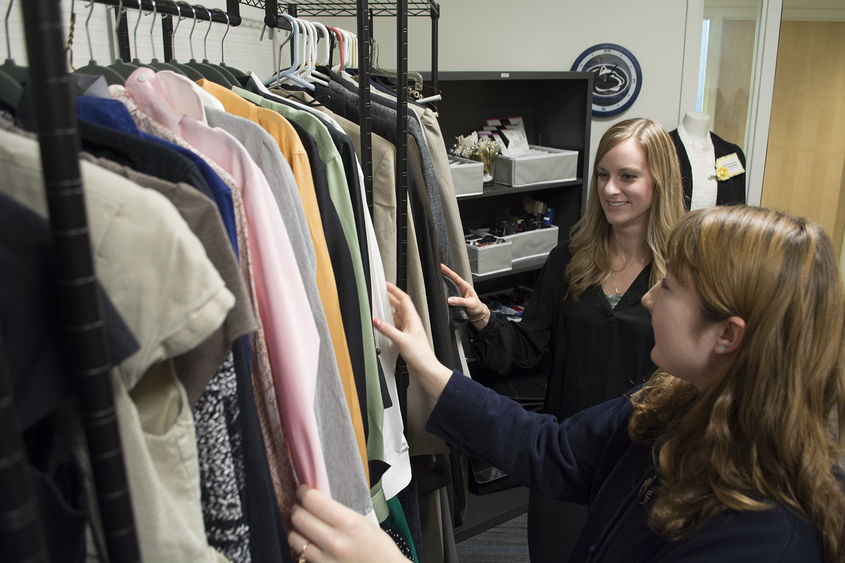 HARRISBURG, Pa. — Making a good first impression at a job interview or career fair is crucial; many interviewers say that they know whether they will hire someone within the first 90 seconds of meeting them. However, the cost of purchasing professional attire can be difficult for students.
This is why the Career Services Office at Penn State Harrisburg has created the Career Closet, which allows students to select a professional outfit from a new or gently used collection free of charge. The Career Closet offers professional clothing in a range of sizes, styles and colors, as well as shoes, accessories, ties, padfolios and work bags. The closet is now open to all students.
Katy Rush, associate director of the Career Services Office, witnessed a need for professional attire through student inquiries and focus groups with the Career Peers, the student staff at the office.
"We decided to take action because we didn't want a single student to miss an opportunity such as attending a career fair or interview simply because they didn't own or couldn't afford a suit," she said.
The office began collecting donations in fall 2018 from generous faculty and staff across campus, as well as local businesses and organizations, including the Wesley United Methodist Church in Middletown, Enterprise Holdings, and Brown Schultz Sheridan & Fritz, an accounting firm in Camp Hill. Penn State Harrisburg Chancellor John Mason and his wife, Michelle, also recently added donations to the closet.
Career Services is also exploring a partnership with CommunityAid in Harrisburg, to create an additional resource for students who can't find their size or style in the Career Closet, so that they may visit the CommunityAid Harrisburg location for a free outfit from their inventory.
Career Services Office staff hope that this initiative will make students more competitive when applying to positions in the workforce.
"Looking good feels good and it instills confidence in a candidate," said Rush.
We want to deliver that feeling to every Penn State Harrisburg student," said Rush. "Confidence correlates with performance and we want all of our students to make a strong first impression."
The Career Services Office provides access to a variety of tools needed for students' success in future industries, and partners with valuable community organizations and companies that can provide experiential opportunities. Resources provided by the office include everything from résumé writing and interviewing training — and now, access to professional attire.
Students can utilize the Career Closet by visiting the Career Services Office in Room 212 in the Student Enrichment Center, between 8 a.m. and 5 p.m., Monday through Friday.
The office continues to accept donations of all professional attire, but are in immediate need of shoes, padfolios and jewelry, as well as socks and hosiery. To donate or for more information, visit the Career Services Office, contact them at 717-948-6260 or [email protected], or visit harrisburg.psu.edu/career-services.