Top five in the country: Spanos advances to the national finals in Denver with four other chefs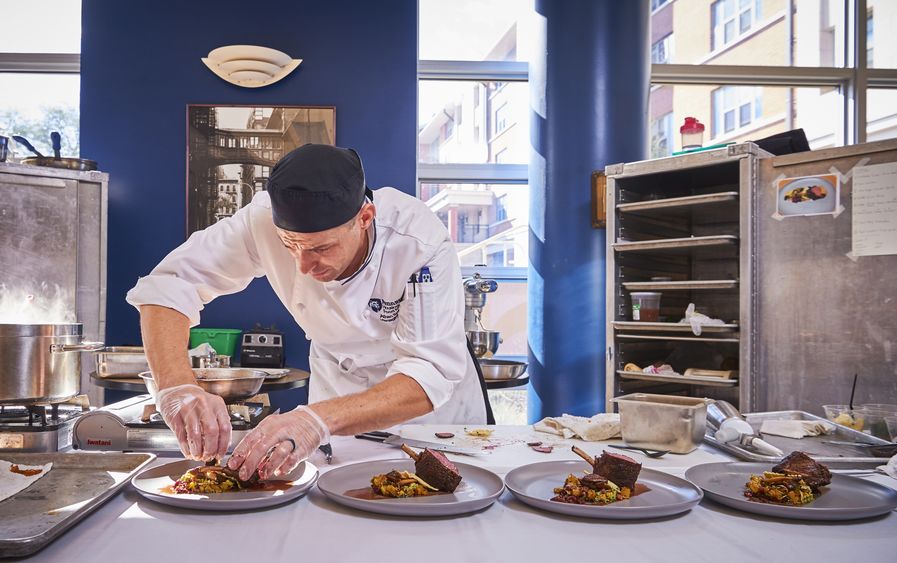 Athan Spanos, chef at Penn State Harrisburg, represented Penn State and won an American Culinary Federation (ACF) gold medal for his signature dish at the National Association of College and University Food Services (NACUFS) Mid-Atlantic Regional Conference Culinary Challenge, held Jan. 15 in Gettysburg, Pennsylvania.
Spanos now advances to the finals July 10 to 13 in Denver. In this upcoming national cook-off, Chef Spanos will go head to head with four other chefs from around the country to see who truly is the cream of the crop. 
Spanos advanced to the regional challenge after winning the annual Penn State Culinary Challenge, sponsored by NACUFS, this past October.
"Last year I also was advanced to the nationals but had to withdraw because my son Ilias was born on the very day of the competition, July 11! So, this year is very special for me, and I'm looking forward to doing my best to represent Penn State."

-- Athan Spanos, chef at Penn State Harrisburg
The annual challenge begins with an initial cook-off at each participating school that follows the American Culinary Federation's competition guidelines and features a mandatory protein ingredient that is determined and provided by NACUFS.
This year, the mandatory protein was 12- to 14-pound bone-in venison saddle.
Spanos, who won the Penn State challenge for the second year in a row, prepared a dish featuring juniper and fennel crusted venison chop, delicata squash and trumpet royale hash, sunchoke ravioli truffle parmesan foam, root vegetable chip, and a sour cherry reduction.
"This was a tough competition with lot of great competitors," Spanos said. "I was excited to design my dish once I heard what the protein was going to be. I enjoy combining different flavors, textures, and plate designs to compose a well-balanced and beautiful dish. It was my goal to push myself to make this dish just difficult enough so I could finish (the competition) with under 30 seconds left and still have a clean, organized station and plate."
The live regional competition, according to NACUFS, "recognizes outstanding organization, cooking skills, culinary technique, taste and style."
The winners of each NACUFS regional culinary competition advance to the National Culinary Challenge, which will take place in July in Denver, Colorado, during the NACUFS 2019 National Conference.
"Last year I also was advanced to the nationals but had to withdraw because my son Ilias was born on the very day of the competition, July 11!" Spanos said. "So, this year is very special for me, and I'm looking forward to doing my best to represent Penn State."