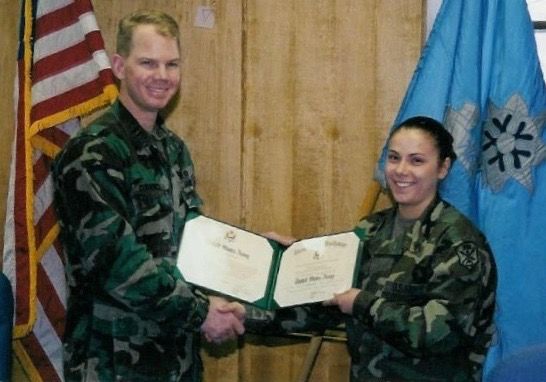 UNIVERSITY PARK, Pa. — Penn State is celebrating the 100-year anniversary of women officially serving in the U.S. Armed Forces beginning in 1918 during World War I. As part of this celebration, Penn State Harrisburg recognizes Janice Markey, a veteran and 2010 Penn State Harrisburg graduate of the MBA program. Markey shared her story about how the military has influenced her life.
Markey's decision to enlist in the armed forces arose from a desire to serve her country while earning financial assistance for college. Her journey with the military began when she attended training at Fort Jackson, South Carolina. She then spent three years at her first duty station, Fort Polk, Louisiana. After deciding to reenlist, Markey was stationed at Fort Meade, Maryland, where she served for an additional two years. Her final duty station was a three-year, joint-duty assignment at the Defense Intelligence Agency (DIA) in Washington, D.C. It was after this that Markey decided to leave the military, finish her bachelor's degree, and begin her civilian career.
Markey knew she was interested in finance, having had the opportunity to learn about financial resource management while in the DIA. She obtained a bachelor's of science degree in business management and accounting from the University of Maryland, and went on to work for private defense contractors in various program and financial management roles. Later, she enrolled in Penn State Harrisburg's MBA program.
"Penn State Harrisburg was an excellent fit for me to complete my master's degree," Markey said. "Its flexibility in offering evening and weekend courses fit into my schedule as a working professional."
While many of her peers were taking online classes, Markey said she felt it was important to choose in-person classes so that she could learn not only from textbooks, but also from the real-world experiences shared by faculty and other working individuals attending the classes.
Since finishing her MBA, Markey has worked at Leidos, a defense, aviation, information technology and biomedical research company headquartered in Reston, Virginia, that provides scientific, engineering, systems integration and technical services. Leidos, Markey said, excels in supporting veterans by offering an employee resource group dedicated to veterans and supporting many military activities, including the Marine Corps Marathon and Wreaths Across America.
Now the senior business operations manager for a $250 million program that delivers IT services to the U.S. Army Corps of Engineers (USACE), Markey can do what she loves every day.
"I have an awesome team to work with and constantly learn from — it is very rewarding, knowing we help the USACE focus on its very important mission," she said.
Markey is married, with a four-year old son. "They are the most important people in my life," she said. Her experience in the military influences her day-to-day life in many ways.
"Although serving in the military was not easy, I would not have changed the experience for anything," Markey said. "I had the opportunity to mature and grow as a person much quicker than peers in my age group. When you have the responsibility of defending our country, it is not something you take lightly."
She recalled the sense of unity she felt and continues to feel with other veterans: "To me, military life was like [having] a close-knit family." She says that no matter where an individual was from or what they believed, there was a kinship felt with others working toward the same objective: to serve and defend the country. Even today, knowing that someone is a veteran gives Markey a greater appreciation for them.
"I make it a point to say thank you to active duty and veterans," she said. "I would encourage everyone to adopt this simple gesture as you move forward during your day-to-day lives."