Support received for cultural programming and scholarships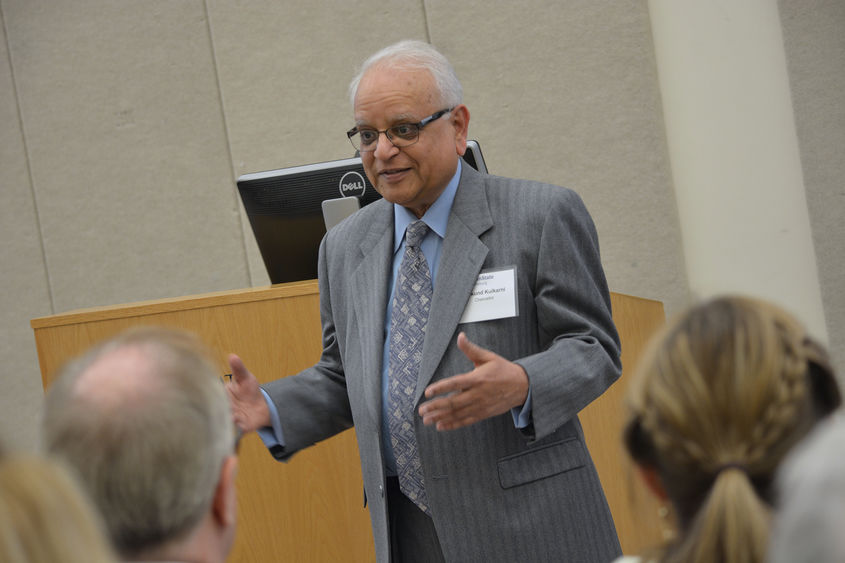 HARRISBURG, Pa. — The portion of the University endowment that benefits Penn State Harrisburg will grow by more than $3 million thanks to recent gifts honoring Chancellor Mukund S. Kulkarni, who retired June 30 after more than 30 years of service to Penn State.
Kulkarni joined the University in 1985 as a member of the business faculty at Penn State Harrisburg, and advanced in the faculty ranks and leadership posts at the college prior to becoming chancellor in 2010. Under his leadership, Penn State Harrisburg experienced growth in enrollment and academic offerings, the development of new and enhanced academic and student life facilities, the expansion of teaching and learning support to faculty, and the enhancement of instructional technology.
The recognition of Kulkarni was made possible by a generous leadership gift from John and Abby Tierney, longtime supporters of Penn State and Penn State Harrisburg; and Omid Ansary, senior associate dean for academic affairs at Penn State Harrisburg; as well as the collective gifts of many of the college's board of advisers members, colleagues, friends and alumni, including support from Asian Indian Americans of Central Pennsylvania.
The gifts support the naming of the Mukund S. Kulkarni Theatre in the college's Student Enrichment Center; the Mukund S. Kulkarni Cultural Series Program Fund, which will bring annual cultural programs and performances to the theatre; and scholarships through Penn State's Open Doors Scholarship Matching Program.
"Facilities for arts and culture have been a dream of mine for years. This facility fills this major gap that existed on the campus and I am honored that it will bear my name," Kulkarni said. "I am truly humbled by the generosity of many donors and the consideration given by the University."
The endowment of more than $1 million in cultural program funding will provide Penn State Harrisburg the opportunity to bring national and international performances to campus annually, allowing the community to experience a variety of different performances and events intended to showcase the college's diversity.
"Dr. Kulkarni is passionate about education, knowing that it is critical to an individual's ability to provide for their family. But those who are close to him also know that he believes education means more," said Marissa Hoover, director of the college's Office of Development and Alumni Relations. "To Dr. Kulkarni, education is important because it provides an understanding and awareness of the value of diversity in our society. It's not only about people who look different, but also about people who think differently and have different experiences. The series is an accessible way to be exposed to other cultures. Awareness and understanding of the experiences and beliefs of others allow us to be compassionate and make informed decisions to help everyone we encounter."
In addition to the program fund, several Open Doors Scholarships were created to honor Kulkarni, adding an additional $2 million to the portion of the University endowment available for Penn State Harrisburg students. The Open Doors Scholarship Matching Program is a 2:1 permanent match for endowed gifts to specific programs that will help students with financial need thrive at Penn State.
The Kulkarni gift funds will specifically support the "Complete Penn State" program, which assists students who are within 30 credits of graduating and have left Penn State without completing their degree, allowing them to return and graduate; as well as students who are still at Penn State and experience unexpected financial hardships that might otherwise keep them from graduating.
"From supporting the arts at Penn State Harrisburg to opening doors to students with financial need, these generous gifts from John and Abby Tierney, Dr. Omid Ansary, and other alumni and friends are a truly fitting way to celebrate Chancellor Kulkarni's accomplished career and dedication to Penn State Harrisburg," said O. Richard Bundy III, Penn State's vice president for development and alumni relations. "It is gifts like these that will enable us to build 'A Greater Penn State.'"
The gifts at Penn State Harrisburg will advance "A Greater Penn State for 21st Century Excellence," a focused campaign that seeks to elevate Penn State's position as a leading public university in a world defined by rapid change and global connections. With the support of alumni and friends, "A Greater Penn State" seeks to fulfill the three key imperatives of a 21st-century public university: keeping the doors to higher education open to hardworking students regardless of financial well-being; creating transformative experiences that go beyond the classroom; and impacting the world by fueling discovery, innovation and entrepreneurship. To learn more about "A Greater Penn State for 21st Century Excellence," visit greaterpennstate.psu.edu.