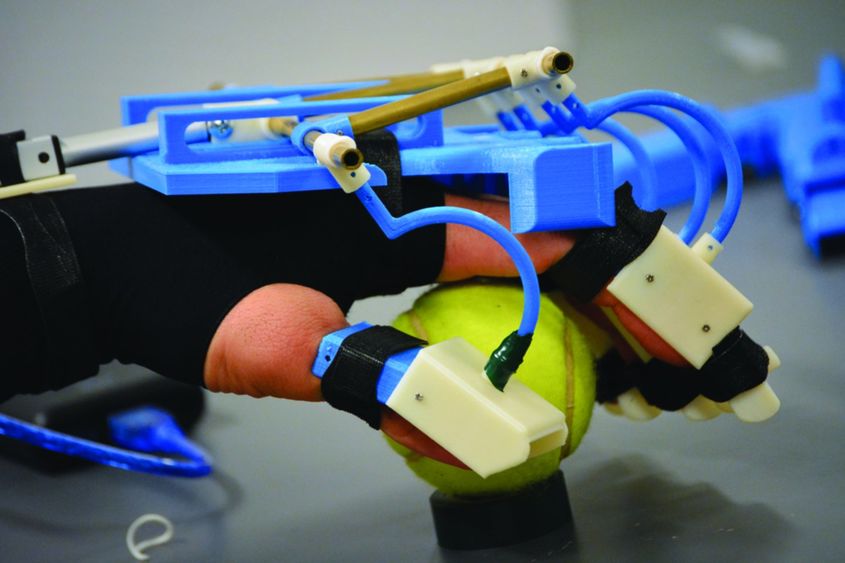 HARRISBURG, Pa. — More than 60 projects in the program areas of civil engineering and structural design/construction engineering technology; electrical engineering and electrical engineering technology; computer science; and mechanical engineering and mechanical engineering technology were on display during the Penn State Harrisburg School of Science, Engineering and Technology annual Capstone Design Conference held in May. 
See photos from the annual Capstone Design Conference
Innovative and creative student-designed projects displayed at the event included a driver drowsiness detection system that helps prevent accidents caused by drowsy drivers; an exoskeleton hand to aid in hand rehabilitation; a 3D printed orthopedic implant for pediatric oncology patients; a 3D scanning drone designed to aid in inspections of structures such as bridges and water towers; and many more.
"Our vision is to be distinguished by excellence through transformative education based on scholarship, collaboration, and innovation," said Rafic Bachnak, director of the School of Science, Engineering and Technology. "The capstone projects allow our students to work on real-world projects, many of which are provided and funded by industry partners."
Some projects were designed to address medical issues, like a personalized 3D printed implant for a pediatric cancer patient with bone loss, sponsored by the Four Diamonds and Penn State Health Milton S. Hershey Medical Center. What typically happens in these cases is that the cancerous bone segment has to be removed; the students developed a structural replacement for that removed bone. MRI scans were used to reconstruct a computer design model of the thighbone just above the knee joint. Prototypes of the implant were 3D printed from both a plastic material and titanium alloy.
Students Joshua Adams, Ali Elakkari, Alex Preniczky and Phu Trinh collaborated with a multidisciplinary team of clinicians and engineers at the medical center in an experience they found humbling.
"We had so much feedback coming down the line," Preniczky said. "There was probably 100-plus years of experience in our group and they were able to guide us through our project."
Adams added that receiving validation that their concept was viable to be used in the future was "probably the best feeling I have ever had in my academic career.  When you are working toward something and an expert tells you, 'yes, this will work,' it's really the best feeling."
Other projects were intended for public safety. Students Tyler Benner, Matthew Maisano, Joshua Smay and James Then designed a quadcopter drone with a camera that is capable of independent flight, imaging, and three-dimensional scanning. Images captured are sent wirelessly to a computer that converts them into a 3D model. The goal of such a drone is to aid in the inspection of structures, such as bridges and water towers.
The students said that their motivation for pursuing this project was the current rapid decline and aging of bridges in the U.S. and the need for more inspections. They added that the drone would reduce the need to hire more workers to inspect bridges.
Many projects were intended to make the lives of Penn State Harrisburg students easier, like the "Smart Park System" created by Michelle Figueroa and Alexis Quinn. The system gives drivers the opportunity to know whether a parking lot is full before entering. The system will display information on a screen just before entering the lot. The information will include the time, date, weather, spots available, and whether or not the lot is full.
According to a customer service survey Figueroa and Quinn conducted prior to developing the project, they found that students were enthusiastic about the possibility of saving time by knowing if a lot is full in advance.
Lion AR, developed by Jacob Arnold, Jonathan Bauman, Supawadee Boonwoen, John Gilbertson and David Peralta, is an augmented reality campus tour of Penn State Harrisburg that will run on Android devices. The application provides the user audio and text information about important buildings and rooms on campus while the user is pointing their camera at that location. The application will also offer a navigation feature that guides the users from building to building and room to room.
A long-standing tradition, the conference is an opportunity for students to apply everything they've learned and gain skills needed in the job market. Students learn to think creatively and collaborate, and to develop and manage every step of a project, skills that will be useful in their future careers and advanced academic pursuits.