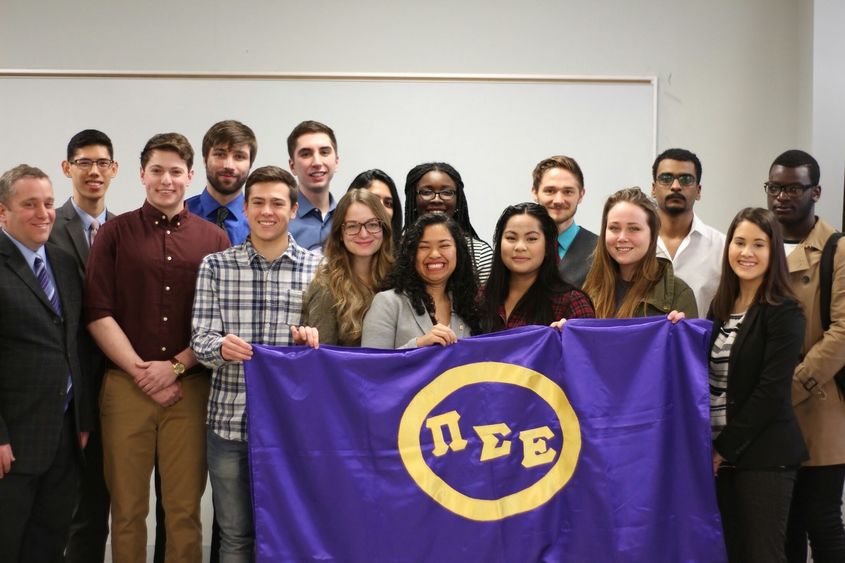 Penn State Harrisburg's School of Business Administration has initiated the Eta Lambda colony of the National and Professional fraternity for men and women in sales, marketing and management, Pi Sigma Epsilon (PSE), as an official fraternity chapter in February.
Eta Lambda has been a colony, which is seen as a candidate for chapter status, at Penn State Harrisburg since April 2017. During the initiation ceremony, chapter members were asked to uphold the fraternity's values, which are geared towards supporting PSE's overall mission of "developing the sales and marketing skills of its members through lifelong learning opportunities."
Eta Lambda has been upholding the fraternity's mission on campus since its' formation by participating in both regional and national sales conventions/competitions and holding lectures on campus from current professionals within the field of business. Driven by their newly recognized chapter status, the fraternity continues to pursue both personal and professional development on campus.
Nicholas Boyer, the public relations officer for the chapter says, "Our goal is to create a nurturing environment in which our members are provided with the necessary resources and opportunities to improve their business skills and prepare for their future careers."
To learn more about PSE's events on campus or if students are interested in becoming a member, visit www.orgsync.com, login with your Penn State ID, then search PSE.
-30-