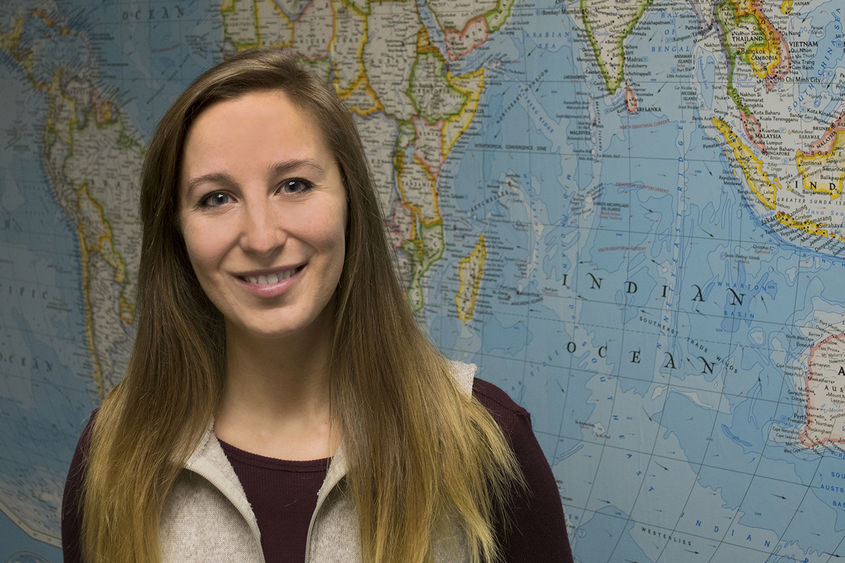 HARRISBURG, Pa. — Penn State Harrisburg student Maggie Mehalko and her fellow team members won their case category during the KPMG sponsored Team Case Competition at the Beta Gamma Sigma 2017 Global Leadership Summit in Orlando, Florida. The team was selected as a winner based on their innovative and creative solution for their assigned business case, as well as the effectiveness of their presentation.
Mehalko was the first Penn State Harrisburg student to attend the summit.
More than 400 undergraduate and graduate business students from all over the world attended the four-day leadership summit in early November. During the event, students participate in a series of leadership sessions designed to build upon each other to culminate in an intensive team competition. There were also seminars on professional development topics and the importance of mentorships in career success.
"I met students from Turkey, Lebanon, New Zealand and many other countries, so it was an excellent experience to work with students from around the world," says Mehalko.
Mehalko was one of just three student ambassadors from Penn State. She was the first from Harrisburg, while the other two were from Penn State's University Park and Erie campuses. She was recommended to the summit by Stephen Schappe, director of the School of Business Administration.
The Team Case Competition allowed 35 teams of business students to collaborate and provide a solution to a complex business scenario. Each team presented to a panel of judges and the five category winning teams showcased their business solutions to the full summit.
The competition judges were business and community leaders, Beta Gamma Sigma's leadership team and board members, and deans from Association to Advance Collegiate Schools of Business International (AACSB)-accredited business programs. Their presentations were evaluated on evidence of preparation, content, consideration for innovation, delivery and discussion.
Beta Gamma Sigma is the largest honor society for business students and graduates of business programs. The society's purpose is to encourage and honor academic achievement in the study of business, while fostering personal and professional excellence among its members. With a major emphasis on ethical business leadership, Beta Gamma Sigma chapters are in in 160 countries, with 27 alumni chapters around the world.
Members of Beta Gamma Sigma represent the top 10 percent of business students, and chapters may only be established by business programs accredited by the AACSB. The Penn State Harrisburg chapter has consistently earned a high ranking. Membership in Beta Gamma Sigma offers considerable benefits to students, including MBA application fee waivers and GMAT waivers.
"We're proud that our business school has been recognized as a High Honor Chapter by Beta Gamma Sigma, which gives us the opportunity to award an Honor Roll Scholarship to one of our outstanding students," said Schappe. "Ms. Mehalko has earned this scholarship, and we are very pleased that she was able to take full advantage of this special opportunity and participate in the Global Leadership Summit."
Mehalko joined Beta Gamma Sigma in 2015, while she was a junior. A native of Milesburg, Pennsylvania, Mehalko began her academic studies at Penn State University Park, then switched to the Harrisburg campus because of opportunities in the Pennsylvania state capital.
She earned her bachelor of science degree in accounting from Penn State Harrisburg in 2016, then began working toward dual degrees of master of science in information systems and master of business administration. Her selection to receive the scholarship for the 2017 Global Leadership Summit came as a result of her high academic standing at Penn State Harrisburg.
The 2017 summit has inspired her to work toward growing the Penn State Harrisburg chapter to be organized with officers, special business events, mentorship opportunities and community service.
Eventually, she hopes to earn her doctorate and become a professor of business. She has discovered that she enjoys teaching and working with students as a graduate assistant at Penn State Harrisburg. "As a tutor, I have found that I have a calling to teach students and make accounting, business and information systems interesting and understandable," says Mehalko.
Mehalko hopes to attend the summit next year in Chicago. "For me, this experience was life-changing," says Mehalko. "Everyone is smart and focused, holding themselves to the highest standards."