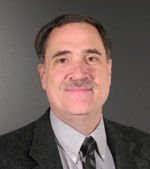 Professor Emeritus of Education, School of Behavioral Sciences and Education
Biography

Dr. Milheim began his career in higher education as an instructional designer in the College of Education at Kent State University, providing instructional support for a variety of technology-based educational projects. Upon completion of his doctoral degree, he accepted a faculty position at Bloomsburg University where he became the assistant director of the Institute for Interactive Technologies, assisting in the supervision of a number of projects for both on-campus and external clients.

He next accepted a faculty position as the regional coordinator of the instructional systems program at Penn State Great Valley. In the final year of this position, he was selected to also serve as the coordinator for all College of Education programs at Penn State Great Valley, a position which soon grew to become the academic division head for education.

Dr. Milheim then served as the campus executive officer and associate dean at Penn State Great Valley after having been the acting head of the campus during the previous year. In this position, Dr. Milheim managed the overall campus including academic divisions in Education, Engineering, and Management. He also supervised administrative directors and their staff in the areas of continuing education, student affairs, marketing and communication, human resources and financial affairs, library, and the computer center, with additional responsibilities related to development and fund-raising efforts for a variety of projects.

From 2005 to 2010, Dr. Milheim served as the director of the School of Behavioral Sciences and Education at Penn State Harrisburg. In this role, he supervised approximately 70 full-time faculty and nearly 1300 students in various undergraduate, masters, and doctoral programs.


Education

B.A.; M.Ed.; Ph.D. (Kent State)