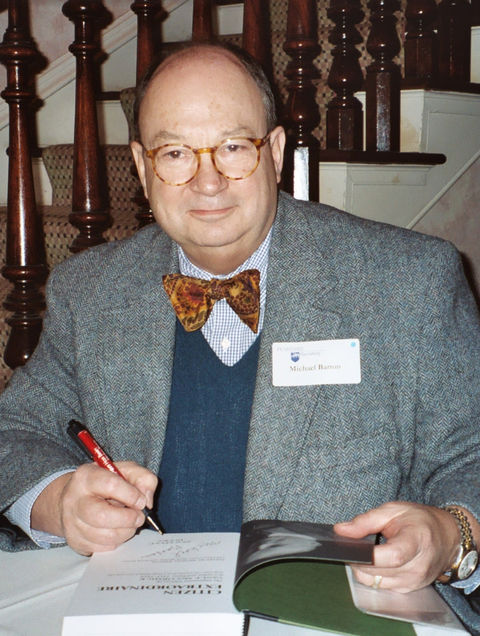 Professor Emeritus of American Studies, Humanities
Biography

Michael Barton, professor emeritus of American studies and social science and former director of the Center for Pennsylvania Culture Studies at Penn State Harrisburg, received his Ph.D. in American civilization at the University of Pennsylvania in 1974.

His three Civil War books are Goodmen: The Character of Civil War Soldiers; The Civil War Soldier: A Historical Reader; and The Civil War Veteran: A Historical Reader. Recently he edited the history of the 209th Pennsylvania Volunteer Infantry and the Civil War memoir of Sgt. Christian Lenker.

His six Harrisburg books include Life by the Moving Road: An Illustrated History of Greater Harrisburg; Harrisburg's Old Eighth Ward; Citizen Extraordinaire: The Diplomatic Diaries of Vance McCormick; To a Harmony with Our Souls: A History of Jazz in Central Pennsylvania; Bellevue Park: The First Hundred Years, and Steelton. His websites include rawnjournals.com. The Harrisburg Patriot-News has named him "Top Harrisburg History Writer." He is a member of the Council of the Pennsylvania Historical Association, the editorial board of Pennsylvania History, and the Advisory Council of the National Civil War Museum.

Prof. Barton has lectured on the American character in Scotland, Finland, Ireland, Australia, Poland, Bulgaria, Mauritania, Greece, Netherlands, Portugal, Canada, Austria, Republic of the Congo, Republic of Georgia, and Denmark, where he was a Fulbright professor at the University of Copenhagen.
Publications

Glorious Recollections: Wert's History of the 209th Pennsylvania Volunteers, 1864-1865, edited by Michael Barton, et al. (Xlibris, 2015, in press)

This Page Belongs to You: The Civil War Letters of Joseph and Sarah Bishop, edited by Michael Barton and Carol Lieto (Xlibris, 2015, in press)

Along the Bethel Trail: The Journey of an African American Faith Community. Bethel African Methodist Episcopal Church of Harrisburg, 1834-2015, by Lenwood Sloan, Nancy Mendes and Michael Barton (Sunbury, 2015, in press)

As the Paint Dries: The History of the Art Association of Harrisburg, by Carrie Wissler-Thomas, with Michael Barton (Sunbury Press, 2014)

The Civil War Memoir of Sgt. Christian Lenker, 19th Ohio Volunteers, edited by Michael Barton and Judith Kennedy (Xlibris, 2014)

City Contented, City Discontented: A History of Modern Harrisburg, by Paul Beers; edited by Michael Barton (Midtown Scholar Press, 2011)

Farm Persevere, A Novel, by Eugene Chesnick; edited by Michael Barton, et al. (Xlibris, 2010)

Life by the Moving Road: An Illustrated History of Greater Harrisburg (American Historical Press, 3rd ed. 2009; orig. ed., 1983).

Bellevue Park: The First Hundred Years, edited by Jeannine Turgeon and Michael Barton (Xlibris, 2009)

Steelton, by Michael Barton and Simon Bronner (Arcadia, 2008)

The Civil War Veteran: A Historical Reader, edited by Larry M. Logue and Michael Barton (New York University Press, 2007).

To a Harmony with Our Souls: A History of Jazz in Central Pennsylvania, edited by Michael Barton, et al. (Benchmark Group Media, 2005).

Citizen Extraordinaire: The Diplomatic Diaries of Vance McCormick in London and Paris, 1917-1919, with Other Documents from a High-Minded American Life, edited by Michael Barton, with Cherie Fieser, Susan Meehan, and Teresa Weisser (Stackpole Books, 2004).

The Civil War Soldier: A Historical Reader, edited by Michael Barton and Larry M. Logue (New York University Press, 2002).

Harrisburg's Old Eighth Ward, edited by Michael Barton and Jessica Dorman (Arcadia, 2002).

Harrisburg's Crown Jewel; Whitaker Center for Science and the Arts, by Michael Barton (Stackpole Books, 1999).

1875 Historical Atlas of Dauphin County, edited by Michael Barton, with Elizabeth Johnson (reprint; Historical Society of Dauphin County, 1985).

Goodmen: The Character of Civil War Soldiers, by Michael Barton (Penn State Press, 1981)
Education

B.S.; M.A.; A.M.; Ph.D. (Pennsylvania)