Features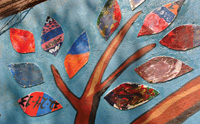 In South Allison Hill, a Harrisburg, Pennsylvania neighborhood plagued by a glut of abandoned, unmaintained properties and crime, Penn State Harrisburg communications graduate students Jeff Copus and Emilia Yang have found a way to fight blight and build community pride through art.
For the Future: The Campaign for Penn State Students officially concluded on June 30, 2014. The campaign mission was focused on making a Penn State education more attainable and affordable for students and their families. Penn State Harrisburg raised a record $15,712,982.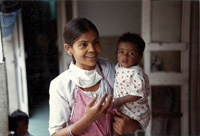 Each spring, Penn State Harrisburg's international study tours take students on voyages around the globe. These tours provide students an opportunity to learn firsthand about different countries, going beyond the classroom to immerse students in a new culture.
For Sarita Lidle, a junior psychology major, the spring 2014 India study tour offered her even more — a once-in-a-lifetime chance to discover her roots.
Americans are generous, but skeptical. They give abundantly to charities – an estimated $218 billion in 2011 alone. But they are increasingly demanding transparency in the organizations they choose to support.
Dr. Roderick Lee, Penn State Harrisburg associate professor of information systems, and colleague Dr. Marie Blouin, assistant professor of accounting at Ithaca College, have been studying nonprofits and the ways they can use their websites to build trust with potential donors.
News
Around Campus
Sports Highlights - Men's Soccer
The men's soccer team had its best season in history, finishing the year 14-6-2 and advancing to the Capital Athletic Conference (CAC) Championship before suffering a loss to Christopher Newport University.
The team also competed in the Eastern Collegiate Athletic Conference Tournament, finishing second in the South Regional final.
During the regular season, the team defeated Salisbury University and Christopher Newport, both ranked nationally.
Head coach Seamus Donnelly was named the CAC Coach of the Year, and five players earned CAC all-star selections.
Aaron Kline was selected to the CAC First Team. Kline led the Lions with eight goals, including three game winners, and two assists.
Second Team All-Conference honors went to Alex Panuccio, Jon Willingham, Michael Jones, and Jonathan Vanaskie.