1966 was a big year in American history — The Beatles performed their final concert, the Monkees took the "Last Train to Clarksville," Adam West was Batman, gas was 32 cents a gallon, the war in Vietnam was in full swing — and Penn State Harrisburg was founded!
From our humble beginnings, on the site of the former Olmsted Air Force Base in Middletown, we've come a long way. We began with 18 students and offered courses in Humanities and Social Sciences and have grown into a comprehensive undergraduate college and graduate school, with nearly 5,000 students and offering more than 65 degree programs, from the associate to doctoral level. The college offers NCAA Division III athletics, club sports, and intramurals and boasts more than 70 students clubs and organizations. Faculty and students are engaged in robust research activities, as well as outreach in Central Pennsylvania communities and beyond. At the 50-year mark, we have much to celebrate!
Throughout the 2016-17 academic year, we will celebrate Penn State Harrisburg's 50th anniversary with 50 events — to help you relive the past, engage you in the present and inspire you for the future of Penn State Harrisburg.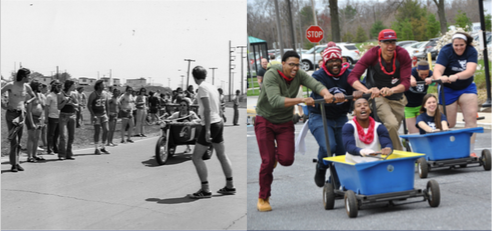 Check back here often as we make updates and add events throughout the anniversary year.
Please update your alumni information so we can keep you informed.

Or subscribe to our 50th Anniversary Email List for periodic updates.
Want a commemorative item, yearbook or other Penn State Harrisburg collectible? The bookstore is at your service.
And don't forget to check us out on social media: Facebook, Instagram, and Twitter!