Spring 2018
Saturday, May 5 at 9:30 a.m.
Giant Center, Hershey, PA
The information here pertains to graduation ceremonies for Penn State Harrisburg only.
If you plan to graduate from another location, please visit your campus web site for more information.

Penn State Harrisburg will offer a live stream of the commencement ceremony for the benefit of our students' family members who may not be able to attend the ceremony in person. The stream will be available on our LiveStream channel starting just before 9:00 a.m., and "on demand" once the ceremony ends.
Preparing for Commencement in 3 Easy Steps
"Apply for Graduation" on LionPATH
During the Intent to Graduate Activation period (refer to the Academic Calendar) at the beginning of the semester in which you plan to graduate, apply for graduation through the LionPATH Student Center.
    [View the tutorial for the "Apply for Graduation" process]
If you miss this activation deadline, you must contact the office of your major to request changes to your graduation status.
Reserve your seat at the commencement ceremony and print your ticket.
Register online to let us know you plan to participate in the commencement ceremony. Registration periods are March 15 to April 15 (spring) and October 15 to November 15 (summer/fall). Be sure to register so that we will expect you at the ceremony and seating will be reserved for you.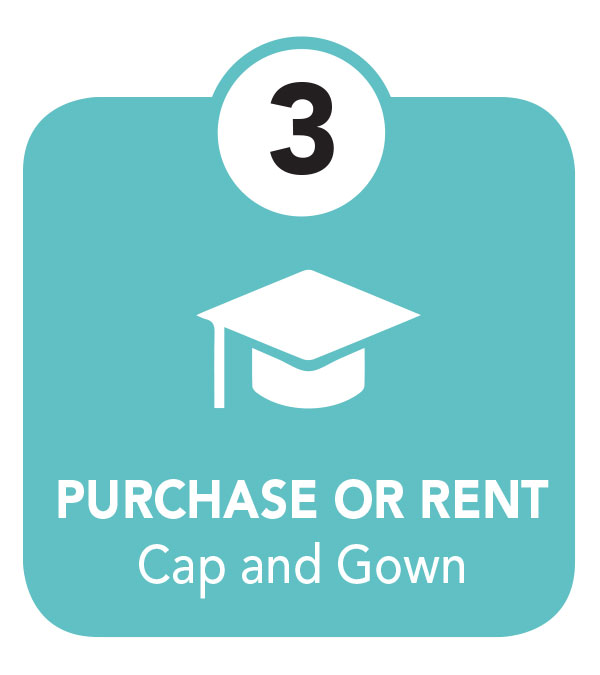 Purchase or rent academic regalia (caps, gowns, and hoods)
Caps, gowns, and hoods will not be available at the Giant Center. Refer to our What to Wear section for clothing guidelines and links to online ordering of your regalia.
Important notes about filing your intent to graduate
Please review the Graduation Requirements policy to ensure your eligibility to attend commencement.
Programs that contain a list of graduating students are distributed at the ceremony. If your intent to graduate is activated after the student information has been sent to the printer, your name will not appear in the program.
Your correct home and local addresses are needed for pertinent graduation information, including diplomas. Confirm and/or update your address on LionPATH at this time.
Graduation Fair: have your questions answered
Graduation Fair is held every spring and fall semester to allow graduating students to:
Register to be a part of the ceremony, if you haven't already
Meet with representatives from financial aid, career services, and Penn State Harrisburg graduate program admissions
Place orders (with the Bookstore) for graduation announcements, class rings, diploma frames, and other commemorative items
View samples of the academic regalia (caps and gowns) to be worn at the ceremony
Pose for professional photos either in commencement regalia or business attire. There is no obligation to purchase and you may view your password protected proofs online. Caps and gowns will be provided.
Upcoming Grad Fair:
Tuesday, March 20; 11:30 a.m. to 6 p.m.
Alternate Commencement Sites
If you would like to attend a commencement ceremony other than your assigned campus location, you must use the Alternate Location Request Form (PDF). Contact the Office of Enrollment Services at 717-948-6020 for more information or for assistance with this process.
Commencement Ceremony Instructions
General Information
The ceremony will start promptly at 9:30 a.m. and lasts approximately 2½ hours.
Don't forget to print a Giant Center Parking Pass (PDF) for yourself and your guests.
There are no rehearsals for the ceremony. Students will receive complete instructions at the Giant Center on the day of commencement.
What to Wear: Academic Regalia and other clothing guidelines  
Information for All Participants
Uniforms of the armed forces are the only apparel other than academic regalia that is officially recognized and permitted.
Due to the formality of this occasion and safety concerns, please wear appropriate footwear; flip flops, clogs, very high heels, and loose fitting shoes are not recommended.
It is requested that men wear slacks and a dress shirt with a tie. For women, slacks with a blouse or a dress is appropriate.
Baccalaureate, master's, and doctoral caps and gowns differ from each other, as do the caps and gowns from other educational institutions. Please check your regalia for accuracy and quality before the day of the ceremony.
Remember to steam your gown before commencement to remove wrinkles from packaging.
Penn State Academic Honor Cords:
Undergraduate students graduating Summa Cum Laude will receive a blue and white cord; those graduating Magna Cum Laude will receive a blue cord; and those graduating Cum Laude will receive a white cord. Students will receive email notification from the Registrar's Office on how to receive their honor cords. The levels were determined by a student's cumulative GPA at the end of the previous semester. If students earn a higher level once final grades are received, they can contact the Registrar to retroactively receive the appropriate honor cord. Please note that graduate students do not earn honors. In American higher education, Cum Laude, Magna Cum Laude, and Summa Cum Laude are unique to undergraduate education. 
Military honor cords:
Undergraduate and graduate students who have honorably served, are serving, or are commissioned to serve in the U.S. military will be awarded an honor cord to wear at their commencement ceremony in recognition of their duty and sacrifice. The red, white and blue cords will be given to eligible graduating students, including associate degree recipients, in the following groups: active duty, reserve and National Guard service members; veterans; and graduates receiving a commission through Reserve Officers' Training Corps (ROTC) and official U.S. Armed Forces recruiting programs. Students will receive email notification from the Veterans' Affairs/Financial Aid Office on how to receive their honor cords.
Penn State Harrisburg Alumni Society Legacy Cords
In honor of the college's 50th anniversary, the Penn State Harrisburg Alumni Society provides legacy cords to graduating students whose parents and/or grandparents are Penn State Harrisburg graduates. Celebrate your graduation and recognize your family ties by wearing the gold, blue, and white cord.  Cords may be picked up at Grad Fair. Students are requested to provide their parents'/grandparents' names, year of graduation, and degree(s) earned.  
National Honor Society Recognition:
Members of nationally-recognized honor societies, who achieved their membership as a Penn State Harrisburg student, are permitted to wear ornamentation during the ceremony in the form of cords and/or pins only. Ribbons, scarves, stoles, sashes and medallions are not permitted. Graduates with these outstanding academic achievements will not be recognized in the commencement ceremony or printed program.
All other ornamentation is not permitted.
All ornamentation (including pins, cords, ribbons, scarves, stoles, sashes, medallions, etc.) representing other honorary societies, nationalities, fraternities, sororities, etc., is not permitted. Exceptions to this include students in the Penn State Harrisburg Honors Program, the Schreyer Honors College, and national honor society members, as mentioned above.
No regalia (caps, gowns, and hoods) will be available at the ceremony.
Especially for Undergraduates
Undergraduate academic regalia is a blue gown with wide sleeves and a blue mortarboard cap with a tassel, worn on the right front edge. You will move the tassel to the left edge after crossing the stage.
Regalia sets must be purchased.
Order undergraduate regalia online at Jostens.com for pickup at the Bookstore.
For Graduate Students
Master's degree regalia sets must be purchased.
Order master's regalia online at Jostens.com for pickup at the Bookstore.
 
Doctoral regalia sets may be purchased or rented.
An in-person fitting is required for doctoral regalia. Contact the Bookstore for details.
 
Graduate regalia is a black gown with pointed sleeves, a separate hood, and a black mortarboard cap with a tassel, worn on the left front edge of the mortarboard.
Candidates should carry their hoods over their right arms during the processional. See the Hooding Instructions (PDF).
Arrival Time
Graduates must arrive at the Giant Center and be fully gowned by 8:00 a.m. Please allow sufficient travel time.
Graduates arriving after 8:30 a.m. are not guaranteed the opportunity to participate in the student processional and will not be seated with other students in their major. The student processional will take place at 9:00 a.m. and the ceremony will start at 9:30 a.m.
Registration
Enter through the Club Seat Holders Entrance, which is to the right of the main entrance at the Giant Center and send your guests to their seats in the Giant Center arena. Proceed directly to the graduate registration table in the lobby. You will receive a marching card with your name and processional number. You may be given more than one card — keep all cards; you must give them to the Commencement Marshal to receive recognition upon crossing the stage.
Graduation Processional
After registering and receiving your marching card(s), go to the student processional area. Penn State Harrisburg staff will guide all graduates through each portion of the ceremony.
All cell phones must be turned off as soon as you enter the student processional/seating area. Please refrain from cell phone use before and during the ceremony.
Students must be seated in their assigned seats by 8:30 a.m. to receive processional instructions.
The student processional will begin at 9 a.m. and the ceremony will start promptly at 9:30 a.m.
Any student suspected to be under the influence of alcohol or a controlled substance will be subject to arrest and will not be allowed to participate in the ceremony.
Smoking is strictly prohibited, both inside and outside the Giant Center.
Do not leave any personal items or valuables unattended at any time during the ceremony, especially in the student assembly area.
Students must remain seated on the Giant Center floor until the conclusion of the ceremony. When you are led out of the arena, you may meet your guests on the main concourse or outside the building. 
Guest Seating
No tickets are necessary for commencement ceremony attendance. Unlimited seating is available on a first-come, first-served basis. The facilities will be open at 8:00 a.m. Guests should enter the Giant Center through the main entrance.
Refer to the Giant Center Parking Pass (PDF) for parking information. Display this pass on your dashboard to ensure free parking.
Special Accommodations 
Penn State encourages persons with disabilities to participate in its programs and activities. If you are a graduating student with a disability that requires assistance at commencement, please notify the Office of Disability Services (Alan Babcock, 717-948-6025 or aub15@psu.edu) to make arrangements for the commencement ceremony at least four weeks prior to the ceremony.
Reserved Parking
Handicap parking is available in the front of the Giant Center for vehicles with handicap plates or placards. If you do not have a handicap plate or placard, you may drop off a person with limited mobility closer to the main entrance before parking in the general parking lot.
Please note: The Giant Center is large, and the distances between parking and the building entrance, as well as distances within the building, may be impediments to guests who have difficulty walking. Allow additional time to walk these distances.
Reserved Seating
Reserved seating sections are available for guests with limited mobility:
Giant Center ushers will be available to assist guests with special needs.
Closed Captioning 
Penn State Harrisburg commencement ceremonies are close captioned. A live streaming transcription of the audio portion of the ceremony audio will be displayed on the Giant Center JumboTron for guests with difficulty hearing.
Live Streaming
Penn State Harrisburg will offer a live stream of the commencement ceremony for the benefit of our students' family members who may not be able to attend the ceremony in person. The stream will be available on our LiveStream channel starting at 9:00am.
     new.livestream.com/pennstateharrisburg
Faculty Instructions
Faculty wishing to participate in the commencement ceremony should plan to arrive at 9:00 a.m. Park in the area designated for the faculty/platform party. Look for Entrance 3, which will be marked with a lighted sign. Use the elevator to go down to Level 1, and proceed to the faculty assembly room (Room 102). Please dress in academic regalia for the ceremony. Event staff will be present to assist and position faculty in the academic processional.
Commencement Dates
Please refer to the Academic Calendar for the appropriate semester.
Photos and Flowers
Photos
Photographers from GradImages™ will be at the commencement ceremony to take photographs of students as they receive their diploma. Students will be asked to provide email and mailing address at the ceremony, or they may pre-register online. After the ceremony, prints may be reviewed and ordered quickly and conveniently at www.gradimages.com or by calling 800-261-2576.
Please note: Using the online pre-registration, students may also add contact information for up to six family members to share the good news and the photos!
Since photographs will be available, family members and guests are encouraged to remain in their seats, relax, and enjoy the ceremony.
Flowers
Distinctions, Diplomas, and Transcripts
Distinction Requirements
Distinction at graduation shall be awarded to those baccalaureate degree candidates of the graduating class according to the following rule. The top 12 percent of the baccalaureate degree candidates from any college shall be eligible to graduate with distinction if they have achieved at least a grade-point average of 3.50, based on at least 60 credits at the University. The 12 percent should be divided into two percent "With Summa Cum Laude," four percent "Magna Cum Laude," and six percent "Cum Laude."
Diplomas
It is critical for the University to have the correct information for the diploma and an accurate mailing address for each student. Students may update this information on LionPATH.
Diplomas will be mailed, at no cost, to the graduates' permanent residence or LionPATH diploma mailing address approximately four weeks after the commencement ceremony.
Please note: Special inks are used in the printing of your diploma; do not store it in a cedar chest.
Transcripts
The official transcript is the University's official statement of your academic record. It lists all courses completed, all grades earned, and the semester in which they were received. The official transcript also contains notations of distinctions, minors, options, and degrees received. The official transcript is printed on security sensitive paper and contains the University seal and signature of the University registrar.
You may be asked to provide a copy of your official transcript to potential employers, graduate schools, professional organizations, and so on. It is very common for potential employers and organizations to request that the University send your transcript directly to them. For your protection, we will not release an official transcript without your permission and signature.
Visit the University registrar's web site for additional information and instructions on how to obtain your transcript. 
Contact Us
Please call 717-948-6029, fax 717-948-6370, e-mail rsvp@psu.edu, or stop by the Office of Marketing and Communications (W-101 Olmsted), if Penn State may assist you in any way.