For information about current study tours, contact the Office of International Programs at 717-948-6003 or mla9@psu.edu
London, England 2012
Finance 456/596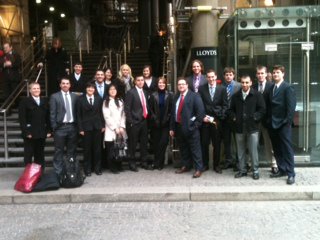 Eighteen students joined Dr. Patrick Cusatis, Associate Professor of Finance for a Spring tour of the London Financial District. Students visited Lloyd's of London where they learned about the re-insurance industry and Lloyd's unique influence in the insurance market. Students also visited Oxford University, Goldman Sachs, the British Bankers Association and the London Metal Exchange. Sightseeing opportunities were also available to Stonehenge, Bath, the Tower of London, the British Museum and Westminster Abbey.
China 2012
International Business 299 and Business 596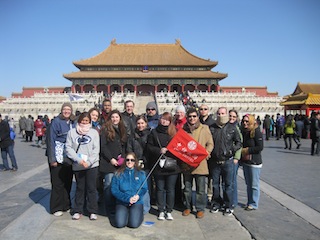 Fourteen students joined Dr. Ronald Webb, Assistant Professor of Management and Dr. Marie Blouin, Assistant Professor of Accounting on an international business tour of China. The group traveled to Shanghai, Xian and Beijing. Students were able to see how business and industries operated in, particularly some American based companies, such as TE Connectivity and The Hershey Company. Additional business visits included the Bao Steel Factory, Simo Motor Factory, Beijing Niulanshan Distillery and Shunxing Pork Processing Factory. The tour was not all business, as the group was able to visit the Jade Buddha Temple, Yu Garden, Museum of Terracotta Warriors and Bronze Chariots & Horses, as well as the Great Wall of China and Tian'anmen Square.
Guatemala 2012
Liberal Arts 199/499


Twelve students joined Dr. Gloria Clark, Associate Professor of Humanities, on a learning, cultural and historical encounter with the Modern Maya. The tour included visits to important colonial sites in Antigua, two women's weaving cooperatives, and visits to local villages that surround Lake Atitlan. One of the most memorable activities on the tour was a volunteer opportunity to build stoves with venting in local family homes, allowing students to help the community. The students also enjoyed visiting a local school and reading to the children.
France 2009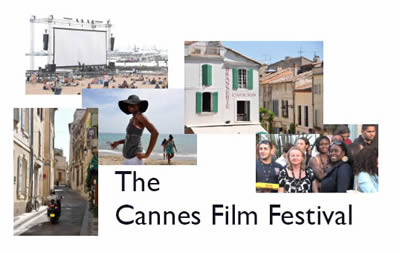 With the origins of cinema and the main historical movements in international film and French artistic culture serving as a context, students experienced the 62nd Cannes Film Festival and the best of contemporary international film. At Cannes, the students attended festival screenings and experienced the festival's influential film market atmosphere. Students also toured the region's historically and culturally significant sites to enrich their cultural experience and to establish connections between the fine arts and film.
During our 10 day tour, we visited Arles, Aix-en-Provence, Monte Carlo, Antibes, and Saint Paul de Vence. Cezanne's studio and the Picasso Museum at the Chateau Grimaldi were focal points of our tours, as well, as students explored the amazing region of the French Riviera and experienced the glamour and prestige of one of the world's most important film festivals.
London, England 2008
Finance 456/596 and Liberal Arts 199/499
Lecture and cultural tours included Buckingham Palace for the changing of the guard, London Eye, Millennium Bridge, Diana Memorial, Westminster Abbey, Hampton Court, Shakespeare's England, Stratford on Avon. Ann Hathaway's Cottage, Portobello Road Antiques Market, The National Gallery, the Tate Museum and Covent Garden, the Banqueting House, St. Paul's iconographic building, and theatre and performing arts events.
Students traveled by bus and boat to areas outside the city, seeing amazing vistas and incredible spaces. It was a firsthand experience to see what makes twenty–first century London a world-wide cultural center.
Coordinators: Dr. Keunsuk Chung and Dr. Kathryn Robinson
Brasilia/Salvador/Rio de Janeiro, Brazil 2008
Honors Seminar 401H and Sociology 497
Lecture and cultural tours included visits to Museo Afro-Brasiliero, Casa Branco Condomble, Ballet Folklorico at Miguel Santana, Boticario Square, Cosme Velho, Goncalves Dias Street,Laranjeiras district, Metropolitan Cathedral, National Gallery, Theatre and Museum of Fine Arts, Botanical Garden, the Favellas, and Corcovado Mountain.
Coordinator: Dr. Clemmie Gilpin
Northern India: Radjasthan and Punjab 2007
Business 494/590 and Liberal Arts 199/499
Lecture and cultural tours to included visits or sightseeing at the Secretariat, High Court, Library, Assembly Chambers, the University, the Rose Garden, Botanical Garden and Lake, Pinjore Gardens, Wagah Border for changing of the guard, both Indo-Pakistani borders, Amritsar Golden Temple and Jaliyanwala Bagh.
Coordinators: Dr. Louise Hoffman and Dr. Ram Goel
Ecuador 2007
Liberal Arts 199/499
The journey included tours and explorations to experience colonial and modern-day history in Quito, the capital of Ecuador, the struggles of the populations in the Andes, and the culture and uniqueness of the village of Vilcabamba – where longevity is a trait. Students visited a "Mercado al aire libre" (open market) – operated mainly by indigenous people – where the traditional ways of buying and selling commodities – still function today as during the colonial period.
The course covered specific periods of the history of Latin America and emphasized Ecuador as a micro-cosmos of the whole region. Through lectures, texts, and the journey to Ecuador, students learned about social, political, and economic issues that affect the area; the interaction of Latin American countries with the United States; and, as importantly, the human landscape of one of the oldest civilizations in the Americas.
Coordinator: Jose Vargas-Villas
London, England
Honors 401: Comparative Justice and Political Systems
Lecture Tours to Scotland Yard, Black Museums, Inns of Court, Westminster Abbey and Tower of London. Lecturers from London institutions on topics including: Security and Terrorism, Corporal Punishment, and Violent Crime and Disorder of a Criminal Nature.
Berlin, Krakow and Warsaw
IHUM 499: Foreign Studies — The Holocaust from Berlin to Auschwitz and Warsaw.
Lecture tours of Berlin, including Sachenhausen and Ravensbrueck concentration camps. Tour of Krakow, including Schindler's Factory and Kazimierz. Warsaw visits include the Jewish Cemetery, Pawiak Prison, Yiddish Theater and Warsaw Ghetto Memorial.
Paris
MRKT 597: Special Topics — International Marketing
This MBA course used case study and selected field trips to EuroDisney, the International Herald Tribune, U.S. Embassy Paris, Canadian Embassy, and Bateaux Parisiens. Lectures included "Commercial relations between the U.S. and France" and "The future and practice of European-based ethnomarketing". Faculty Coordinator: Dr. Erdener Kaynak.
London, England
FINAN 456: International Capital Markets
Lecture tours to Bank of England, London Stock Exchange, and Lloyd's of London. Lecturers from London institutions on topics including: UK Banking Structure, Security and Terrorism, The EURO Dollar and the Impact on Financial Markets. Faculty Coordinator: Dr. Patrick Cusatis.
Cuernavaca, Mexico
SPAN I, II, or III and Service Learning
This program offers three levels of Spanish instruction based on the student's prior experience. Students will live for three weeks with host families. Service learning opportunities to learn more about the political context and to participate in community-based projects such as literacy programs, health clinics, and day-care facilities. Faculty Coordinator: Dr. Gloria Clark.
Others
Mexico — Comparative Health Systems
Trinidad — Caribbean Environmental Systems
Florence, Italy — Art in Florence
Canada — Multicultural Canada