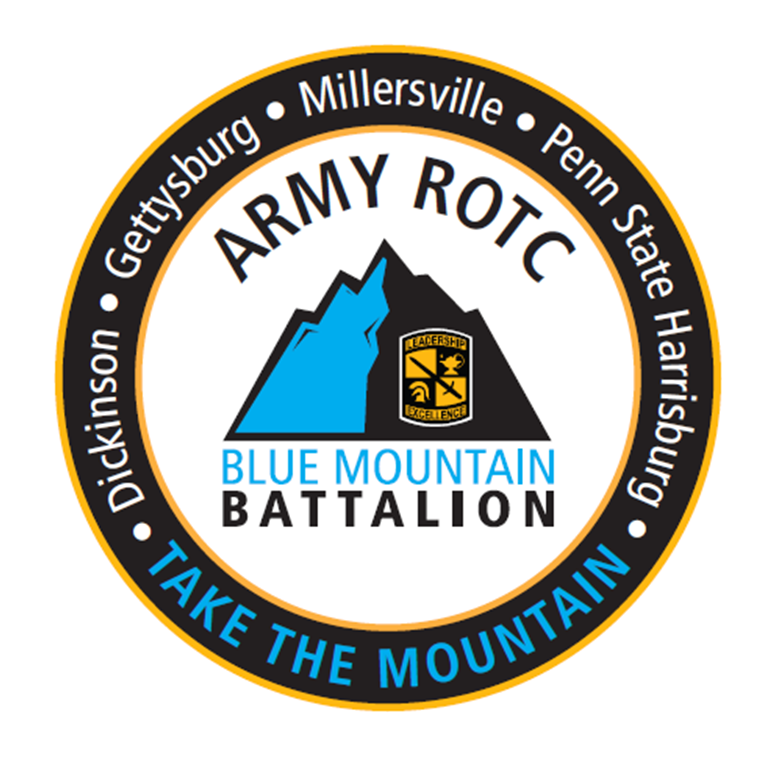 The Penn State Harrisburg/Dickinson Reserve Officers Training Corps (ROTC), locally known as The Blue Mountatin Battalion, is a leadership development program deepening the scholastic experience by cultivating the ability to organize, motivate and lead others. It is the cornerstone of Army officer training that develops students, known as Cadets, into future officers in the U.S. Army. Dickinson is the host school with Cadets from Gettysburg College, Millersville University, and Penn State Harrisburg participating in the program. Any student may participate in military-science courses without military obligation. Men and women who choose to contract in and successfully complete the program receive a comission as a second lieutenant in the U.S. Army, U.S Army National Guard, or U.S. Army Reserve upon graduation. Penn State Harrisburg students can sign up for and receive credit for Military Science Classes. 1st and 2nd Year classes are taught at Penn State Harrisburg, while the 3rd and 4th year classes are taught at Dickinson College in Carlisle, PA. Fully participating ROTC Cadets from Penn State Harrisburg are also expected to attend one PT session and one Leadership Lab at Dickinson.
For more information, review Dickinson's Military Science program page.
 

Courses
Fall Courses
ARMY 101: U.S. Army Organization and Functions (2)
Introduction to U.S. Army and ROTC: their organization, missions and functions; customs and traditions; leadership laboratory.
ARMY 203: Army Operations: Tactics and the Principles of War (2)
Organization and operation of Army units; fundamentals of unit tactics; leadership laboratory.
ARMY 301: Advanced Principles of Leadership and Management (3)
Principles of military leadership; military skills development; land navigation; physical fitness; leadership laboratory.
ARMY 401: Organizational Behaviors: Interrelationships of Directing Staffs and Staff Functions (3)
Leadership; command and staff functions; ethics and professionalism; military writing; leadership laboratory.
Spring Courses
ARMY 102: The Military Profession: Leadership and Management Theory (2)
Introduction to leadership techniques and basic management skills; leadership laboratory.
ARMY 204: Land Navigation: Topographic Maps and Orienteering (2)
Military and topographic maps; methods of orienteering and land navigation; leadership laboratory.
ARMY 302: Advanced Principles of Military Leadership and Combat Operations (3)
Leadership in the field; principles of offense, defense, and patrolling; physical fitness, leadership laboratory.
ARMY 402: Army Personnel Management and Logistics (3)
Leadership; army personnel management; logistics system; personnel counseling; military justice; Soviet military; personal affairs; training management; army life; leadership laboratory.
Contact
For information about enrolling in Army ROTC at Penn State Harrisburg or to apply for an Army ROTC scholarship, contact:
Erik Rodney
Recruiting Operations Officer
Attachments: