Penn State Harrisburg unveiled the Linda Schwab Holocaust Reading Room, a room devoted to the study of the Holocaust and preservation to its local connections, in 2007.
Donations from Harrisburg residents Linda Schwab and late husband Morris Schwab funded the reading room, located in the library.
The Linda Schwab Holocaust Reading Room houses video and audio recordings of survivors, liberators, and witnesses in Central Pennsylvania; special collections; exhibits; documents; oral histories; and material from the college's Holocaust and Genocide Collection of books and other media. Gallery presentations of Holocaust and Jewish works are also held in the room.
"The Linda Schwab Holocaust Reading Room serves as a living memorial," said Madlyn Hanes, chancellor of Penn State Harrisburg from 2000-2010, "recognizing synagogues, institutions and individuals involved in Holocaust activities."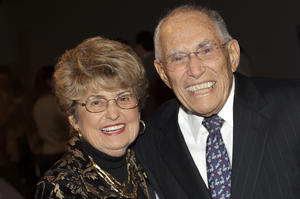 Morris Schwab was a 1940 Penn State graduate and CEO of Credential Leasing Corp. and D & H Distributing Company. In 1994, he received the University's Alumni Association's first Outstanding Alumni Council Member Award. Linda is a Holocaust survivor. In addition to supporting Penn State Harrisburg, the Schwab's have also supported University athletics, the College of Liberal Arts, the Palmer Museum, and the Hintz Alumni Center.
Attachments:

Location:
Linda Schwab Holocaust Reading Room
US
Image: