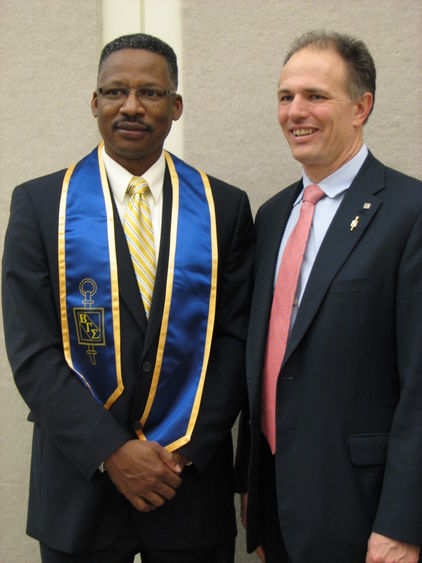 Forty-five students from Penn State Harrisburg's School of Business Administration recently were inducted in Beta Gamma Sigma, an international honors society that recognizes students in the top 10 percent of baccalaureate and top 20 percent of graduate programs at schools accredited by the Association to Advance Collegiate Schools of Business International.
The Penn State Harrisburg Beta Gamma Sigma chapter also named college alum Robert M. Scaer, president and chief operating officer of Gannett Fleming, Inc., a distinguished honoree. Scaer holds a bachelor of science in civil engineering from Purdue University and a Master of Business Administration from Penn State Harrisburg.
Previously, Scaer served as chief information officer of the Harrisburg-based Gannett Fleming, and president of GeoDecisions, a division of the international construction-management firm. He is a charter member of the American Society of Civil Engineers and a member of its Industry Leaders Council. He also serves on boards of Penn State's Information Sciences and Technology program, the Technology Council of Central Pennsylvania, and the Harrisburg University of Science and Technology.
The society also inducted Dinesh R. Pai, assistant professor of supply chain management.
Graduate Student Inductees:
Darren Andrew Blakemore, York
Allen Michael Brewer, St. Petersburg, Fla.
Michael Jason Bruckart, Hanover
Michael Stewart Carter, Lancaster
Roy Davis, Middletown
Kevin P. Deaner, Lebanon
Sunil Manubhai Desai, Mechanicsburg
Jared Chad Fly, Souderton
Helen Sue Frey, Manheim
Jessica Volpe Gerhard, Sinking Spring
David Lee Gill, Mechanicsburg
Michael James Hilbert, Hummelstown
Dorothy Sally Hildebrand, Toledo, Ohio
Stephen James Mannila, Silverdale, Wash.
Brian Maydick, Staten Island, N.Y.
Jeffrey Grant Morgan, New Cumberland
Daniel Raymond Pietropola, Hummelstown
Stephanie J. Reisinger, Etters
Daren Steven Russ, Harrisburg
Joseph Paul Skolnicki, Camp Hill
Timothy John Waros, Harrisburg
Andrew James Warren, Hershey
Jesse Paul Weaver, Mechanicsburg
Megan Marie Young, Mechanicsburg
Undergraduate Student Inductees:
Joseph S. Boyd, Mifflintown
Brooke N. Bramwell, Mechanicsburg
Robert John Dicello, Jr., Pottsville
Michael Joseph Dipietro, Marietta
Darla Eager, Mechanicsburg
Karen Angeline Gerena, Mount Bethel
Jennifer Guzman, Lebanon
Christian Lewis Malehorn, Manchester
Shaun Timothy McFarland, Harrisburg
Andrew Ellis Myers, Etters
Petra Jade Nehrt, Dillsburg
Emily Ann Padjen, Salt Lake City, Utah
Lauren Elizabeth Puchalsky, Mechanicsburg
Timothy Michael Rau, Dallastown
William Kenneth Richard, Mechanicsburg
Emily Carolyn Righter, York
Peter Rajkumar Sharma, Harrisburg
Anh Viet Tran, Camp Hill
Danae Deanne Turner, Sioux Falls, S.Dak.
Chi-Che Weng, Middletown
Tiffany Lynn Young, Mechanicsburg