November 1, 2005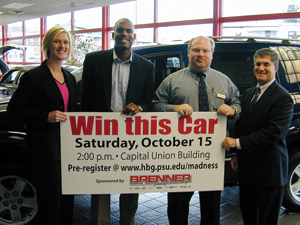 Mid-Day Madness came to campus October 15 as the men's and women's basketball teams celebrated the return of varsity intercollegiate competition to the college.
Sponsored by the Brenner Family Dealerships, Mid-Day Madness included a chance to win a new car, a free youth basketball clinic, a men's team scrimmage, skills demonstration from the women's team, an alumni basketball game, and contests offering $100 gift certificates from Dick's Sporting Goods and money prizes from Integrity Bank. And one lucky student had the opportunity to win a semester of books courtesy of SmithBarney Citigroup.
Although one student had an opportunity to win a new car by netting four different basketball tosses in 24 seconds, his effort fell short as did the student trying to earn a semester of books
The youth clinic was well-attended with an estimated 60 schoolchildren from the Middletown area gaining valuable pointers from the players and coaches.
For schedules and information on the Penn State Harrisburg intercollegiate athletic teams, visit the Intercollegiate Athletics site.